Home
>
News
> Virginia Education Savings Account Legislation Defeated by Lt. Gov and Gubernatorial Candidate Northam
Virginia Education Savings Account Legislation Defeated by Lt. Gov and Gubernatorial Candidate Northam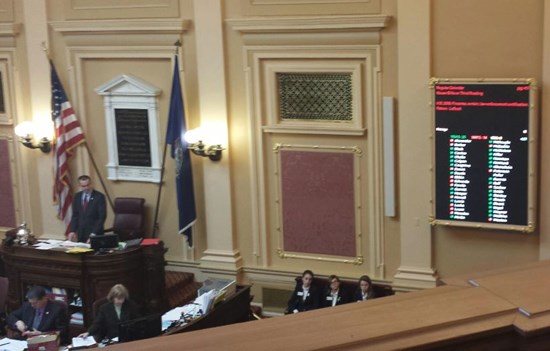 FOR IMMEDIATE RELEASE:
Virginia Education Savings Account Legislation Defeated by Lt. Gov and Gubernatorial Candidate Northam
Richmond, VA – After passing the House Education Committee, the House Appropriations Committee, the Senate Education Committee, and the Senate Finance Committee, House Bill 2238 was stopped by a razor thin one-vote margin in the Virginia Senate. With the vote at 18-18, Lieutenant Governor Ralph Northam cast the deciding vote to block passage.
"Passing all those committees and the House of Delegates represented incredible progress toward making education savings accounts a reality for special needs children in Virginia. No state has ever enacted an education savings account provision in one session, and Virginia was one vote away from being the first" said LaRock of the bill and the vote. "The fact that we made it as far as we did on the very first try shows that there is a dire need for this school choice program."
In addressing Northam's tie-breaking vote, LaRock noted it came within one day of his announcing his candidacy for Governor of Virginia. "It's very disappointing that the man who wants to lead our Commonwealth kicks off his campaign by putting special interests ahead of special needs children. These kids desperately need help, and our Lieutenant Governor turned his back on them."
The bill received endorsements from Virginia Conference of the NAACP, FreedomWorks, the Middle Resolution, Alice Paul Group, Americans for Prosperity, Virginia Tea Party Patriots Federation, The Family Foundation, Stand America, SEEDS (Securing Equal Educational Development in Society), and the Lexington Institute. Several experts and parents of special needs children made the trip to Richmond to testify on the bill's behalf.
"I'm extremely grateful to everyone who came alongside us in supporting this measure. We took a stand for the hundreds of parents and special needs children who are stuck with schools that are not meeting their educational needs. I intend to make sure that those needs are met and that those voices are heard" LaRock added. "I personally invite each and every parent that knows that school choice is key to their child's success to contact me. This is just the beginning, we will come back next year stronger from the experience."
About Dave LaRock:
Delegate Dave LaRock represents the 33rd House District, including parts of Loudoun, Clarke and Frederick Counties, and the towns of Leesburg (partial), Purcellville, Berryville, Lovettsville, Round Hill, Hamilton and Hillsboro. LaRock serves on the Transportation Committee, the Science and Technology Committee and the Courts of Justice Committee. Dave and his wife, Joanne, have lived in Loudoun for 28 years, building a successful family-owned general contracting business. The LaRocks reside near Hamilton with Abby and John, the youngest of their seven children.
###
For more information about Dave LaRock, or to schedule an interview, please contact Peter LaRock at (540) 336-2702 or Pete@VoteLaRock.us Authorized and paid for by Dave LaRock for Delegate