News
Read below for the latest updates on Delegate LaRock's legislation and other matters of interest.
Saturday, February 18, 2017 10:40 PM

Before launching into a general session overview, I'll mention that today I filed the Campus Free Speech Resolution. Following similar efforts around the Country, this targets the taxpayer-funded universities in Virginia, who instead of being champions of free speech are creating "safe spaces" and idea-free zones staffed by thought police, where disagreement is prohibited on campuses. While safe spaces have become the stuff of Saturday Night Live skits, the truth is this kind of challenge to campus free speech is now widespread. Surveys show that student support for restrictive speech codes and campus bans on controversial speakers is at historic heights.
---
Saturday, February 11, 2017 11:32 AM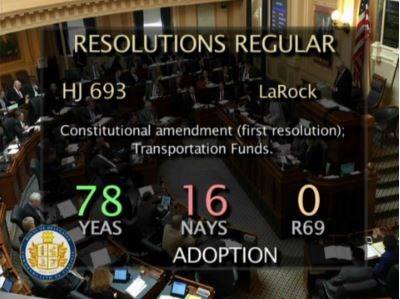 This week marked the official halfway point of the 2017 Session, also known as "Crossover." For the remainder of this session, the House will consider legislation passed in the Senate and accept or reject Senate amendments to House bills. Additionally, the House formally passed our version of the budget bill this week.
Several pieces of legislation which I introduced are also making their way through various Senate Committees....
---
Friday, February 3, 2017 6:05 PM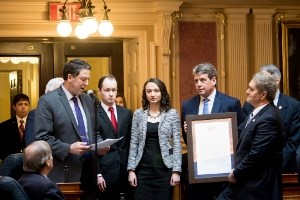 I have been so extremely busy presenting bills, budget amendments, attending committee meetings, and voting on various bills in the House, it has been hard to find time to put this message together.

Three weeks into Session, the Capital has seen record numbers of visitors. Daily attendance by the public has consistently been over 4,500 people a day. I'm enjoying meeting with so many who are being active in the political process, as various organizations hold their "day on the hill" events. Even if you can't make it down to Richmond, please take my Constituent Survey here to inform me of your opinion on many of the issues we are facing.
---
Thursday, January 26, 2017 11:32 PM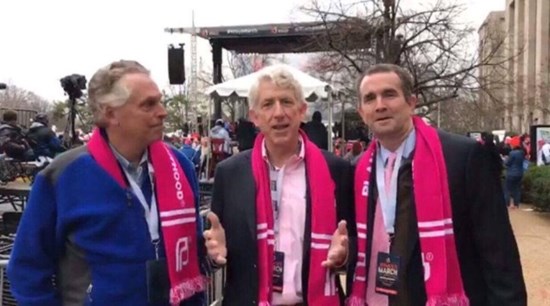 It is no surprise AG Herring is overlooking substantial arguments supporting the constitutionality of such laws, instead relying only on the mistaken assumption that a court would only look at the viability rule created in the 1973 Roe v. Wade decision. There is significant evidence that the Supreme Court may agree the viability rule is extremely flawed, especially as applied to pain-capable laws, or they could choose to abandon the viability rule altogether.
---
Sunday, January 15, 2017 12:19 AM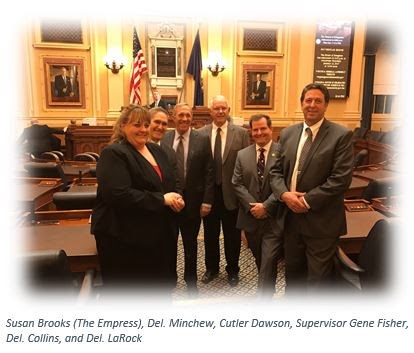 The 2017 General Assembly Session has officially begun! This year will be a short session (46 days) as our primary responsibility is to make adjustments to our biennial budget. However, we are still putting forth legislative proposals aimed at creating jobs, improving healthcare costs, creating more educational opportunities, and protecting the rights of the people of Virginia.
---
Wednesday, January 4, 2017 1:00 PM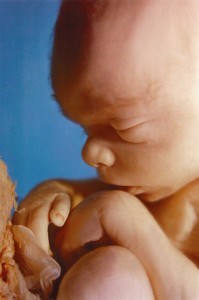 Yesterday, the AP reported Governor McAuliffe's promise to veto Delegate Dave LaRock's Pain-Capable Unborn Child Protection Act. The sad truth is we have a governor who ignores the will of the people to cater to the radical abortion agenda of his second-largest campaign donor, Planned Parenthood, which has given over $2 million to McAuliffe. He is using business development as an excuse to justify an extreme policy position that is out-of-step with public opinion.
---
Tuesday, January 3, 2017 11:36 PM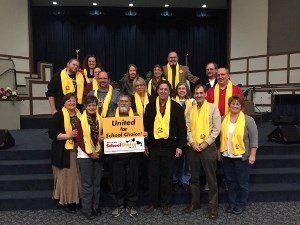 Delegate Dave LaRock today filed HB 1605, a bill to provide Parental Choice Education Savings Accounts (ESAs) to students in Virginia. Delegate LaRock says, "Education Savings Accounts are a proven example of problem solving through smart innovation, not endless appropriations. American voters overwhelmingly support school choice programs for good reason. It's time to give the people of Virginia what they are asking for; more education freedom through Education Savings Accounts. ESAs are a common-sense solution that helps people in need, saves taxpayer money, and improves educational outcomes."
---
Wednesday, December 28, 2016 5:17 PM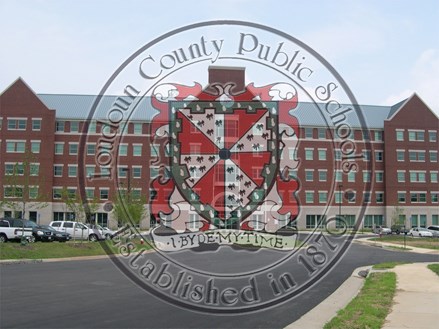 Delegate Dave LaRock today responded to a misleading press release and letter from the American Civil Liberties Union's Virginia affiliate (ACLU-VA). Our Loudoun County School Board should see through this charade, and I encourage Loudoun County citizens to contact them. We must urge them to reject this foolish attempt to give the ACLU and their radical social agenda a victory they desperately need after their recent resounding electoral defeat.
---
Saturday, December 10, 2016 12:03 PM
I hope you had a great Thanksgiving! This is a very busy time of year for me, as we not only have the holiday times with family, but also prepare for the upcoming session.

Please take a quick look at these informational items which will probably affect you in the weeks ahead.
---
Tuesday, November 29, 2016 5:02 PM
UPDATE: The DMV Select in Purcellville is scheduled to re-open on December 19th!

After nearly a year of negotiation and work, Delegate Dave LaRock is pleased to announce that DMV Select service is being restored at the Virginia Regional Transit (VRT) location in Purcellville. Delegate LaRock has been in communication with Federal, State, and local government officials for the last year, working to restore the DMV Select service in Western Loudoun. DMV Commissioner Richard Holcomb has notified Del. LaRock that the DMV Select service will be restored under VRT's new management by the end of 2016.
---
Thursday, November 10, 2016 6:27 PM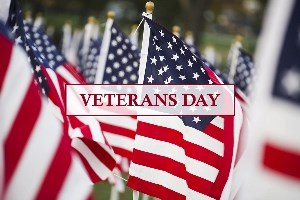 I am encouraged by the results of this week's elections. The American people spoke out against the Democrat agenda of bigger, more-intrusive government,instead supporting a return to more freedom, rule of law, and free-market economic growth.
Tomorrow is Veterans Day; I encourage everyone to thank our veterans for their service and the sacrifices they made to protect our nation and our freedom! I will be speaking at the Town of Berryville and Clarke County's Veterans Day Ceremony at the Government Center Veterans Memorial tomorrow at 11 AM.
Read more here...
---
Saturday, November 5, 2016 9:36 PM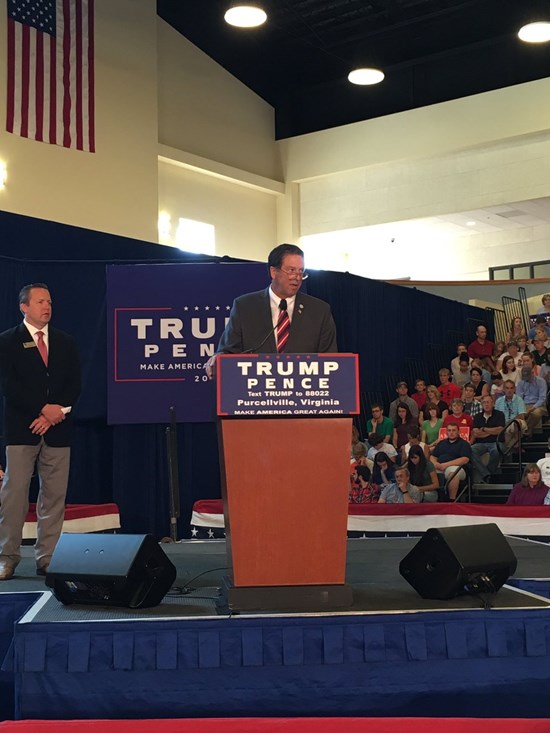 Virginia is a critical state for Donald Trump to defeat Hillary Clinton and win the White House! Polls are showing all the momentum in Trump's direction in Virginia and other swing states, and the Trump campaign is going all-in to carry the Commonwealth!
Tomorrow, Sunday, Donald J. Trump himself will be in Leesburg.
Read more details and RSVP here...
---
Friday, November 4, 2016 7:22 AM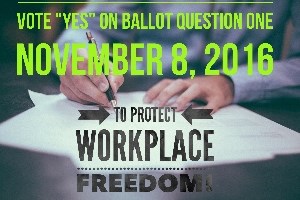 Election Day is only a few days away!
If you are unable to make it to the polls on Election Day, November 8, you can vote Absentee In-Person in this year's general election through Saturday.
This year, Virginia voters will have an opportunity to vote on two very important constitutional amendments. I encourage you to vote "Yes" on both of these amendments, as I did when they were presented in the General Assembly.
---
Wednesday, October 26, 2016 5:30 PM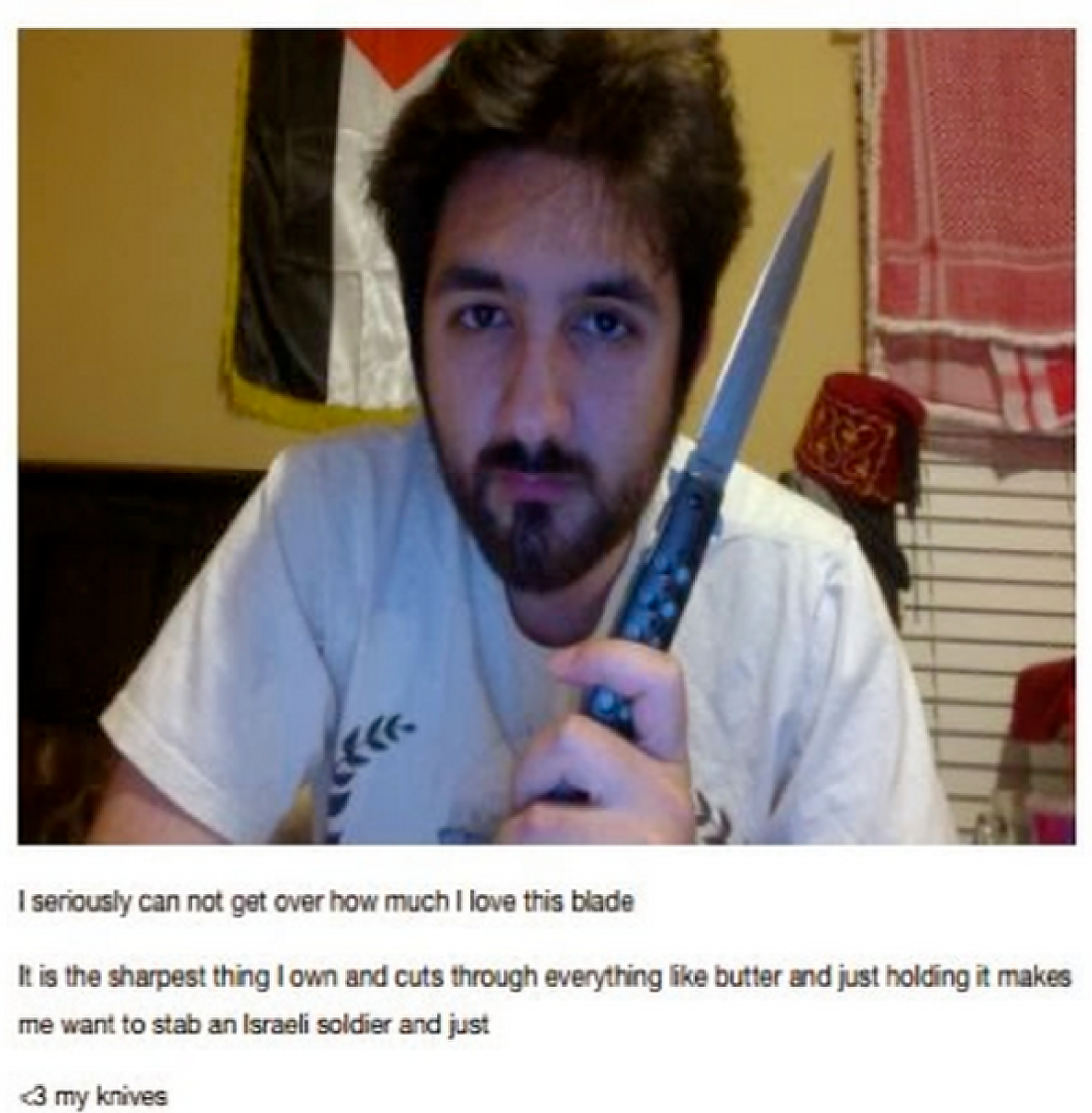 Hamilton, VA – Several members of the Virginia General Assembly, along with individuals and organizations concerned with anti-Semitic activities, today issued a letter calling on George Mason University (GMU) to prevent the Students for Justice in Palestine (SJP) National conference from being held on the University's campus. George Mason University Students Against Israeli Apartheid (SAIA), is the event's host organization.
---
Friday, September 23, 2016 6:32 AM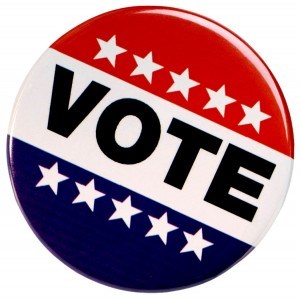 Election day is only 45 days away!
If you need to register to vote, update your current voter registration, or will be unable to make it the polls on Election Day, please visit this website. The deadline to register to vote, or to update your current voter registration to participate in this year's general election is October 17.
If you are unable to make it to the polls on Election Day, November 8, you can vote Absentee In-Person or vote Absentee by mail.
You will be able to vote Absentee In-Person in this year's general election beginning today!
---
Saturday, September 17, 2016 2:44 PM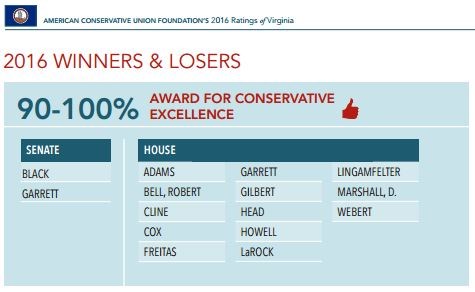 I trust that you had a great summer and are settling into the fall schedule with school, etc.. I've been working at my business and looking at issues and legislation for the upcoming 2017 session. This week, the American Conservative Union named me as one of 13 members of the House of Delegates to receive their "Award for Conservative Excellence" for the 2016 session.
There are several recent items that I feel are important and want to share them with you in this update. We received some Good news regarding the local economy, some Bad news on the state budget, and finally, some Ugly behavior by our Governor...
---
Friday, September 9, 2016 4:51 PM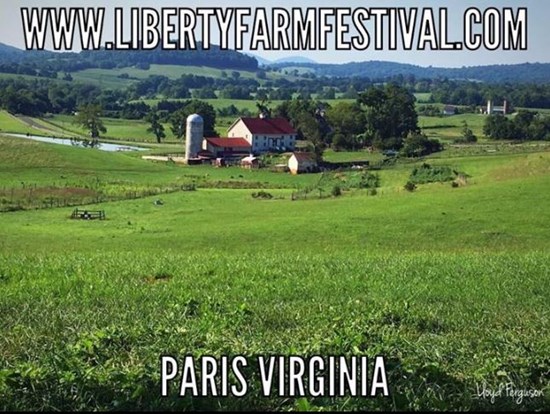 Tomorrow afternoon, I will have the honor of speaking at the Liberty Farm Festival in Paris, VA. Governor Mike Pence and lots of other amazing people will be there too!

I hope to see you there, but in case you can't make it, I've decided to give you a sneak peek at something I've been thinking about and working on, and what I'll be talking about in my speech tomorrow....
---
Friday, August 5, 2016 2:00 PM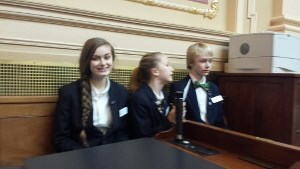 Virginia's annual sales tax holiday will be taking place this weekend, Friday, August 5th to Sunday, August 7th.
Applications are now open for the 2017 Session House of Delegates Page Program for students ages 16- 17.
And we received good news this week in the battle over liberal activists' attempts to destroy common-sense separation of the sexes in our public schools.
---
Friday, July 1, 2016 10:36 PM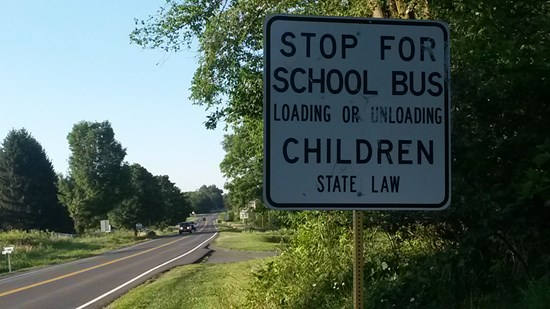 The 2016 General Assembly adjourned in early March. Throughout the 60-day session, we considered thousands of bills. Most of the bills that ultimately passed and were signed by the Governor go into effect today.
Two big news items took place in the 33rd District in the last couple of weeks- a new state park in Loudoun County and a new egg processing facility that will bring over 100 jobs to Berryville.
Finally, I hope you will enjoy some of the many great celebrations of our Independence Day over the next few days!
---
Thursday, June 30, 2016 12:00 AM

"We look forward to working with stakeholders, the community and General Assembly as we flesh out the details of a short term arrangement with the Blue Ridge Center board of directors for the continued operation of the site and work on the long-range goals in developing the site's master plan," said State Parks Director Craig Seaver. Master planning for a state park is a public hearing process in which an advisory committee and public groups meet to discuss development of the park." Read more...
---
Wednesday, June 15, 2016 6:14 PM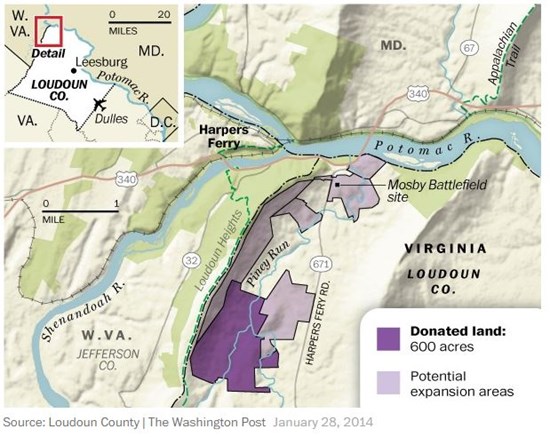 Yesterday, after years of work, the deed was recorded transferring approximately 600 acres of land in Northwestern Loudoun County to the Virginia Department of Conservation & Recreation. This transaction, first announced by Governor Bob McDonnell in January 2014, means that Loudoun County now officially has a state park!
---
Friday, June 3, 2016 4:16 PM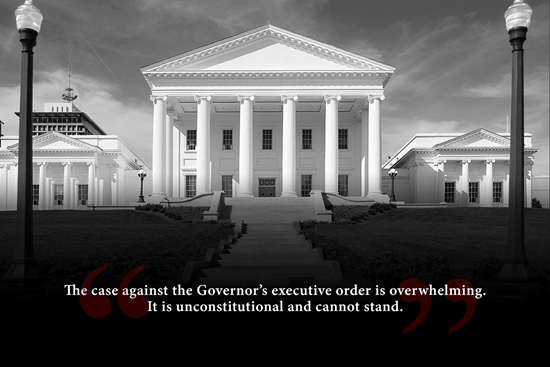 Last month, Governor Terry McAuliffe announced his unconstitutional executive order immediately restoring the voting rights of over 200,000 convicted felons, including 40,000 felons who committed violent crimes.

That means violent felons will now be able to vote and serve on a jury. The Governor's action also makes it easier for violent felons to get their firearm rights restored.
Republican leaders and other citizens filed a lawsuit in the Virginia Supreme Court to stop him. The situation is serious enough that the Supreme Court has scheduled an expedited hearing for July 19th.
---
Thursday, May 19, 2016 11:00 AM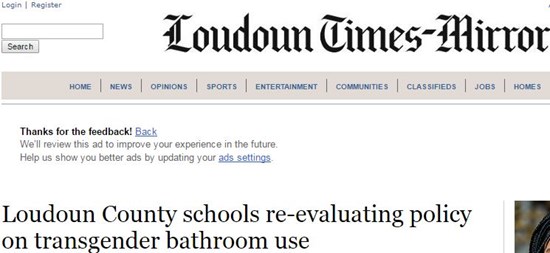 The Loudoun Times-Mirror is reporting the Loudoun County Public Schools are "re-evaluating policy on transgender bathroom use" in response to the recent Obama administration edict.
Please email our local school leadership, demanding that they stand up for our kids, and please CC me on the email.
Read more here...
---
Friday, May 13, 2016 6:15 PM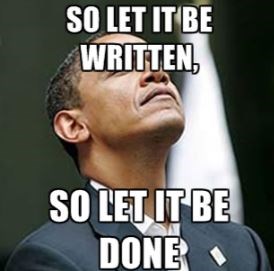 As you have likely heard, earlier today President Obama's administration sent a letter to every public school division, as well as all public (and some private) colleges in America, decreeing that they must consider any transgender student as if they are the "gender" they feel like, rather than the physical sex that they are.
---
Tuesday, May 10, 2016 4:36 PM
Today, after waiting 33 weeks, Delegate Dave LaRock finally received an Official Advisory Opinion from Virginia Attorney General Mark Herring, responding to LaRock's request made last September 21st. By tomorrow, May 11th, Herring was required to file an answer under oath responding to Del. Dave LaRock's lawsuit seeking this opinion. His issuance of this opinion makes it clear he understood he could no longer get away with behaving as though he is above the law.
---
Friday, May 6, 2016 11:42 AM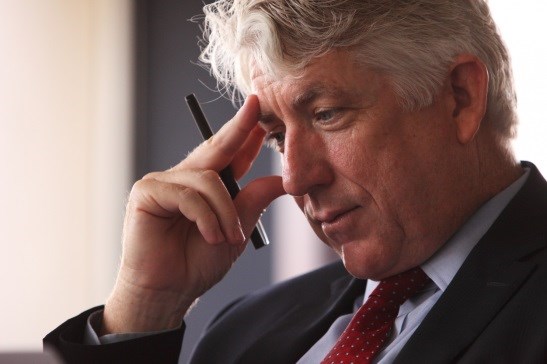 On Wednesday, the Obama administration sent a letter threatening North Carolina Governor Pat McCrory and the state of North Carolina unless he refuses to do his sworn duty to uphold and execute the laws of his state. While the Obama administration is threatening elected officials based on politically-motivated flawed legal interpretation, Virginia's AG is refusing to say what our laws mean.
---
Friday, May 6, 2016 10:01 AM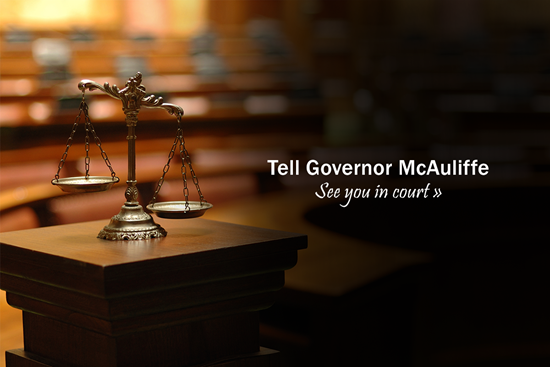 Virginia's House and Senate Republicans have retained attorney Charles J. Cooper to examine the legal options to remedy this situation. Mr. Cooper is a well-qualified attorney who worked under President Reagan and has argued cases before the Supreme Court. We are confident we will prevail in court.
While the Caucus sues McAuliffe, Wednesday, May 11, is Attorney General Mark Herring's deadline to respond to my lawsuit.
Read more here to see how you can help us take our lawless Governor and Attorney General to Court!
---
Thursday, April 21, 2016 5:40 PM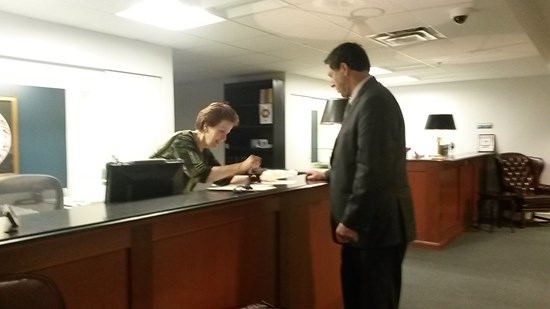 I'm fed up with Attorney General Mark Herring working against the people of Virginia.
My team of lawyers has filed a suit in the Richmond Circuit Court to force Attorney General Herring to stop dragging his feet, start doing his job and provide me with an important Advisory Opinion as required by law.
Attorney General Herring has a $50 million dollar budget and many well-paid lawyers and legal experts.
I need your support today to make sure we're able to follow through and win this suit against AG Mark Herring.
Read more here!
---
Thursday, April 21, 2016 2:52 PM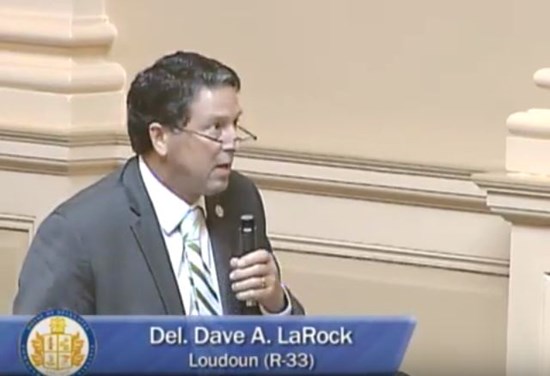 The Virginia General Assembly convened Wednesday for the "reconvened" or "veto" session to consider Governor Terry McAuliffe's amendments and vetoes. This past General Assembly Session, there were over 2,000 pieces of legislation submitted and deliberated by various Senate and House committees. Of those 2,000 bills, 811 were passed by the General Assembly. Governor McAuliffe signed over 700 bills, but he vetoed 32 bills and amended 57 more. He made 30 amendments to the budget passed by the General Assembly.
---
Wednesday, April 20, 2016 1:05 PM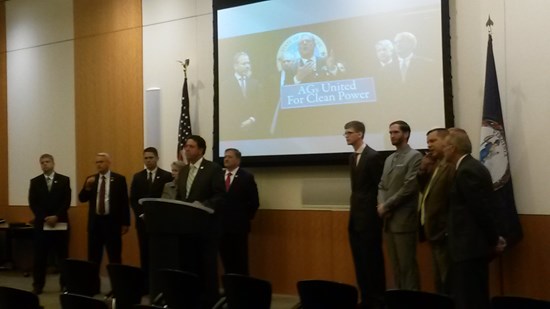 Delegate Dave LaRock (R-Loudoun) filed a Writ of Mandamus asking the Circuit Court of Richmond to compel Attorney General Herring to perform his lawful obligation as Attorney General by responding to a request for an advisory opinion. After receiving no answer from the Attorney General's office following subsequent follow-up conversations, Delegate LaRock filed the suit seeking a court order against Attorney General Herring.
---
Thursday, April 7, 2016 5:18 PM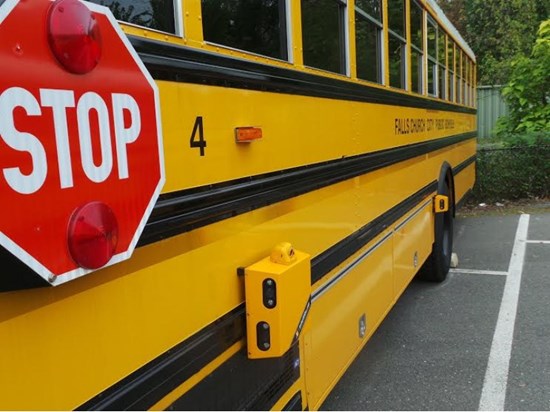 "I am honored to support the General Assembly's ongoing commitment to protect children boarding and exiting school buses. Permitting efficient and effective enforcement of laws to deter drivers from illegally passing stopped school buses will create greater public awareness of school bus safety."
---
Tuesday, April 5, 2016 10:40 PM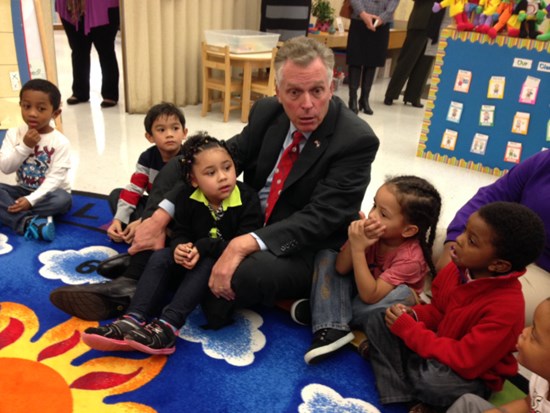 "I'm deeply disappointed that Governor McAuliffe would turn his back to the pleas of parents of students whose education needs are not being met in the public school setting.
The Governor needs to listen to the struggles and concerns of ordinary Virginians, instead of yielding to the education establishment that throws roadblocks in front of any effort to provide better education options for Virginia's students and parents that is not channeled through the public school system...."
Read more here:
---
Wednesday, March 16, 2016 5:36 PM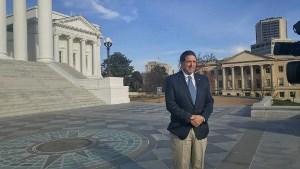 The 2016 General Assembly adjourned Friday, March 11th at 8:30pm, completing its work ahead of schedule for the second year in a row.

This year, the House of Delegates worked tirelessly to strengthen Virginia's economy to help middle class families, improve our education system so all children have the opportunity to succeed, and chart a responsible fiscal course for the future. We continue to govern with a vision to improve our Commonwealth.
---
Monday, March 7, 2016 1:25 PM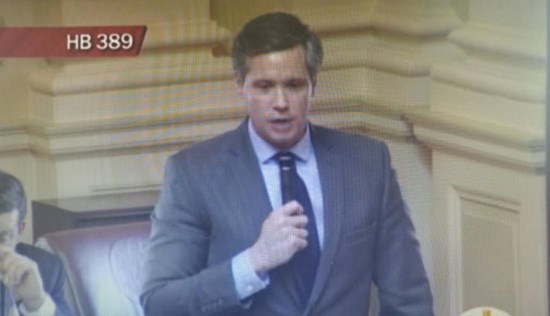 Today, the Senate voted 20-19 to pass House Bill 389, which will establish Parental Choice Education Savings Accounts for children with special needs. After hearing impassioned debate, legislators asking for help for children with special needs, who are sometimes ill-served in a public school setting, won the day. The Governor will now decide if this will become law in Virginia.
---
Saturday, March 5, 2016 10:04 PM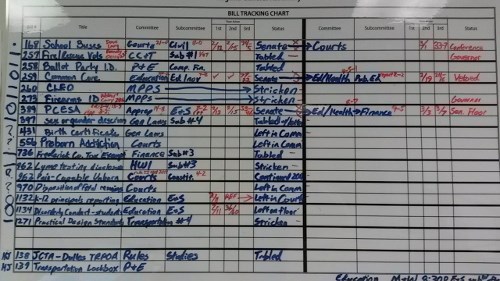 We are now one week away from the scheduled end of our 60-day legislative session. This week was a productive week for the House of Delegates. We are finishing committee work, reviewing amendments from the Senate, and continuing to work on the budget. As we wind down our General Assembly session, I want to update you on my legislation and other important topics.

It will be a busy final week, but I am looking forward to being back home and seeing you around the district in the coming months!
---
Wednesday, March 2, 2016 11:39 AM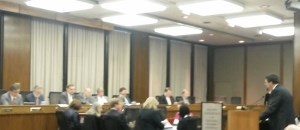 The Senate Finance Committee voted today to move Delegate Dave LaRock's Education Savings Accounts bill HB389 forward to the floor of the Senate on a vote of 9 -5.
"Education Savings Accounts will create real improvement in educational outcomes for pupils, as attested by empirical studies examining academic outcomes for school choice, by matching students with academic resources best suited for them and their particular needs...."
---
Saturday, February 27, 2016 12:15 PM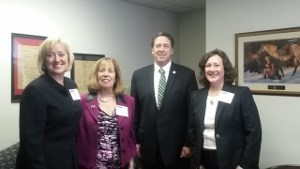 There are just two weeks left in the 2016 General Assembly session, but we continue at a fast pace here in Richmond. This week has seen more of my legislation moving forward. Monday afternoon, the Senate passed my HB259 on Common Core and Del. Rob Bell's "Tebow bill." Gov. McAuliffe has until March 3rd to decide whether to sign or veto these bills- please encourage him to sign them!
---
Friday, February 26, 2016 1:19 PM
I want to remind you of some very important deadlines in the next few days.
First, we need conservatives to sign up as Delegates to the Republican Party of Virginia's upcoming County, 10th Congressional District, and State Conventions.
Second, This Tuesday, March 1st, is the Presidential Primary; if you are not sure if you can make it to the polls on Tuesday, the final opportunity to vote absentee is this Saturday at your local Voter Registrar office.
---
Thursday, February 25, 2016 7:29 PM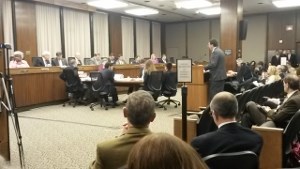 The Senate Education Committee voted today to move Delegate Dave LaRock's Education Savings Accounts bill forward to the Senate Finance Committee on a vote of 8-7, after hearing the testimony of supporters including parents and a former school board member.
---
Saturday, February 20, 2016 11:54 AM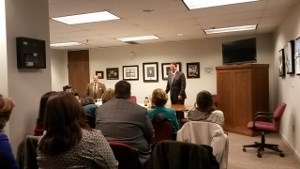 This week marks crossover! Generally speaking, if a bill isn't out of the House by now, it's not going to move forward for the year (with the exception of the budget).
Here are some highlights of what's moving forward so far. A more extensive list of legislation can be found on my website if you click here.
---
Tuesday, February 16, 2016 12:16 PM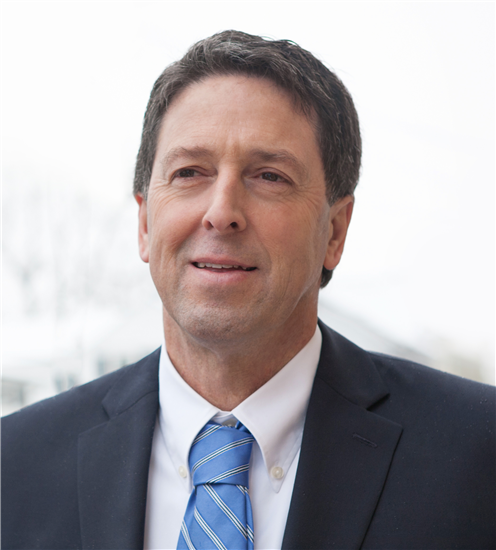 The Virginia House of Delegates threw their support behind parents and students today, passing Delegate Dave LaRock's bill to enact Education Savings Accounts by a vote of 53-46.
The bill has already passed the House Education and Appropriations Committees, and will now move on to the Senate.
---
Sunday, February 14, 2016 12:34 AM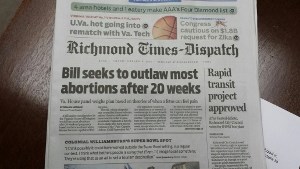 Good news on several fronts, but not all fronts!
Not only are some of my bills steaming ahead towards passage, the House of Delegates is advancing big-picture legislation on several fronts to improve Virginia economically, improve our education system, and protect our freedoms!


---
Sunday, February 7, 2016 10:00 AM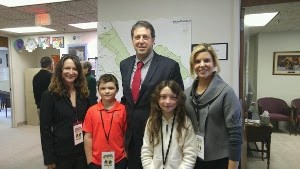 ACTION ITEM -The Pain-Capable Unborn Child Protection Act will be heard in sub-committee Monday, likely early afternoon. Please call committee members before Monday noon to register your support for this bill!

Education Savings Accounts will also be heard in an Appropriations Subcommittee on Tuesday.
---
Monday, February 1, 2016 12:00 AM
At face value, Senator Adam Ebbin's proposed SB 12 in the 2016 session of the Virginia General Assembly seeks to redefine the prohibitions to discrimination spelled out in the Virginia Constitution and Virginia laws to include the terms Sexual Orientation and Gender Identity (SOGI). This action would wreak havoc on the distinctions between sexes that Virginia currently makes, particularly in the administration of woman-owned businesses. As Ebbin's bill makes rabid headway in the Virginia legislature (as of February 1st, it has already passed the Senate by a vote of 25-15), it is becoming critical that Virginians understand the impact that proposals like these will have on our business environment.
---
Saturday, January 30, 2016 7:04 PM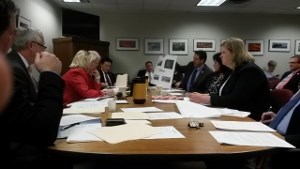 This week has seen some good advances on key issues of concern to the citizens of Virginia, but we still have a lot of work to do!
Your action is URGENTLY NEEDED in support of two bills!
Concealed Carry Reciprocity is on its way back! Late this week, House leadership announced an agreement with Governor McAuliffe to restore and expand Virginia's concealed carry reciprocity agreements, a top priority.
---
Saturday, January 23, 2016 6:06 PM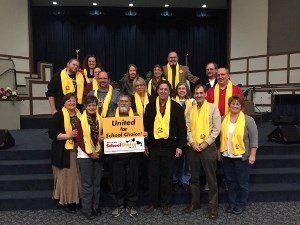 During our second week at work in Richmond, we reviewed proposed laws in the three committees I serve on; Transportation, Science and Technology, and Education. I'm glad to report some big news on the legislative front!

I also believe my bill to protect 20-week-old pain-capable unborn babies will be up for a hearing soon as well. At 20 weeks gestation, we know through solid scientific evidence that unborn babies feel pain. Your phone calls to your representatives will be key to making sure this important protection advances!
---
Saturday, January 16, 2016 4:55 PM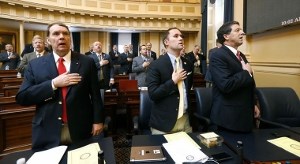 This week marked the beginning of our legislative session in Richmond! Compared to other states with year-round legislatures, Virginia's session is a short 60 days.

The problem with that is we have very little time to pass new laws. The advantage is… we have very little time to pass new laws!

As the session continues, I will keep you posted on the bills I'm sponsoring as well as any other legislation that I think you may find noteworthy. My agenda this year is pretty packed.
---
Thursday, January 7, 2016 7:00 AM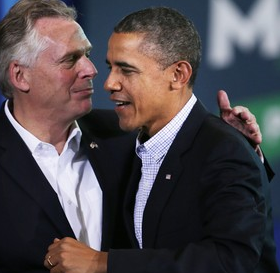 As the President and our governor become more brazen in their overreach, patriotic Americans have only one choice: double down and commit to winning the fight. One thing is certain - we all need to be well-informed to engage effectively.

The legislative session begins next week, and I'll keep you posted. Your phone calls, emails, and support will be crucial in stopping this and other measures like it.
---
Thursday, December 31, 2015 3:51 PM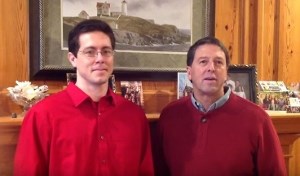 Thank you for the honor of serving as your delegate. Working together we can bring real progress – please help us keep our constituents well-informed through the 2016 session!

Having your trust and support means everything to me and my team.

We will be very busy working on legislation in Richmond and sharing insights and information with tens of thousands of people.
---
Monday, December 28, 2015 5:15 PM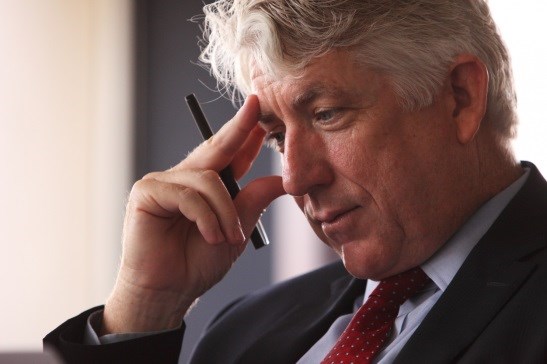 As a state legislator I do two things; at LEAST two:

I work to promote good ideas to make life better for the people of Virginia, and I work with my constituents and like-minded legislators to snuff out some really bad ideas.

I need your help to kill some really bad ideas, like the ones recently coming from Team McAuliffe/Herring.

With Governor McAuliffe and AG Herring in power, there's more than enough really bad ideas floating around to last a lifetime. In fact, I'm starting to wonder if there is a competition going between Governor McAuliffe and AG Herring to win the WORST IDEA OF THE YEAR AWARD.
---
Saturday, December 5, 2015 10:30 PM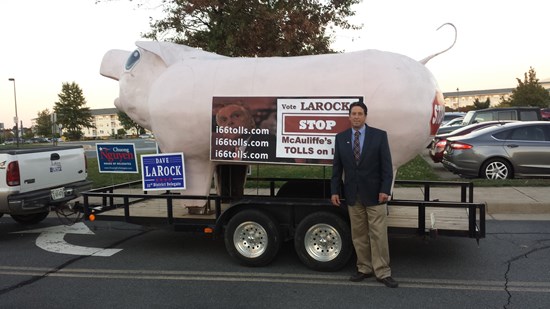 Yesterday, as a member of the Northern Virginia Transportation Commission (NVTC), I attended a meeting at which the McAuliffe administration made it clear they fully intend to go ahead with their plan for $17 tolls on I-66 over the objections of local residents, leaders, and even members of his own party.
---
Friday, November 20, 2015 7:00 AM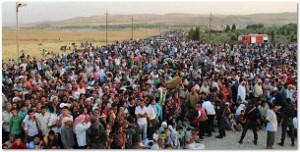 In Virginia, Governor McAuliffe is toeing the line with the White House as usual by refusing to make any effort to block the immigration. The most obvious concern I hear is that it is impossible, given the lack of proper documentation, to establish the background of the people who line up to enter the US. That leaves a few very important questions unanswered.
---
Wednesday, November 4, 2015 12:14 PM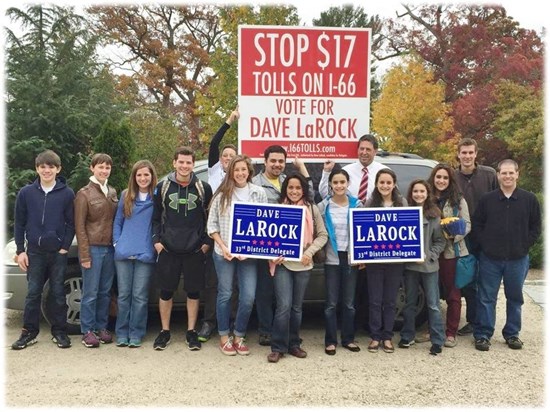 I'm deeply grateful that the citizens of our district have again asked me to serve them as their representative in the Virginia House of Delegates. Having served in this office only increases my appreciation for the depth of this responsibility. The people of the 33rd District and Virginia have very real needs and challenges, and I will do everything I can to serve them while upholding the Constitution of Virginia.
---
Tuesday, November 3, 2015 3:47 PM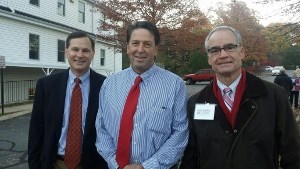 Only 3.5 hrs left on Election Day, and both sides are working hard. Turnout is slow but steady, so every vote is critically important. Please make sure you and your friends get out to vote! You can call your friends to make sure they remember!

Feel free to refer folks to my website for information on where to vote. I've also listed the other candidates I've endorsed who are on the ballot in the 33rd District.
---
Monday, November 2, 2015 6:37 PM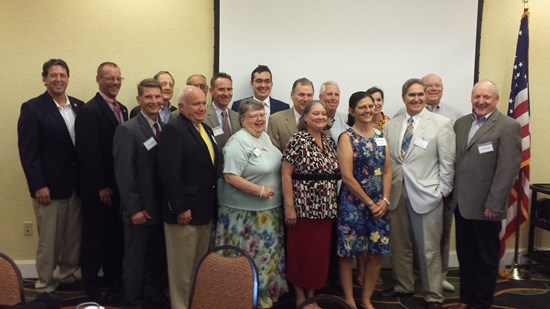 Is there anyone reading this who is not at least a little fed up with how government can be completely out of touch with the needs of working families? Democrats proposing $17/day, $4000/year tolls on I-66 is about as out of touch as it gets; it is clueless!
I've talked with 1000's of people as I go door to door and people want good government that respects the rights and needs of the individual.
Elections in Virginia have been won and lost by razor thin margins and outside liberal groups are pouring millions of dollars into local races in a last-ditch effort to swing the state blue. Help us stand up for our conservative values. Tomorrow - Election Day - is your chance to do your part. I strongly encourage you to help secure good government by voting tomorrow for these ROCK – SOLID candidates...
---
Friday, October 30, 2015 4:47 PM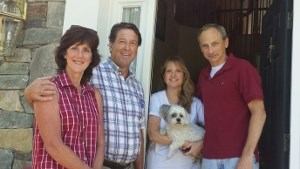 Outside liberal groups are pouring money into Virginia. Much of that spending and activity is going on right here in our district. I need your help these last few days as we push back with the facts and get every conservative voter we can to the polls on November 3rd. Recent elections in Virginia have been won and lost by razor-thin margins. Sometimes a few dozen votes made all the difference.
---
Thursday, October 22, 2015 2:40 PM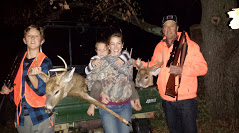 The truth is obviously no impediment to my opponent's juicy campaign lies - help me spread the truth! My opponent bought a half-page ad in a local newspaper intentionally misleading people on a sensible second amendment bill!

Please join me and other proud supporters of the Constitution as we gather at Pittsburgh Rick's on October 27th.

The event is next Tuesday, but the deadline is TODAY!
---
Thursday, October 22, 2015 2:34 PM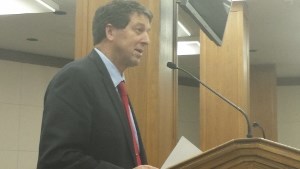 Pro-abortion groups aren't just watching Virginia, they're dumping hundreds of thousands of dollars into Democrat candidates' races, including the area I serve, funding their agenda directly inside the 33rd District.
On Nov. 3rd, EVERY VOTE COUNTS. If you want to protect the unborn, Dave is on your side.
---
Wednesday, October 21, 2015 4:38 PM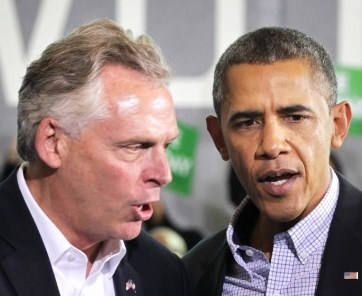 Democrats are already lining up to help McAuliffe push for new gun control. On Nov. 3rd, EVERY VOTE COUNTS. If you support gun freedom, I am on your side.
Unlike my opponent, I am completely open about where I stand on gun rights: I support them 100%. I'm proud of my "A" rating from the NRA this year. I'm proud of the due-process legislation I've introduced to protect the rights of gun buyers – legislation my opponent is lying about to attack me. I will not give an inch to McAuliffe's plan to strip Virginian gun owners of their rights.
---
Wednesday, October 21, 2015 6:00 AM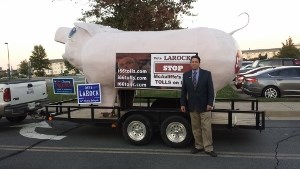 Something big is in the works that could hurt us all, and you need to know about it.

A few weeks ago, Governor McAuliffe announced his plan to enact tolls on Interstate 66 inside the Beltway. The toll rates will be outrageous – as high as $17.00 per round trip during peak times. For a normal 5-day work week, that will total up to around $340 per month, or over $4,000 a year to use a short section of I-66.
---
Tuesday, October 20, 2015 10:20 AM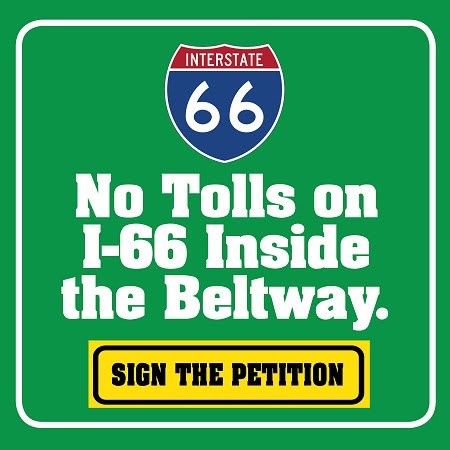 Do you support $17 tolls inside the Beltway on I-66 during rush hour?
$17/day
$85/week
$340/month
$4,000+/year
Dave LaRock - NO Chuck Hedges - YES
---
Wednesday, October 7, 2015 6:21 PM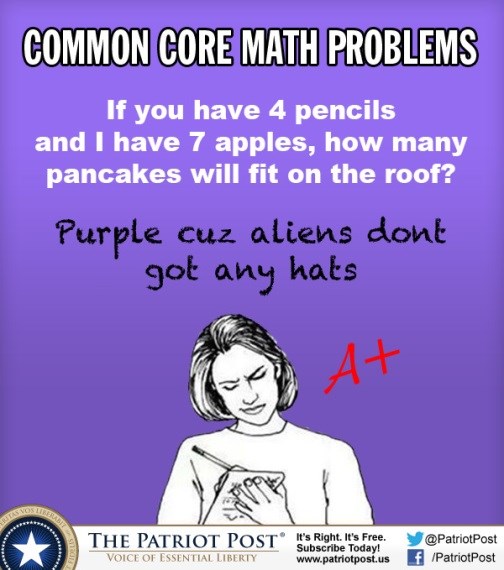 I'm working as your delegate to advance good ideas and kill bad ideas.
BAD IDEA - Common Core is a Federal Takeover of Education. This failed educational approach will undermine educational quality and choice. States and local communities, not Washington bureaucrats, know how to design standards based on their students' and parents' needs. Common Core is bad for parents, teachers, taxpayers, and students.
---
Thursday, October 1, 2015 10:42 PM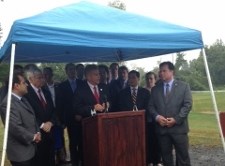 Last night, Governor McAuliffe announced a state of emergency in the Commonwealth due to significant rainfall that is already causing flooding, with more rain and possibly a hurricane impacting our region over the next several days. Please take a moment to visit the Emergency Resources page on my website and make sure you and your family are ready!

---
Tuesday, September 29, 2015 3:51 PM

I'm thrilled to announce this week that the National Federation of Independent Business, Virginia's leading small-business association, has endorsed me in the 33rd House District race!

I'm itching to head back to Richmond to keep fighting for the families and workers of our Commonwealth, and I have a fantastic team working to get me elected, but I NEED YOUR HELP!
---
Wednesday, September 23, 2015 7:30 PM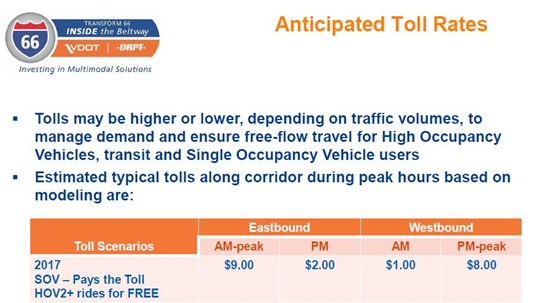 BAD IDEA-Governor McAuliffe thinks people commuting to Washington ought to pay an additional $17 toll to drive on I-66 inside the beltway, with proceeds going to a variety of non-road projects including Metro and bike paths.

That's just not acceptable, and that's why I'm campaigning to go back to Richmond to keep reforming our transportation spending. I'm counting on YOU to give me that opportunity.
---
Wednesday, September 16, 2015 9:57 PM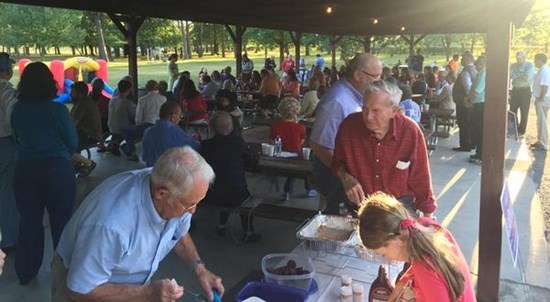 A huge "thank you" to everyone who worked to make yesterday's family picnic a big hit!
More than a hundred folks showed up to enjoy Joanne's delicious pulled pork and barbecued chicken and meet and
greet with our local leaders!
---
Monday, September 14, 2015 6:00 AM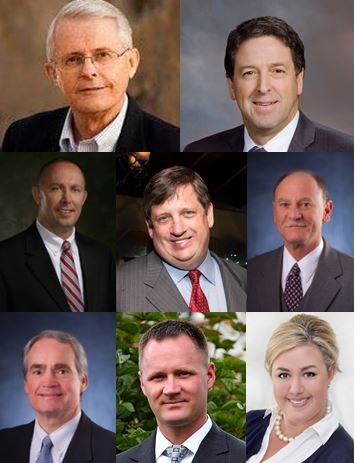 Your Republican candidates want to meet you! I'm helping to host a free, open-to-the-public meet-and-greet candidates' forum to be held from 6-8pm on Wednesday, September 23rd, at the Purcellville Train Station.
This event is a great opportunity for candidates to hear what's on people's minds and for constituents to get acquainted with our Republican candidates.
---
Sunday, September 13, 2015 7:48 PM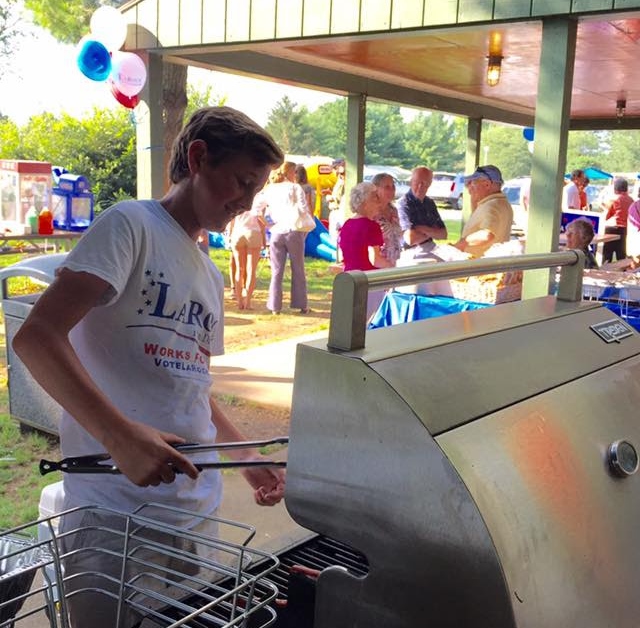 I'm thrilled to let you know that we'll have a great lineup of guests for our family picnic at Clearbrook Park on September 15th. But it won't be the same without YOU– I'll be excited to see you there!
The fun will start at 5:30 PM, and we'll have delicious food and fun family activities – don't forget, it's all free (donations to Dave LaRock for Delegate always appreciated)!
---
Saturday, August 29, 2015 10:28 AM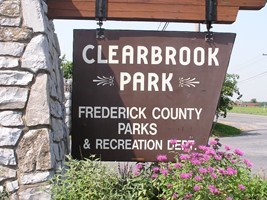 Mark your calendars to join former Attorney General Ken Cuccinelli and me on September 15th from 5:30-8pm at Clearbrook Park!

We'll have refreshments and food, and more importantly, the chance to meet and talk with Ken, one of the most influential conservatives in Virginia! More details here!
---
Friday, August 7, 2015 3:03 PM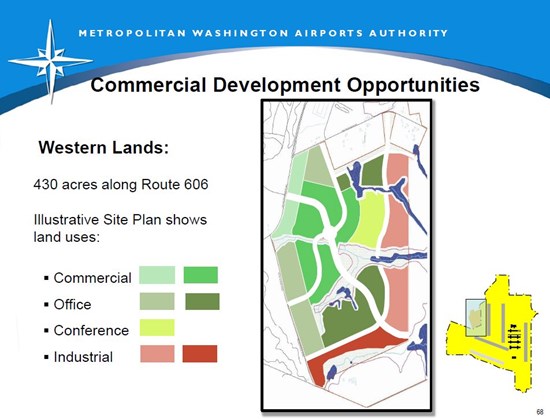 Some elected leaders have bought into the thinking that when it comes to any decision that impacts Dulles Airport's bottom line, Loudoun should subordinate its interests to Dulles Airport. I'm glad to say at least a few folks don't buy into that nonsense.
If MWAA wants to compete with private developers, MWAA should pay a fair share to Loudoun County. Anything less should be deemed unacceptable.
---
Saturday, August 1, 2015 4:45 PM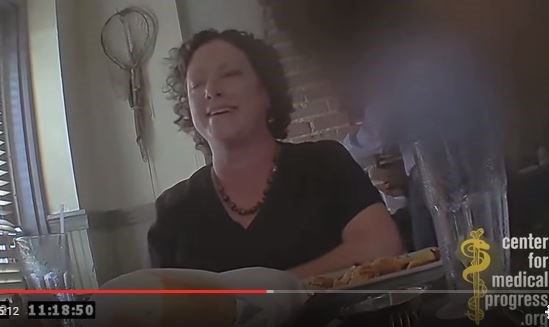 When Cecile Richards, the president of America's biggest abortion business, commented on a bill to ban painful late-term abortions on viable unborn children after 20 weeks gestation, she said it "lacks compassion and respect." The irony of that comment is unbelievable.
The protection of pain-capable unborn children has the support of a majority of Americans because compassion for fellow human beings transcends party lines. Let's call what we hear about in these videos what it really is- brutality. And let's work together to stop it.
---
Saturday, July 25, 2015 6:57 AM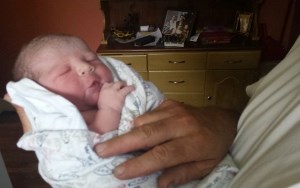 On the campaign front, we keep an eye on who is working to elect my opponent, a pro-Obama Democrat who'll no doubt side against the cause of life with Governor McAuliffe and Attorney General Mark Herring.
Planned Parenthood is in the news as you probably now. There are videos of their executives discussing gruesome practices that turn aborted baby's bodies into a product for sale. When the 20 Week Protection Bill passes in Virginia, it will help block this horrendous activity.

I look forward to continuing the fight to protect the unborn, even though it makes me a target of those who side with Planned Parenthood.
---
Wednesday, July 15, 2015 3:25 PM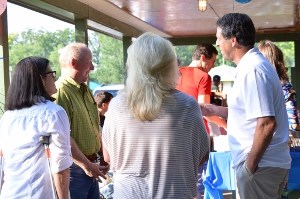 We had a blast last Saturday evening! Over 80 friends and supporters of Delegate Dave LaRock and Senator Jill Vogel turned out to support both candidates at Chet Hobert Park, enjoying food, fun and fellowship!
---
Thursday, July 9, 2015 9:48 AM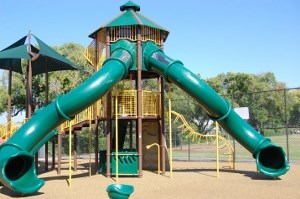 Join Delegate Dave LaRock and Senator Jill Vogel for our Clarke County campaign kickoff coming up this July 11th in Berryville! We'll be grilling out hot dogs served up with some of your favorite side dishes, drinks, games, crafts, cotton candy and snow cones – all at the pavilion at Chet Hobert Park right next to the big playground!
---
Saturday, July 4, 2015 9:53 AM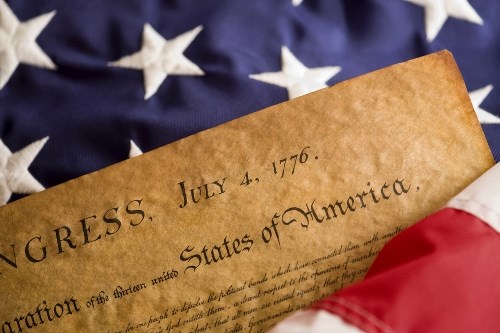 For the sake of all who have come before us and those who will follow us let's rise to Lincoln's challenge; "…that this nation, under God, shall have a new birth of freedom -- and that government of the people, by the people, for the people, shall not perish from the earth."
Lots of great events and fireworks today, find out where! Also, DON'T FORGET! We have a ROCKING campaign kickoff coming up this July 11 in Berryville!
---
Tuesday, June 30, 2015 1:04 PM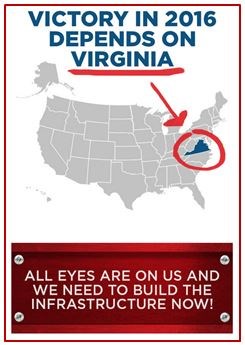 The LaRock team (I hope that includes you) is still in this fight. My family and I and volunteers are visiting our constituents every day, door to door, three days a week because defeat is not an option.
I have two opponents; one promoted the president who brought you Obamacare and an endless list of unconstitutional policies, and another who is celebrating at least one of the recent Supreme Court mistakes.

We have our work cut out for us. This image is pulled from a McAuliffe fundraising email. He's right, Virginia is the bullseye, and Loudoun County (65% of the district I serve) overlaps with one of McAuliffe's top targets – Senator Black.
---
Saturday, June 27, 2015 7:30 PM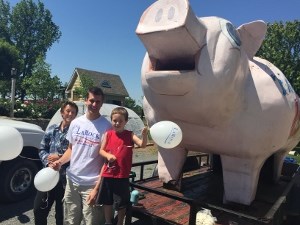 Thursday, we were blessed by Gloria and Dan Carlineo's generosity as they opened up their lovely home and laid out an abundance of delicious food and drinks. I was delighted by the outpouring of support from the many folks that came to help push our campaign on to victory this November 3rd – business leaders, fellow delegates, friends, neighbors and volunteers all excited and enthusiastic about earning a win!
BRING YOUR FAMILIES FOR CHILI DOGS AND OUTDOOR FUN!

We hope you'll join us Saturday, July 11, 2015, at Chet Hobert Park, 255 Al Smith Circle, Berryville, VA 22611 from 5:00 pm - 8:00 pm for my Clarke Campaign Kickoff! We'll have food, drinks, bean bag toss, games, crafts, and tons of good old fashioned family fun! We'll be right next to the playground, so come and bring the kids!

Please bring some chairs, a covered dish, salad, or dessert and make a contribution to help cover our campaign expenses – we're staying lean and mean, but every little bit helps!

A reply by July 8th, if possible, would be appreciated. To RSVP, or for more information, contact: peter@votelarock.us or 540-336-2702.
---
Wednesday, June 24, 2015 5:26 PM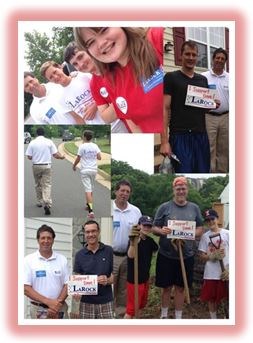 The LaRock Team works hard for you; making good laws, stopping bad ones, and keeping you informed.
Tomorrow is the big day when YOU can make it known that you are part of the team that is working to keep the 33rd House District red.
We're honored to have former Navy SEAL Lieutenant Commander Justin Gans, Senator Dick Black, Delegate Todd Gilbert, Gary Clemens, Jill Turgeon and other exciting guests helping Dave push on to victory in November!
---
Thursday, June 18, 2015 10:02 PM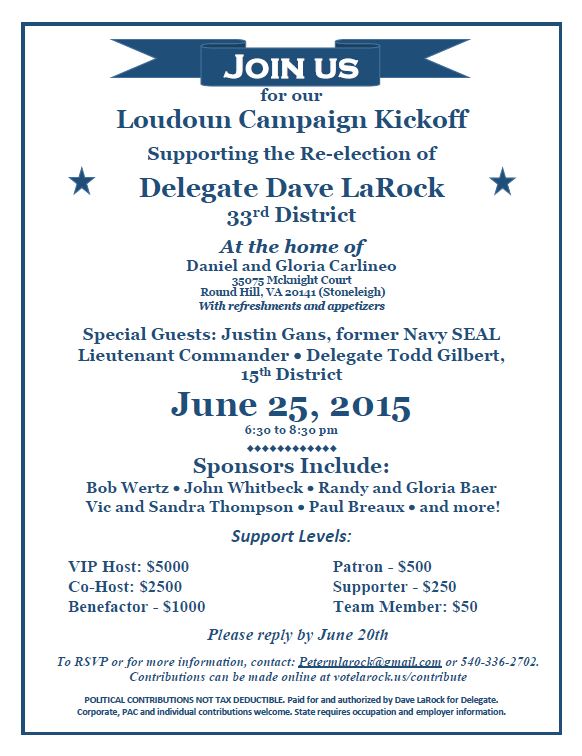 I would be honored if you would join me in Round Hill at the lovely home of Daniel and Gloria Carlineo for our Loudoun Campaign Kickoff!

WHEN: June 25th! We'll have refreshments and fun from 6:30 to 8:30 PM.
WHERE: The home of Daniel and Gloria Carlineo: 35075 Mcknight Court, Round Hill, VA 20141
(Near Hill High Orchards and Bogati Bodega & Vineyard)
WHO: Our special guest will be Justin Gans, former Navy SEAL Lieutenant Commander, and he's agreed to share a few words with us – I can't wait!
WHY: This is a great opportunity to team up and show support for the conservative principles that reflect the values of our district.
---
Friday, June 12, 2015 6:15 PM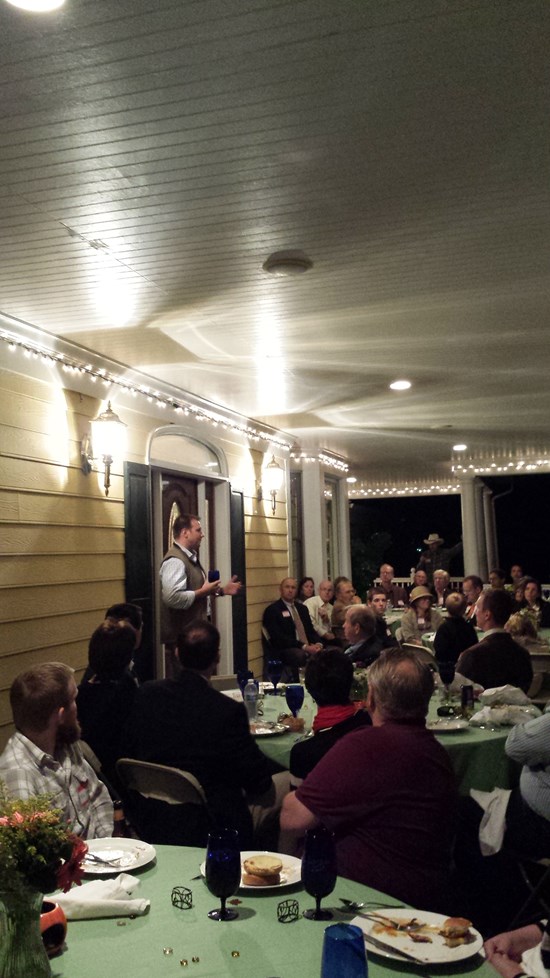 I would like to extend a personal invitation to you to join me in Round Hill on June 25th at the home of Daniel and Gloria Carlineo for our Loudoun Campaign Kickoff!

The Carlineos have offered to open up their gorgeous home; we'll have refreshments and fun from 6:30 to 8:30 PM.
We are gearing up for the campaign ahead, so please help equip my campaign with what we need to win!

My opponent will have the support of the McAuliffe McMoney Machine for the coming election, so your support will be greatly appreciated as we kick off another strong conservative win in November.
---
Wednesday, June 10, 2015 11:40 AM
Protecting Loudoun Taxpayers from MWAA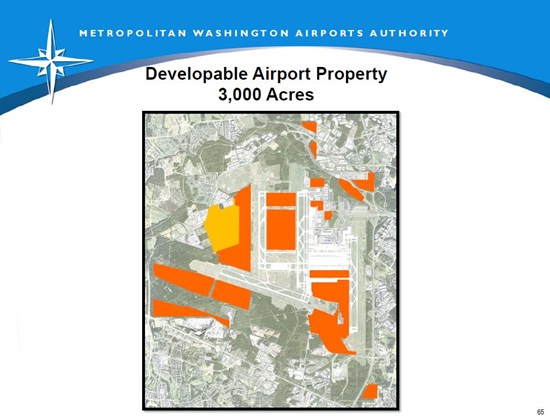 In 2012, the Metropolitan Washington Airports Authority (MWAA) worked within the FAA Reauthorization process to change the rules governing the use of the federally owned land at Reagan National and Dulles airports leased to MWAA. This change allows MWAA to market and develop federal land for non-aviation-related purposes. With no zoning or proffer requirements, and the federal government's special property tax status, MWAA could undercut private developers and take revenue away from Loudoun while increasing demand for County services.
---
Saturday, May 9, 2015 1:00 PM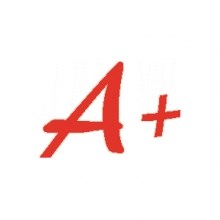 Yesterday the Virginia Chamber of Commerce announced that I will receive a Distinguished Advocate for Virginia Business Award, along with an "A+" rating for my work during the 2015 Virginia Legislative Session. My team and I are dedicated to pursuing business-friendly policies that will help create good job opportunities for our citizens and keep Virginia on the road to economic recovery.
My opponent is an enthusiastic supporter of Obama's "Hope and Change" agenda and is eager to expand Medicaid in Virginia – no word yet on how much he wants to raise your taxes to pay for it!
---
Wednesday, April 8, 2015 2:02 PM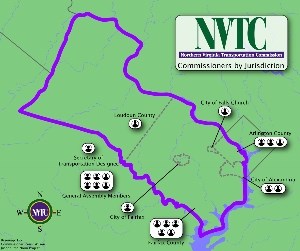 House of Delegates Speaker Bill Howell this week appointed Delegate Dave LaRock as a member of the Northern Virginia Transportation Commission (NVTC). LaRock will be one of 20 members guiding the NVTC, taking the seat vacated by Congresswoman Barbara Comstock.
---
Monday, March 30, 2015 1:51 PM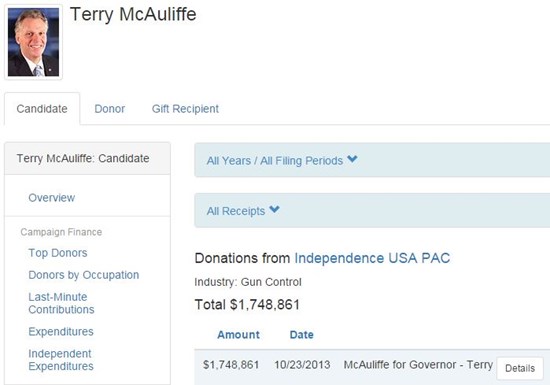 Delegate Dave LaRock sounded off on Governor McAuliffe's decision to veto House Bill 2009, a bill to require law enforcement officers to respond to citizens who request help completing federal forms for legal firearms transfers.
---
Friday, March 27, 2015 1:21 PM

Delegate Dave LaRock criticized Governor Terry McAuliffe's decision to veto House Bill 1752, a bill passed by the House and Senate that would require legislative approval before national Common Core curriculum standards could be implemented as part of Virginia's Standards of Learning.
---
Tuesday, March 17, 2015 4:50 PM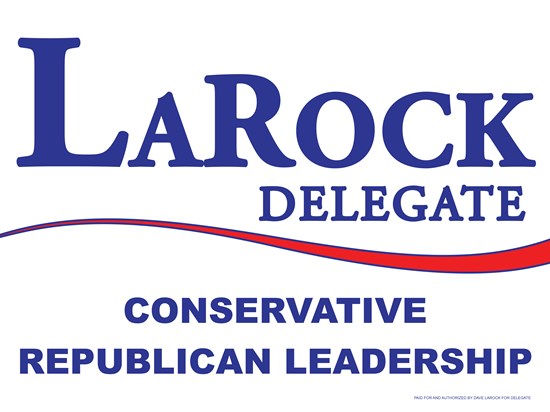 Hamilton, VA – This Sunday, the 33rd House Legislative District Committee of the Republican Party officially selected Dave LaRock to be the Republican candidate for Delegate for the 33rd District in 2015.
---
Wednesday, March 4, 2015 5:57 PM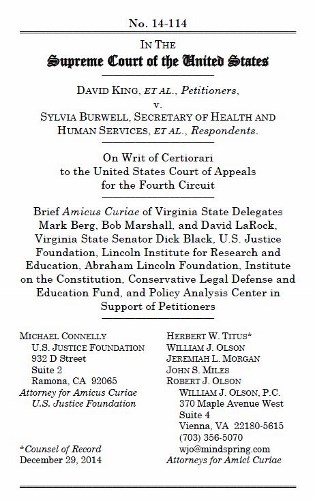 Today the United States Supreme Court heard arguments in King v. Burwell, a case challenging the legality of Obamacare's current subsidization scheme. Senator Dick Black and Delegates Bob Marshall, Mark Berg and I, represented by attorneys Bill Olson and Herb Titus, submitted an amicus brief challenging the actions taken by the IRS that ignore the actual provisions of the Obamacare law.
Read more...
---
Monday, March 2, 2015 3:02 PM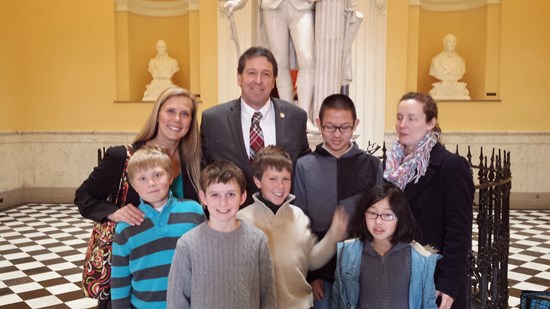 This year's session was fast-paced and intense. During the last six weeks in Richmond, I was privileged to buckle down alongside fellow delegates and senators as we worked to make Virginia a better place to live, work, and do business. As always, my top priority remains serving the citizens of Virginia and the 33rd District by passing laws that boost economic recovery, allow the creation of good, dependable jobs, improve education, reform government spending and protect our individual rights.
Read more here...
---
Friday, February 27, 2015 5:30 PM
This year's session was intense and fast-paced. During the last six weeks in Richmond, I was privileged to buckle down alongside fellow delegates and senators as we worked to make Virginia a better place to live, work, and do business. As always, my top priority remains serving the citizens of Virginia and the 33rd District by passing laws that boost economic recovery, allow the creation of good, dependable jobs, improve education, reform government spending and protect our individual rights.
---
Friday, February 27, 2015 4:55 PM
Delegate Dave LaRock confirmed today that he will seek re-election as Delegate of Virginia's 33rd House District. "My promise is to stay focused on encouraging job creation and rebuilding our economy, improving transportation, reforming our education system and fostering affordable healthcare options. I'm running to help the citizens of Clarke, Frederick, and Loudoun County with positive answers to the challenges we face. We still have work to do to keep Virginia and the 33rd District on the road to economic recovery."
---
Wednesday, February 25, 2015 7:42 PM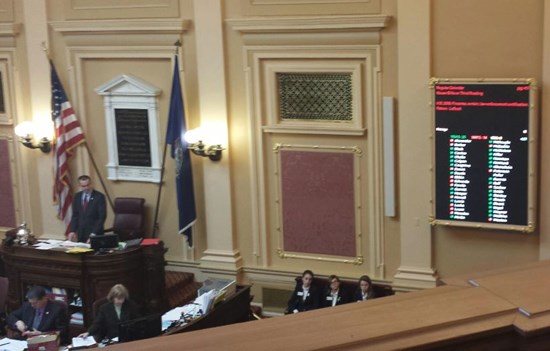 "It's very disappointing that the man who wants to lead our Commonwealth kicks off his campaign by putting special interests ahead of special needs children. These kids desperately need help, and our Lieutenant Governor turned his back on them."
---
Saturday, February 21, 2015 7:14 PM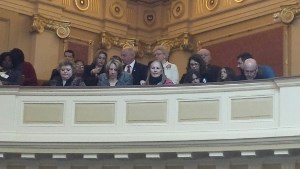 It's week six of the General Assembly's seven-week legislative session, and I'm pleased to report that several of the bills I have put forward are poised to pass the Senate and go to the Governor to be signed into law.
Read more here:
---
Saturday, February 14, 2015 9:55 AM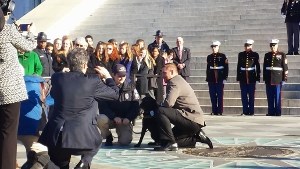 At the start of session, I told you that I would do my best to make life better for the hard-working citizens and families of Virginia. To that end, I'm working to pass policies to reform K-12 education, make government work more efficiently, and oppose new taxes on Virginia families. Throughout session, I have heard from many of you that those are your priorities as well.

This week we made it to crossover in the General Assembly, the deadline for consideration of legislation that started in the House. I'm pleased to report that eight of the fourteen bills and resolutions I sponsored have passed the House, and will hopefully be approved by the Senate and go to the Governor soon.
---
Sunday, February 8, 2015 12:47 AM
This last week was incredibly busy, as I had eight bills to present in various committees. Four bills were up for debate on the floor.
The legislature made two big steps forward this week in the direction of school choice for the Commonwealth. In the House, the Education and Appropriations Committees acted to pass my bill to create Education Savings Accounts for special education students.
---
Tuesday, February 3, 2015 6:08 PM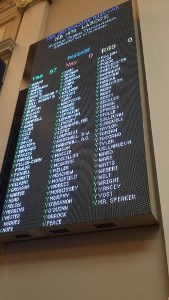 Delegate Dave LaRock's House Bill 1470 passed the House of Delegates by a vote of 97-0 today.
This bill requires transit projects in Northern Virginia be evaluated in accordance with the prioritization standard created by Delegate Jim LeMunyon's HB 599, passed in 2012.
"All transportation projects, including transit, should be objectively measured in accordance with the priorities outlined by the General Assembly. This is an important reform that will promote greater accountability and guard against wasteful transportation projects."
---
Saturday, January 31, 2015 1:03 PM
The pace of the 2015 session is brisk, and we are getting close to the February 10th crossover, ( the day when all legislation must move from one body to the other). We're working to make sure every good bill gets a hearing. This is our short session (45 days), and despite the time constraints, we're doing our best to pass measures that will improve the quality of life of our citizens and help our local businesses keep growing and hiring!

Several more bills I've introduced are still moving through the legislative process and will need to be reported out of committee and to the House floor this week. This will be a busy week, so please follow my Facebook page for the latest news!
---
Saturday, January 24, 2015 4:58 PM
Bills I introduced are progressing through committees, and so far all is going well. Several more committee hearings on my bills are this coming week, so please pray for safety and wisdom for my team and me, and for all members of our government.

The pace is fast and days are full, but please stop down and see the Legislature in progress if you can.
---
Thursday, January 22, 2015 1:49 PM
A bill is advancing through the legislature that would provide desperately needed education choice to an at-risk segment of our school population and provide necessary relief for public schools.
Read More...
---
Saturday, January 17, 2015 12:57 PM
"No man's life, liberty or property are safe while the Legislature is in session." Mark Twain

The legislature is in session, so we'll do our best to be guarding everyone's liberty! I'm here to work for you and do my best to keep you updated at least once a week on important issues that will impact our liberty and shape the economic future of our Commonwealth....
---
Friday, December 12, 2014 7:00 AM
The attempts by the EPA – an unelected federal bureaucracy – to clamp down on energy production here in the Commonwealth of Virginia are arbitrary, capricious, and unlawful. That phrase also sums up our President's recent decision to use his "pen and phone" to upend the legal process and grant amnesty to millions of illegal immigrants in the United States currently awaiting deportation.
---
Thursday, November 27, 2014 6:00 AM
Let's resolve this Thanksgiving to be grateful for the blessings of liberty that we enjoy, and to protect it by teaching our kids and friends to adhere to justice, moderation, temperance, frugality, and virtue....
---
Thursday, November 20, 2014 5:52 PM
Maybe you heard - one of our local school boards made the news this week with their developing proposal to change the law to allow them to charge students for bus rides. As districts get creative looking for more ways to raise money, it's an excellent time to examine the way we support public education in Virginia and the other options that might serve us better. Check out my blog post here for a discussion of how expanding parental choices in the Commonwealth is an excellent answer to many of the educational problems we face.
---
Tuesday, November 11, 2014 6:17 PM
As we honor our Veterans today, let's not relegate our appreciation of the defenders of our great Nation to one day. Keep them in your prayers always, because we enjoy the blessings of their sacrifices every minute of every day.
---
Thursday, November 6, 2014 4:04 PM

A new approach is needed to our legislative leadership, one that involves smarter approaches to spending and creative ways to solve problems instead of endlessly throwing money at them to make them go away. This coming session I have a plan for Virginia's education system that shows great potential for providing seriously improved results without going the old tax more/spend more route.
---
Thursday, October 30, 2014 5:47 PM
At a time when Virginia is still struggling to recover economically, and many of our citizens are still having a hard time making ends meet, the EPA (under the guidance of our President) has determined it's the perfect time to take a sledgehammer to Virginia's electric production by enacting arcane regulations that will shut down several coal-fired electric power plants, cripple electric generating capacity, and result in much higher power bills for each and every Virginia family and business. Click here to see what you can do to fight this kind of federal overreach designed to further a harmful political agenda at the expense of hardworking families.
---
Thursday, October 30, 2014 5:47 AM
Our nation is at a turning point. Trust in Congress at an all-time low, and a majority of Americans know the Country is on the wrong track. This Election Day will be critical in getting our nation back on a path to prosperity. The past six years have been filled with broken promises and failed leadership from Barack Obama, Nancy Pelosi and Harry Reid. We are in worse standing with every country in the world than we were six years ago, people are continuing to drop out of the workforce, our economy is stagnant, and our healthcare system is more broken than ever.
---
Wednesday, October 29, 2014 1:32 PM
I know many residents in the 33rd District have long commutes, business travel, or other obligations that prevent them from voting on Election Day. Here is the information on in-person absentee voting for Clarke, Frederick and Loudoun Counties.
---
Thursday, October 23, 2014 10:48 PM
You may have heard that the Virginia law requires abortion clinics to follow basic rules of safety, sanitation, and good medical practices, and another law requiring medical workers to report physical abuse of children. You may have also heard that our Governor and Attorney General are moving heaven and earth to find ways to help the abortion industry in Virginia get around those laws.
---
Tuesday, October 14, 2014 12:17 PM
What's a scarier thought on Halloween night - a bunch of teens smashing your mailbox, or a bunch of men in corporate casual digging through your inbox and screening your phone calls?
---
Tuesday, October 7, 2014 3:46 PM
THIS WEDNESDAY NIGHT, October 8th, is the big event – and it's going to be a great time! Help us by letting us know you'll be there! Your RSVP is needed as soon as possible! The Norman family is offering a superb evening at their home near Leesburg, Virginia, providing a barbecue dinner and a "Taste of Loudoun" with food and beverages from local growers.
---
Thursday, October 2, 2014 11:58 AM
From Richard Norman: "Dave has given our district solid leadership at a time when it is sorely needed. I sincerely hope you'll join me for dinner at my home on October 8, to honor and support my friend, Delegate Dave LaRock. Dave has given our district solid leadership at a time when it is sorely needed....

As a Delegate, Dave's next election is always just around the corner, and he needs and deserves your support."
---
Saturday, September 20, 2014 11:34 AM
Once again your calls for action made the difference! This Thursday, my fellow delegates and I met in Richmond for a packed single-day session. What we accomplished shows that the united voice of folks like you, demanding commonsense action, can make a huge difference.
---
Wednesday, September 17, 2014 7:13 PM
Our Virginia Legislature is willing to make tough choices for the long-term economic well-being of Virginia.... When courts subvert Virginia's Constitution, when our Attorney General goes AWOL, when Governor McAuliffe threatens to ignore the law, it is the responsibility of the House to step up.
---
Thursday, September 11, 2014 2:13 PM
Your help is urgently needed to protect the right of the people of Virginia to set the laws of the Commonwealth and block more federal power grabs before it's too late!
---
Friday, September 5, 2014 12:21 AM
Wednesday, a Federal Judge in Louisiana issued a decision upholding the rule of law, federalism, and the democratically-expressed will of citizens. Judge Martin L. C. Feldman upheld Louisiana's constitutional authority to define marriage as the union of a man and a woman—as 78 percent of Louisiana voters did in 2004.
---
Thursday, September 4, 2014 11:18 PM
Another Judge Gets it Right!
Yesterday a federal judge in Louisiana got it right and upheld Louisiana's constitutional amendment defining marriage. This case, and the dozens like it, are about more than defining marriage. They are a battle over the right of states and their citizens to enact laws through the democratic process. As Judge Feldman noted, this right has come under attack from those who resent legal diversity and intend to impose their own values on everyone in our nation. The correct response to this is simple - federal judges need to respect the rights of citizens to determine the laws of their states.
---
Wednesday, September 3, 2014 4:51 PM
Over the next few weeks, all three of the County Republican Committees in the 33rd District will beholding fundraising events. These are great opportunities to have a good time, interact with our elected officials and candidates, and give the local party committees the support they need to help elect Republicans this November!
---
Friday, August 29, 2014 2:30 PM
Federal control of education is a nightmare waiting to happen.... What is the antidote to this approach?
Several great events at beautiful venues in the next few weeks.... Click here to read more!
---
Thursday, August 28, 2014 4:11 PM
The Constitution gives no authority to the federal government to regulate education, but that landscape is changing by underhanded funding strategies designed to short change states that won't fall in line.
---
Friday, August 22, 2014 12:10 PM
There's big news this week in Virginia on several fronts! I'm optimistic this year will see new progress in our legislature as we work to secure our God-given rights and help Virginia prosper.
---
Thursday, August 21, 2014 11:45 AM
Tennessee Circuit Judge Russell Simmons has ruled that his state's marriage protection amendment promoting "family continuity and stability is certainly [in pursuit of] a legitimate state interest."
Voters and legislators in Virginia correctly defined marriage, but the
jurisdictional authority of a state to define marriage within our
Commonwealth was usurped when two members of a three judge panel
issued an order overruling the collective judgment of millions of
voters in an act of raw, political will.
Read my full post on this issue here


---
Wednesday, August 13, 2014 4:07 PM
Yesterday, Delegate Randy Minchew and I toured the Leesburg Health Works facility, a local non-profit organization that is providing for the health care needs of hundreds of local residents at a greatly reduced cost. Compared to Obamacare, I think the choice is obvious - we need to do everything we can to encourage alternative healthcare projects such as Health Works.
---
Thursday, July 17, 2014 9:38 AM
Medicaid is an example of a failed big-government program that grows and grows and just won't go away. This is exactly the kind of thing that I pledged to fight when I took office. Together with other conservatives in the House, I did what I promised and stood up to Governor McAuliffe, and the people of Virginia won.
---
Wednesday, July 9, 2014 2:29 PM
Speaker of the House William Howell has appointed Delegate Dave LaRock as a member of the Joint Commission on Technology and Science (JCOTS), effective immediately and lasting for the duration of his term in the House of Delegates.
---
Tuesday, July 1, 2014 5:30 PM
This is a busy week with lots of Independence Day celebrations planned across the 33rd District. I will be at many of these events, supporting our candidates for November, Barbara Comstock and Ed Gillespie!
We need lots of volunteers for the Leesburg, Lovettsville, and Purcellville parades. If you are able to join us in a parade, please contact Erika Dyer at Erika@barbaracomstockforcongress.com or call her at 703-906-6368 to RSVP or for more information.
---
Friday, June 13, 2014 1:41 PM
Our prayers have been answered!Last night the now-Republican-controlled Senate stood firm with the super-majority in the Republican-controlled House and passed a budget for the people of Virginia! We included revised language making it crystal clear that for a Medicaid expansion to ever happen, it will be with approval of the legislature, not a stroke of a governor's pen.
---
Friday, June 13, 2014 11:26 AM
Passing a budget represents a win for the people of Virginia. It's extremely important that we govern responsibly and support our schools and local governments by giving them a budget.Medicaid expansion is a controversial issue, and it was wrong for the Senate and Gov. McAuliffe to insert it into the budget.
---
Tuesday, June 3, 2014 2:51 PM
Please mark your calendars: Tuesday, June 24. The festivities will run from 7-9 pm
Fun- great music, and a celebration of our 2nd Amendment rights at the Cajun Experience in Leesburg!
Food- an evening of good Cajun food, we'll have authentic dishes served up in original Cajun style!
---
Friday, May 23, 2014 10:48 AM
State Budget Crisis Looming!
Tell Gov. McAuliffe and the Senate that we need a budget now! TAKE ACTION HERE!
---
Tuesday, May 13, 2014 12:10 PM
Congratulations to Delegate Barbara Comstock on her victory in the 10th District Republican contest. I will work hard to make sure Barbara Comstock is our next Congresswoman in Virginia's 10th District....
I am happy to report that our Republican majority in the House continues fighting as Governor Terry McAuliffe and the Democrat-controlled Senate push Virginia to the brink of a budget crisis. The Senate is insisting on an Obamacare Medicaid expansion as a condition for allowing a budget to move forward....
---
Tuesday, April 29, 2014 10:52 AM
Terry McAuliffe's new fundraising PAC is focused on eliminating the House Republican majority. I know for a fact that my positions and legislation make me a prime target in the next election cycle, but I'm not backing down. Please stand with me as we fight against bigger government, more debt, and vast unfunded mandates. Will you help me protect Virginia?
---
Tuesday, April 8, 2014 7:00 AM
Later today, I'll be heading back down to Richmond to vote on the budget again. The Senate and Governor are continuing to insist on forcing Medicaid expansion into the budget process. Local elected leaders, including county supervisors, clerks and commissioners are doing their part to make sure we pass a budget to keep our schools and local governments fully funded. I'm happy to announce that yesterday the Clarke County Board of Supervisors passed a resolution supporting a timely budget, joining Frederick and Loudoun Counties and many others from across the Commonwealth.
---
Saturday, April 5, 2014 2:48 PM
County elected officials representing the entire 33rd House District have written the Governor urging the timely passage of Virginia's budget so they can deliver necessary services to their communities.
---
Thursday, April 3, 2014 4:38 PM
Please help me continue to push for timely passage of Virginia's budget. Holding hostage funding for our schools, teachers, police officers, firefighters and local governments is wrong. There are two steps you can take to help us get the budget our communities need.
---
Wednesday, April 2, 2014 5:35 PM
This Thursday night, I'll be part of a tele-town hall meeting discussing how you and our local elected leaders can help make sure we pass a budget to keep our schools and local governments fully funded.
The Loudoun County Republican Committee is hosting their annual Spring Country Jamboree THIS SATURDAY, April 5th, at 7:30 p.m. in Purcellville. I hope to see you there!
---
Monday, March 31, 2014 4:22 PM
The General Assembly adjourned March 8th without finishing the state budget. Governor Terry McAuliffe and General Assembly Democrats are demanding that we expand Obamacare in Virginia before they will agree to pass a budget. This is wrong. Virginia's budget is not a bargaining chip.
Please, sign this petition asking Governor McAuliffe to pass a clean budget.
---
Saturday, March 29, 2014 4:34 PM
Will you help us convince the Governor that it's time to STOP THE POLITICAL BULLYING… and pass a clean budget? Here's just a little background and how I think we can bring this standoff to an end.
---
Wednesday, March 26, 2014 7:00 AM
I am back down in Richmond this week where I will stand with the House Majority, opposing the Obamacare Medicaid expansion. I am deeply grateful for your prayers, your suggestions, and your kind words of support while I worked in Richmond this past session. I intend to support passage of a budget that boosts our economy and protects jobs, NOT a budget that commits future generations to a massive underfunded mandate.
---
Thursday, March 13, 2014 3:09 PM
Virginia's budget and AAA bond rating are not bargaining chips. Holding hostage funding for Virginia teachers, firefighters, police officers and state employees is wrong, regardless of campaign promises you made. House Republicans have offered the responsible path forward - Virginia should pass a budget and then consider the issue of Obamacare's Medicaid expansion separately in a special session.
---
Saturday, March 8, 2014 10:51 AM
This weekend marks the end of the normal winter session.

Although there may be a special session later this spring, I'm happy overall with the way the session has gone so far this year. Some solid bills have been passed, and some great legislation that didn't pass but did make substantial forward progress that will carry over into future years.

The House is in the final stages of budget negotiations. This needs to happen soon so no funding is held up and our local governments and school districts can get the information they need to get their own budgets in order. Please keep me and our other elected officials in your prayers as we continue to put the finishing touches on the budget and as we get ready to pack up and head home. THANK YOU to everyone who contacted me throughout the session, and as always, I invite you to let me know if there is anything I can help you with!
---
Thursday, March 6, 2014 11:59 AM
I intend to do everything possible to ensure that Northern Virginians don't have to pay the outrageous tolls that are now charged for a round trip from Leesburg to the Washington Capital Beltway.
---
Tuesday, March 4, 2014 5:34 PM
The House and Senate are very close to lining up the normal spending differences in the budget bills we have already passed. The folks back home need this process to be finished soon. Loudoun is already planning their school budget for the year, and it's a problem for them if they can't get reliable information on what funds will be available. This is going to affect more people and hurt much worse if we let this drag out. Let's do what Virginia has traditionally done by passing a solid, normal budget and considering Medicaid expansion separately on its merits.
---
Saturday, March 1, 2014 7:00 AM
The House has already passed a budget that includes investments in health care, education, transportation, and other usual and essential government services. The Senate and House budgets are almost identical, less that 1% difference, however, the Governor has indicated that's not enough – The Governor insists that unless the House caves to his extraordinary demand for expansion, he may not sign the budget at all.
---
Friday, February 28, 2014 5:20 PM
I wrote a letter to the Budget Conferees and am rallying a team encouraging the conferees to approve the budget amendment that will ensure our Northern Virginia transportation monies are spent wisely.
---
Monday, February 24, 2014 3:41 PM
Delegate Dave LaRock responded to Governor McAuliffe's push for a massive permanent Obamacare Medicaid expansion and encouraged the Legislature to instead pursue fiscally responsible ways to bring needed medical care to all Virginians.
---
Sunday, February 23, 2014 9:49 PM
Virginia's Attorney General is paid to represent the Commonwealth, and not only is he not doing his job, he is working AGAINST the people and the Constitution of Virginia. That includes you. What can you do when the attorney you hired fails to show up to defend you, and instead goes to work for the opposing plaintiff? You can start by filing a complaint with the State Bar Association.
---
Sunday, February 23, 2014 7:00 AM
In every weekly update we've sent out so far, I've had at least one action item: that you pray for me, my team here at the office, and our other elected officials in Richmond.

This week I have more work for you. These action items aren't difficult, but they have to be done right away to make an impact.
---
Friday, February 21, 2014 5:13 PM
I have a new weekly exercise routine. Once a week I beat a path to Transportation Secretary Aubrey Layne's door and ask him plainly, "What are you doing about the tolls on the DTR?"
Governor McAuliffe fought to provide toll relief for folks using the Elizabeth River Tunnels in Hampton Road because they had to pay sky-high tolls….of less than $4 round trip. I want to see the same concern shown for the folks in Northern Virginia paying $17 for a round trip, and I'm going to keep asking the question until I get an answer.
---
Thursday, February 20, 2014 6:40 AM
Telephone Town Hall Tonight!
Tonight, Thusday, Feb. 20th, at 7:30pm I will host a telephone town hall. During this free event, I will give you an update on the Session now that we have passed the legislative mid-point.
I will also ask where you stand on a number of the major issues facing the General Assembly using our polling feature. This feature allows me to tabulate the results within minutes to share with callers on the line. You will also have the ability to ask questions during the course of the event. Please plan to join me.
You will receive a call on your phone inviting you to stay on the line to join the event. If you haven't received a call by 7:40pm and wish to join the call, please send an email to deldlarock@house.virginia.gov and we will give you a number to call to listen in. I'm looking forward to talking with everyone tonight!
---
Monday, February 17, 2014 6:30 AM
Over the last weeks, our Legislature is maneuvering for what may be an epic battle over issues that are key to Virginia's future. While many of us are working to promote job growth, strengthen our economy, and help businesses in Virginia prosper, substance from the Senate side continues to be missing.
Read more...
---
Friday, February 14, 2014 8:54 AM
The Virginia way defines us as being thoughtful and deliberative with important decisions and ultimately demands that what we do, we must do right. I will continue to listen to the advocates of Medicaid expansion carefully, and I will continue to support efforts to reform this program, but before we sign onto a commitment like this, we must have solid evidence that it will be a net benefit to Virginia. When I consider the facts presented so far, I see opting into expansion of Medicaid as it is presented now is a recipe for financial disaster.
---
Thursday, February 6, 2014 2:06 PM
Delegate Dave LaRock celebrated the passage of his HB 652, legislation that would protect property owners by making sure they have their say when their land is annexed through a boundary line adjustment.
---
Wednesday, January 15, 2014 9:16 PM
My bill to protect the Second Amendment rights of our citizens by ensuring that people who are legally allowed to own a gun aren't arbitrarily denied that right passed the House of Delegates!
---
Monday, January 13, 2014 6:23 PM
Delegate Dave LaRock aims his first bill at smarter spending of transportation funds to ensure that all transportation projects, including transit, are rated and funded based on cost-benefit analysis.
---
Sunday, January 12, 2014 10:35 PM
Thank you to everyone who made the long drive to Richmond for our office Open House and my Ceremonial Swearing-in. Read more to see some pictures!
---
Wednesday, January 8, 2014 2:00 PM
Delegate Dave LaRock took the oath of office today in the House Chamber along with his fellow Delegates. He was also assigned to the Transportation Committee, the Science and Technology Committee, and the Counties, Cities and Towns Committee.
---
Friday, December 20, 2013 11:06 AM
One of the many problems with Obamacare is the serious risk of personal information entered on the Obamacare website being misused or stolen. Read more here:
---
Tuesday, November 5, 2013 3:50 PM
The LaRock campaign will not be holding our own party tonight, but will be joining our local Republican Committees at their events. Thank you for all your support, and please join us if you are able!
---
Monday, November 4, 2013 2:52 PM
At a time when our freedom is under attack, Republican Dave LaRock is ready to stand up and protect Virginia from the Washington, D.C. takeover of our health care.
All over the state, Democrats are supporting the Obamacare debacle. A Democrat candidate for Delegate made national headlines by saying that doctors should be forced to accept Medicare and Medicaid patients, even though that would drive many of them out of business.
Democrats like Mary Daniel are showing they are out of touch with Northern Virginia. Daniel has expressed support for Obama's Medicaid expansion, but has no idea how to pay for it.
Now families are losing their insurance and seeing their costs skyrocket under Obamacare. And Democrats like Mary Daniel seem to think that's a good thing.
Dave LaRock knows Virginia is on the road to recovery because commonsense conservative solutions are the answer, not endless government intrusion and higher taxes.
---
Friday, November 1, 2013 8:19 AM
---
Wednesday, October 30, 2013 3:40 PM
"These mailers contain false statements about the law, and false claims about what I have said," stated LaRock. "If she continues spreading these lies now, we have absolutely no reason to trust her with an elected office."
---
Wednesday, October 30, 2013 7:44 AM
"Volunteer firefighting is one of the purest expressions of community service, freedom of labor, and tax-saving innovation that exists," said LaRock. "This is a tradition we need to be serious about defending. If we're not, we're going to pay dearly for it later. My opponent needs to decide who she's going to serve in Richmond: The union that gave her $10,000 and is trying to systematically eliminate volunteer fire departments, or the volunteers, families and taxpayers of the 33rd District?"
---
Thursday, October 24, 2013 6:21 PM
A former Metropolitan Washington Airports Authority (MWAA) Board member and former Chair of the Dulles Corridor Task Force released a statement today acknowledging that Dave LaRock's volunteer activity helped shape the Dulles Rail funding plan. According to J. Kenneth Klinge, LaRock's watchdog activities shifted rail costs to station-area developers, bringing massive tax savings for Loudoun County citizens.
UPDATED 10/28...
---
Saturday, October 19, 2013 10:46 PM
Winchester, VA – Dave LaRock participated today in the House of Delegates Candidates' Forum sponsored by the Winchester Branch of AAUW (American Association of University Women) and the Friends of Handley Regional Library. In his remarks... (read more)
---
Thursday, October 17, 2013 5:50 PM
Dave LaRock will be participating in this Saturday's "House of Delegates Candidates' Forum" at Handley Library Auditorium in Winchester from 10:30 a.m. to noon.
---
Monday, October 14, 2013 5:06 PM
The National Federation of Independent Business, Virginia's leading small-business association, has endorsed Dave LaRock in the 33rd House District race.
"Dave LaRock clearly understands the challenges facing Virginia's job creators," said Nicole Riley, state director of NFIB/Virginia. "Our members believe Dave LaRock will take a fiscally responsible approach to managing state government and support legislation that helps small businesses grow and create jobs."
---
Saturday, October 12, 2013 8:12 AM
---
Monday, October 7, 2013 3:18 PM
Read Joanne LaRock's letter about her husband, their family, and why she knows Dave will be a great leader in the Virginia House of Delegates.
---
Saturday, October 5, 2013 5:33 PM
I, like many Americans, am not pleased with the current budget stalemate in Washington D.C. that has shut down large parts of the federal government and is hurting government employees and contractors and private businesses, including many here in Northern Virginia. In business you negotiate and strike a deal; that is what Congress must do. President Obama recently talked with the President of Iran, but he is refusing to negotiate with Republicans to find a solution. Read more...
---
Friday, September 27, 2013 2:20 PM
Dave's yard signs and bumper stickers are available at the Leesburg, Berryville, and Winchester offices- get yours today!
---
Thursday, September 26, 2013 10:36 AM
Dave LaRock met with members of the Farm Bureau at their annual meeting Tuesday evening on the grounds of the historic Clermont Farm in Clarke County. Dave, a small farm owner and small business owner in Loudoun County, expressed his support for efforts to keep farming economically viable.
---
Friday, September 20, 2013 2:59 PM
Dave LaRock reiterated his support for transportation funding reform today as House of Delegates Speaker Bill Howell announced a performance-based transportation reform proposal.
"I have long called for a businesslike approach to transportation funding; it is essential that we allocate dollars based on measurable results. Funding should go where it is most needed for maintenance and relieving congestion on our roads." said LaRock...
---
Monday, September 16, 2013 8:00 AM
All three Loudoun County supervisors who represent parts of the 33rd District - Janet Clarke (Blue Ridge), Geary Higgins (Catoctin), and Ken Reid (Leesburg), have now endorsed Dave LaRock for the 33rd District seat in the Virginia House of Delegates...
---
Saturday, September 14, 2013 8:00 AM
Dave LaRock met this week with about 75 local business leaders at the Purcellville Business Association's monthly meeting. Friday evening, LaRock attended the Hob Nob in the Valley, sponsored by the Top of Virginia Regional Chamber. One feature of the event is the Straw Poll, which Dave LaRock won by a twenty-point margin...
---
Friday, September 6, 2013 10:36 AM
The Dave LaRock for Delegate campaign today announced the endorsement of Congressman Frank Wolf.
"Dave LaRock is a successful small businessman who cares about our economy and knows how to create jobs by encouraging business growth. I wholeheartedly endorse Dave for the 33rd District, and ask all my supporters to vote for him on November 5."
---
Wednesday, September 4, 2013 2:54 PM
Our community has some of the best schools in the nation, but Dave has a plan to make them even better....
---
Thursday, August 29, 2013 1:21 PM
You are invited to a fundraiser reception for Dave LaRock with special guest The Honorable Frank Wolf, United States House of Representatives
---
Tuesday, July 2, 2013 9:15 AM
Dave will fight for lower taxes, less regulation, and responsible spending.
---
Tuesday, June 18, 2013 9:25 AM
Dave LaRock says "The large turnout for the 33rd District Republican Primary, and the solid margin of our victory, show that 33rd District residents definitely favor lowering taxes by reforming Virginia's spending policies and they understand this will free up resources to better meet our needs."
---
Wednesday, June 12, 2013 9:28 AM
LaRock Thanks Del. May for His Service;
Focuses on November Election and Legislative Agenda
---
Monday, June 10, 2013 10:13 AM
Dave LaRock scores with 2nd Amendment organizations, says, "I will fight tenaciously to defend our right to keep and bear arms."
---
Wednesday, April 24, 2013 12:00 AM
$6 Billion in new taxes.
$6 billion wasted on four pet projects.