Broadband
Affordable, reliable, high-speed internet access is becoming a necessity for families and businesses. I'm working hard to remove barriers that are hindering expansion of this service in our communities.
Here are some Broadband bills I filed in the last couple of years:
Information on the newly-available Federal Communications Commission program that has launched to help families and households struggling to afford Internet service during the COVID-19 pandemic.

June 6, 2021 Important Broadband Expansion Survey
Loudoun County, All Points Broadband (APB) and Dominion are partnering to submit an application for a state funded grant opportunity (VATI Grant). If approved, the grant funding will provide a very real opportunity for delivery of fiber to the home for the overwhelming majority of Loudoun's remaining un- and underserved residents and businesses! If approved - this would almost completely fix our remaining problem areas in Loudoun.
It is important that our grant application be accurate; therefore, we are asking for your help through
completion of this brief survey
. Completion will help ensure a more accurate application, thus increasing our chances for state approval of the broadband expansion grant (VATI Grant) request. The Virginia Telecommunications Initiative (VATI) Grant program is a state-funded grant program for last-mile broadband-to-the-home deployment.
November 17, 2020 Loudoun County Board of Supervisors Emergency Broadband Initiative
August 11, 2020 Northern Loudoun All Points/ NOVEC Announcement I was pleased to join All Points Broadband and NOVEC to announce an agreement that will support All Points' efforts to extend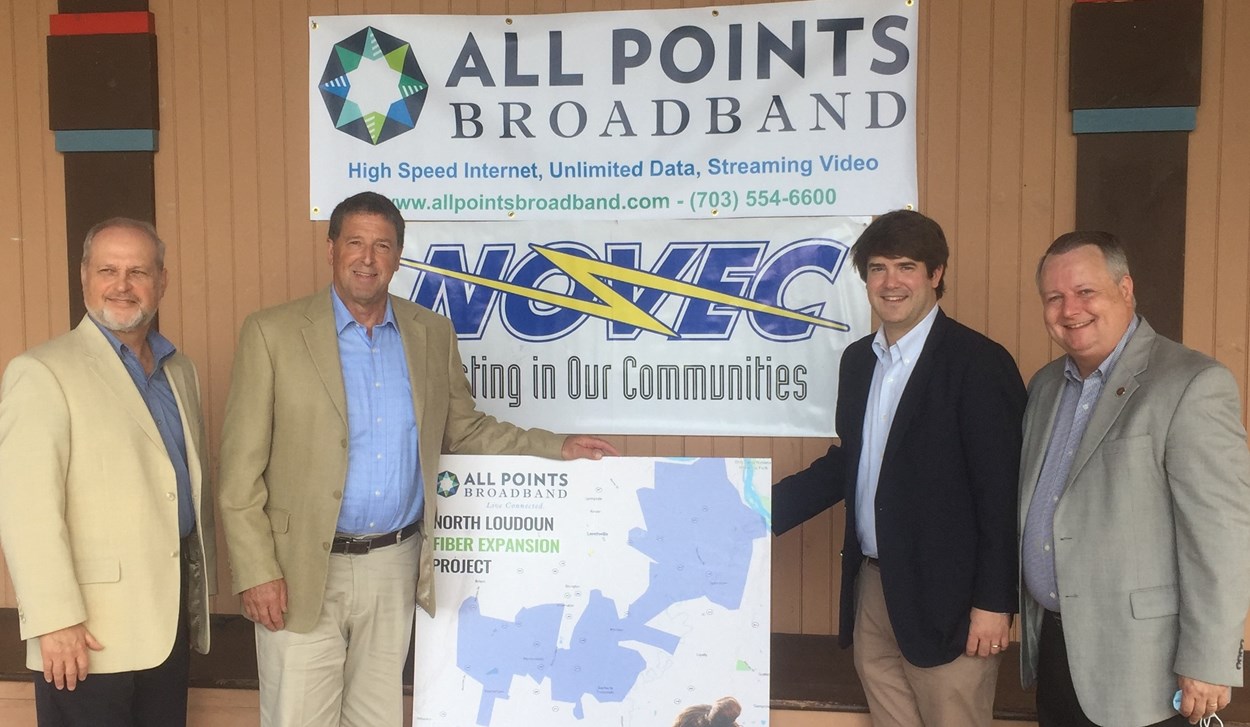 fiber-to-the-home broadband service to more than 1,000 homes in northern Loudoun County. The initial locations targeted for service are within or adjacent to NOVEC's service territory and do not have access to fiber-optic, gigabit-capable broadband today. If you live in the area in purple on the map below, and are interested in receiving this fiber-optic internet, please read more and register your location here.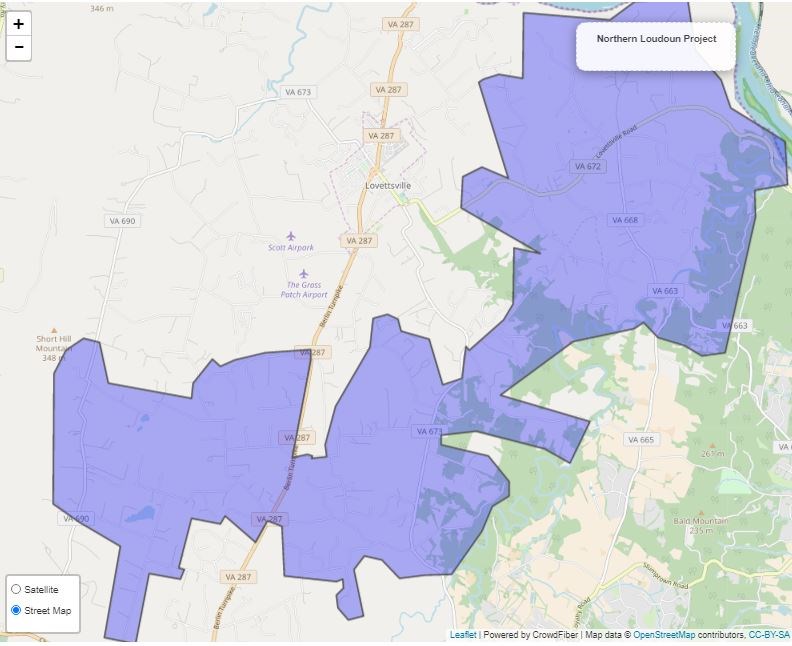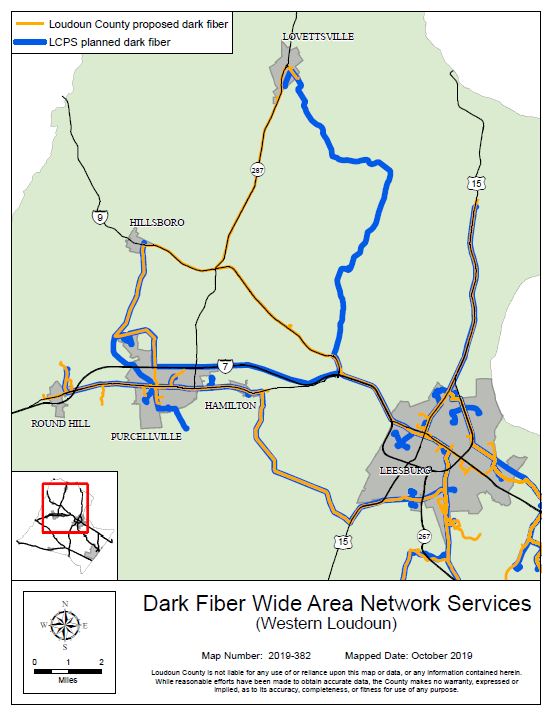 July, 2020 update on LCPS / Loudoun County Government / SEGRA Fiber Network The LCPS Fiber network is nearing completion, and work on the County project is moving forward. While this fiber network will provide better internet service to schools and government facilities, and save significant taxpayer money over time, I'm most excited about these projects because SEGRA will make fiber available for internet service providers in the area. Contact me if your neighborhood is near the network (see map to the right, and at link above) and needs broadband service.
In May of 2019, Purcellville Mayor Kwasi Fraser and I hosted a Broadband Town Hall meeting. The handout from this meeting is here. A news article covering the Broadband Town Hall is here Another news article highlighting some of the progress we're making in Loudoun is here
One critical issue that has been hindering rural broadband efforts around the country is lack of realistic maps of where people are served or not. In very exciting recent news, Virginia has a head-start on other states, because the Commonwealth was one of two states in a groundbreaking new mapping process. More information on the mapping pilot program is here.
August 15, 2018, I gave a presentation on HB1283 at the Virginia Broadband Advisory Council meeting.
While HB656 did not pass in 2018, it led to ongoing meetings and coordination between Loudoun County and DHR staff; one provider recently told me "As an applicant, we continue to see great strides by DHR in this area and are grateful for everyone's efforts and support."
Another important piece of rural broadband legislation I supported was my Loudoun County colleague Randy Minchew's 2016 legislation HB912 Transportation, Department of; installation of broadband conduit on public highways.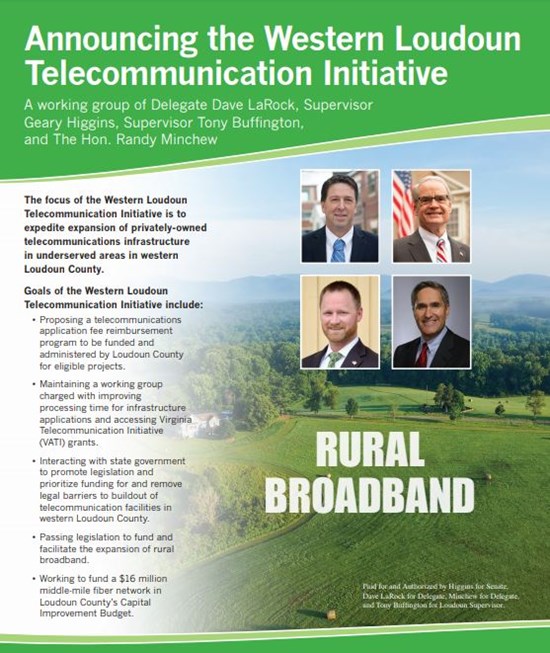 Local Broadband Providers:
33rd District Local government's broadband information pages are here:
Here are some providers which serve parts of the 33rd District (please let us know if we're missing any):
Wired Broadband & Cable TV Service Providers (Video, Internet, Voice)
Comcast
http://www.comcast.com/
Phone: 888-266-2278
Comcast Loudoun Service Map (PDF)

Verizon FiOS
https://www.verizon.com/home/fios-fastest-Internet/
Phone: 888-438-3467
Verizon FiOS Loudoun Service Map (PDF)
Shentel Business
https://shentelbusiness.com
Phone: 800-743-6835
Lumos Networks
https://www.lumosnetworks.com/
Phone: 855-GO-LUMOS
Wireless Residential & Business Broadband and Metro-Ethernet Providers

All Points Broadband
http://www.allpointsbroadband.com/
Phone: 703-554-6600
BitHaulers
https://www.bithaulers.com/
540-369-8185
BroadAspect
http://www.broadaspect.com/
Phone: 703-443-8274
Phone: 866-894-8444
NOVA Wireless
http://www.novawireless.net/
Phone: 703-348-3543
Saratoga ISP
http://www.saratogaisp.com
Phone: 571-339-9097
Sugarloaf Network
https://www.sugarloafnet.com/
Phone: 301-605-6450
Sugarloaf Network serves a limited area in northern Loudoun County.
Telegia
https://telegia.com/
Phone: 855-698-3534, ext.502
Telegia serves a limited area in the 20180 zip code.
Verizon HomeFusion
https://www.verizonwireless.com/home-services/lte-internet-installed/
Phone: 866-822-9406
Visual Link Internet
http://www.visuallink.com/
Phone: 540-754-1630
Visual Link serves a limited area in western Loudoun County.
Waterford WISP
http://waterfordwisp.com/
Phone: 301-951-5075
Wave2Net
https://www.wave2net.com/
Phone: 540-667-2672

Winchester Wireless
http://winchesterwireless.com/
Phone: 540-665-0800
Virginia Air Networks
http://www.vaairnet.com/
Phone: 540-328-9876
Satellite TV & Internet Services Providers
DirectTV
https://www.directvdeals.com/
Phone: 877-777-9708
Dish Network
https://www.dish.com/
Phone: 888-434-0112
Excede
https://www.zoetisus.com/pages/excede-home/index.aspx
Phone: 855-465-3715
HughesNet
https://internet.hughesnet.com/
Phone: 877-863-6312
NOVECnet
http://www.novecnet.com/
Phone: 877-829-2927
WildBlue
https://www.viasat.com/wildblue
Phone: 855-627-2554
Skycasters
https://www.skycasters.com/
Phone: 330-785-2100
DSL Service Providers
Visual Link Internet
https://www.visuallink.com/
540-754-1630
Cellular Internet
AT&T
https://www.att.com/
Phone: 888-333-6651

Sprint
https://www.sprint.com
Phone: 866-275-1411

T-Mobile
https://www.t-mobile.com/
Phone: 800-T-MOBILE

Verizon Wireless
https://www.verizonwireless.com/
Phone: 800-711-3400