My legislative priorities are based on my belief in Constitutionally-limited government and the understanding that the primary role of government is to protect our God-given rights. I try to make sure all my legislation focusses on protecting our rights and reforming government so that it provides essential services in an efficient manner.
See my votes on every bill here (select my name and the year from the drop-down menu)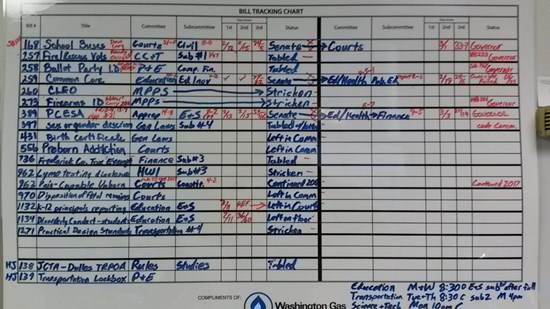 2016 legislation tracking board
2016 SESSION
I carried several important bills and resolutions this year. In total I submitted 25 pieces of legislation including six Commending Resolutions. Six bills are going to the Governor in some form. Here is a full list of my legislation and its status:
Passed the House & Senate and sent to the Governor:
Incorporated into similar/identical bills which passed the Legislature:
Purpose of legislation accomplished by other means (The Federal Government fixed the firearms law, and the agency that licenses medical providers is sending a letter to providers reminding them to follow the disclosure law):
Legislation that did not pass this session, but will be studied by legislative commissions over the next few months or carried over to next session:
Legislation that we will work on more for possible re-introduction next session:
Commending Resolutions which passed the House and Senate:
I was also the Chief Co-Patron on thirteen pieces of legislation and Co-Patron on an additional 70 bills and resolutions.
2015 SESSION
* = passed House; ** = passed Senate; *** = became law (HRs and HJs do not go to the governor)
I was also the Chief Co-Patron on ten pieces of legislation and Co-Patron on an additional 72 bills and resolutions.
Issue-Specific Legisation Lists:
2014 SESSION
In the 2014 session I introduced:
You can view full lists of all the 2014 session legislation that I Patroned or Co-Patroned here
Non-Legislation Priorities and Activities
Besides these bills I introduced, I am always working on other issues of importance. Some of these are summarized below: