I-81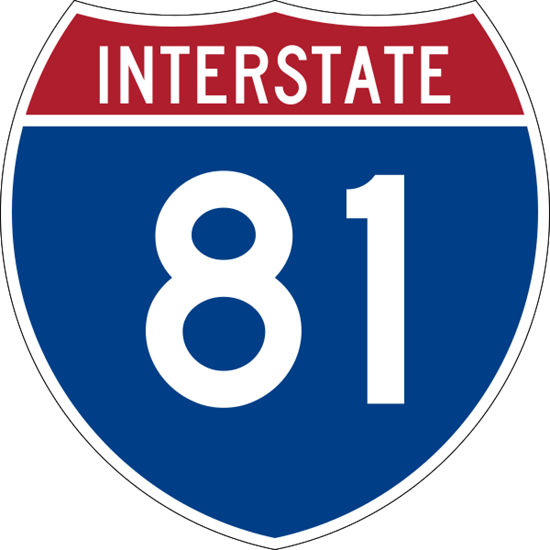 PUBLIC FEEDBACK INVITED ON I-81 CORRIDOR IMPROVEMENT PLAN
Provide input at series of meetings planned along corridor through Fall 2018

RICHMOND, Va. – The Office of Intermodal Planning and Investment, the Virginia Department of Transportation and the Department of Rail and Public Transportation are developing a plan to study the entire length of the Interstate 81 corridor in the Commonwealth of Virginia.

As directed in Senate Bill 971 (now 2018 Acts of Assembly Chapter 743), the study team will identify targeted improvement along I-81 and potential revenue sources that could be dedicated to improvements. SB 971 was introduced by Senators Mark Obenshain and Bill Carrico, and supported by Delegate Steve Landes with budget language in the House of Delegates budget bill.

Feedback provided by members of communities, industries and other stakeholders will be considered as team members study the corridor throughout the summer and prepare a draft plan report in the fall. The team and the Commonwealth Transportation Board (CTB) plan to report findings to the General Assembly in December, prior to the opening of Session in January 2019.

The first of a series of meetings to gather public input on safety and congestion concerns on I-81 was held in June. The first public comment period will end August 6.
You can submit public comments by email to VA81CorridorPlan@OIPI.Virginia.gov, by mail to 1401 E. Broad St., Richmond, Virginia 23219, or by phone at 804-786-2971. You can also submit public comments, view information about the study, and view meeting materials, by visiting http://www.VA81Corridor.org.
The second series of meetings are planned for late August 2018 and will focus on potential improvements and revenue sources. The meetings will begin with a brief presentation at 4 p.m. followed by an open house format through 7 p.m., which will allow attendees to speak one-on-one with study team members, ask questions, provide written comments and use the interactive project boards available to identify specific areas of concern. This second comment period will end September 30, 2018.
Wednesday, August 22, 2018
Staunton District (north)
Lord Fairfax Community College
173 Skirmisher Lane
Middletown, VA 22645
The study team will hold a third series of meetings along the corridor with additional opportunities for formal public comments to be received. The third, and final, series of meetings will cover recommended packages of improvements.
Other I-81 Information of Interest:
Nov. 6, 2017 - Virginia recently submitted an INFRA grant application for I-81, requesting $52.9 million for a $185.1 million program of improvements. Below is a chart showing the various components. Unfortunately, the federal government did not fund this request.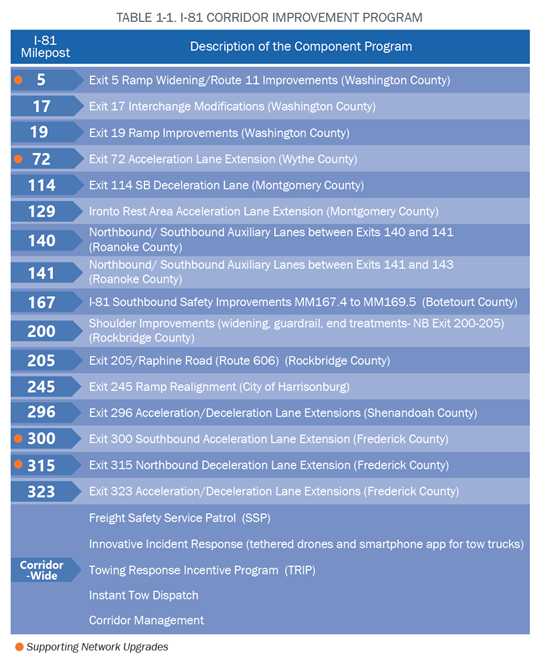 For the month of August 2017, I-81 at Middletown in Frederick County, truck count total combined North- and South-bound was 676,804.
More information about current I-81 Projects applied for and funded through VDOT's SmartScale program is available here: http://smartscale.org/projects/default.asp
More I-81 corridor information is available at the following links:
http://www.virginiadot.org/projects/corridors/interstate_81_projects.asp