I-81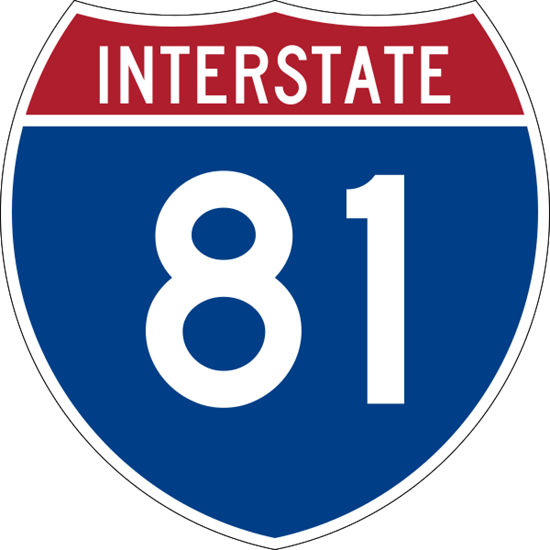 In the 2018 session, under the leadership of Senator Mark Obenshain and Delegate Steve Landes, supported by myself and other conservative Republicans all along the I-81 corridor, the General Assembly passed legislation requiring a study of the project needs in the I-81 corridor, and funding options to implement them. During the 2019 session, Sen. Obenshain and Del. Landes carried legislation to establish the I-81 Commission, which will oversee the prioritization of the long-overdue improvements to Route 81. The Governor offered last-minute amendments to these bills, which were adopted in April. These established a regional gas tax in the I-81 Corridor (identical to the tax in Northern Virginia and Hampton Roads), as well as state-wide truck registration, road tax (for trucks) and diesel tax increases. The share of the state-wide increases which is attributable to the share of state-wide interstate truck traffic on I-81 (about 43%) will be dedicated to the I-81 Corridor fund, to pay for projects in the I-81 Corridor plan.
The latest information on I-81 improvement plans is posted here: http://www.improve81.org/
RICHMOND, Va. – As part of Virginia's $2 billion Interstate 81 Corridor Improvement Program, the Virginia Department of Transportation has launched a new website detailing projects that are underway and planned. As most jurisdictions in the Commonwealth have entered Phase Three of the "Forward Virginia" plan for easing health restrictions due to the coronavirus, traffic volume is beginning to increase on our roadways. Transportation planners and the traveling public can find information on Interstate 81 (I-81) projects at Improve81.org. The website offers information on 64 funded operational and capital improvement projects that are expected to result in 450 fewer crashes and 6 million fewer hours of delay each year. Improvements include traffic cameras and changeable message signs, lane extensions and curve improvements, as well as adding or widening lanes in some sections of the corridor.
The website contains a number of useful features, including:
An interactive map with detailed project information, including locations and construction timelines
I-81 Committee agendas and meeting minutes
Planning documents, financial reports, and related transportation studies
Opportunities to provide input, interact on social media, and subscribe to the project's e-newsletter
"This is a one-stop-shop for information about I-81," said I-81 Program Delivery Director David Covington, P.E. "If you want to know the who, what, where, when, why and how – this is the site to visit."
Historic legislation passed by the Virginia General Assembly in 2019 secured dedicated funding for the 325-mile Virginia I-81 corridor. Funded projects were identified under a data-driven study conducted in 2018. The study resulted in a list of $4.2 billion in potential projects included in a report to the Commonwealth Transportation Board (CTB). Project priorities are reviewed by the I-81 Advisory Committee, who provide advice and recommendations to the CTB regarding implementation of the I-81 Corridor Improvement Program.
Completion of the current 64-project list will take approximately 13 years. The goal of I-81 Corridor Improvement Program is to improve travel times, increase safety, and encourage economic development.
Regional funding:
The Governor's amendments imposed a 2.1% regional fuels tax along 81 corridor, including the following jurisdictions, outlined in the map below:
Counties of: Alleghany, Augusta, Bath, Bland, Botetourt, Carroll, Clarke, Craig, Floyd, Franklin, Frederick, Giles, Grayson, Highland, Montgomery, Page, Pulaski, Roanoke, Rockbridge, Rockingham, Shenandoah, Smyth, Warren, Washington, Wythe
Cities of: Bristol, Buena Vista, Covington, Galax, Harrisonburg, Lexington, Radford, Roanoke, Salem, Staunton, Waynesboro, Winchester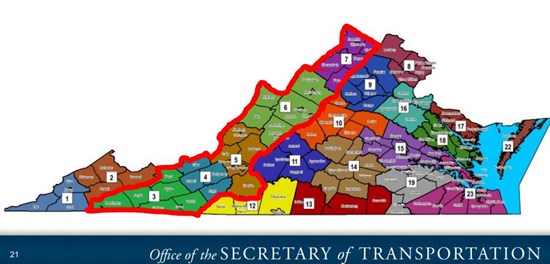 About the I-81 Corridor and it's Challenges
The I-81 Corridor has been over-capacity for decades, and carries over 42% of all the truck traffic on all the Interstates in the Commonwealth; over 11 million trucks per year. There are dozens of incidents each year where at least one direction of the Interstate is shut down for 4 hours or more. Virginia requested federal grant money last year, but due to a lack of dedicated funding coming from Virginia, the grant request was denied. Where is all the Federal money going? Too much of the federal gas tax is diverted to transit etc. and unfortunately, I'm not optimistic that they will fix that and fully fund our interstate highways anytime soon. That means the large multi-billion-dollar interstate construction projects around the Commonwealth are funded primarily by tolls and/or regional taxes. The 2018 Study identified over $4 billion in projects and identified two options for funding them. Regional gas and sales taxes, similar to those in Northern Virginia and Hampton Roads, OR tolls.
The Office of Intermodal Planning and Investment, the Virginia Department of Transportation and the Department of Rail and Public Transportation studied the entire length of the Interstate 81 corridor in the Commonwealth of Virginia, in accordance with Senate Bill 971 (now 2018 Acts of Assembly Chapter 743).
Feedback provided by members of communities, industries and other stakeholders was considered and the plan was presented to the Commonwealth Transportation Board (CTB) for adoption prior to the opening of the 2019 General Assembly session.
You can submit public comments by email to VA81CorridorPlan@OIPI.Virginia.gov, by mail to 1401 E. Broad St., Richmond, Virginia 23219, or by phone at 804-786-2971. You can also submit public comments, view information about the study, and view meeting materials, by visiting http://www.VA81Corridor.org.
The first of a series of meetings to gather public input on safety and congestion concerns on I-81 was held in June. The second series of meetings held in August focused on potential improvements and revenue sources. The third and final series of meetings in October focused on recommended project packages and revenue sources.
Latest News:
June 18, Staff Recommended I-81 Safety and Operational Improvements - The CTB approved a slate of projects from the I-81 Corridor Plan which will be the first to use the new I-81 Corridor revenues. This list includes two deceleration lane projects in Frederick County.

April 9, 2019 Presentation to the Commonwealth Transportation Board- Includes more details of the statewide and regional tax hikes, as well as information about the I-81 Committee, which will direct the spending of the I-81 Corridor Fund and revisions to the I-81 Corridor Plan
November 30, 2018 - I-81 Corridor Improvement Plan to Include Winchester-area Widening Today, the Virginia Department of Transportation notified Del. LaRock and other local leaders that widening of I-81 between Exit 313 (Rt. 17/50/522, Millwood Pike) and Exit 317 (Rt. 11, Martinsburg Pike) will be recommended for funding at the December 4-5 meeting of the Commonwealth Transportation Board (CTB)
October, 29, 2018 Presentation to Commonwealth Transportation Board
Interactive Map to Comment on Proposed Projects and Funding Priorities
Other I-81 Information of Interest:
Nov. 6, 2017 - Virginia recently submitted an INFRA grant application for I-81, requesting $52.9 million for a $185.1 million program of improvements. Below is a chart showing the various components. Unfortunately, the federal government did not fund this request.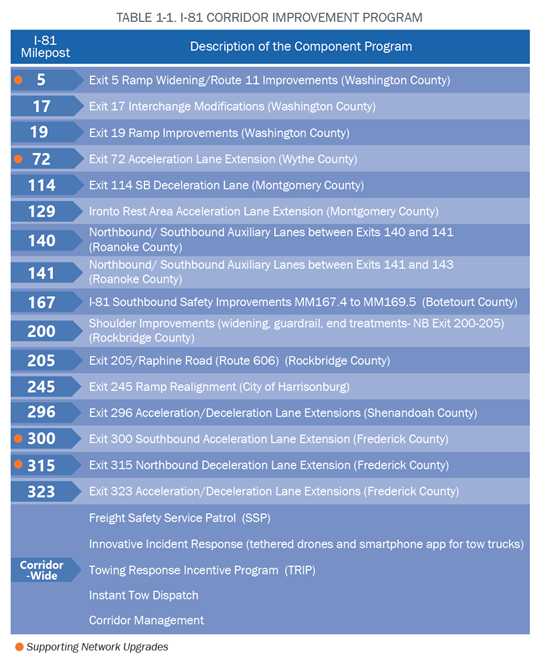 For the month of August 2017, I-81 at Middletown in Frederick County, truck count total combined North- and South-bound was 676,804.
More information about current I-81 Projects applied for and funded through VDOT's SmartScale program is available here: http://smartscale.org/projects/default.asp
More I-81 corridor information is available at the following links:
http://www.virginiadot.org/projects/corridors/interstate_81_projects.asp