I-81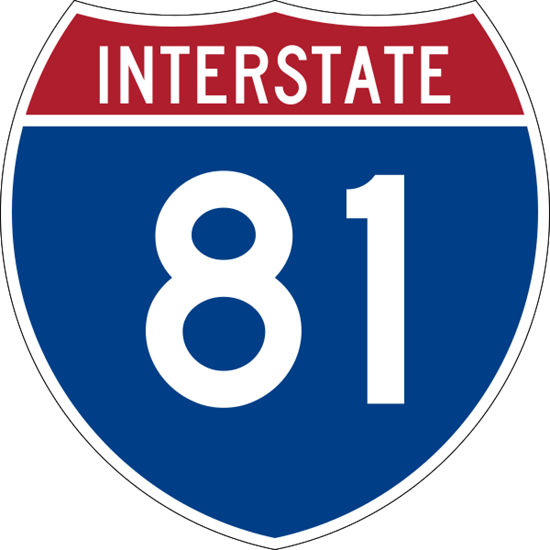 May 25, 2018
PUBLIC FEEDBACK INVITED ON I-81 CORRIDOR IMPROVEMENT PLAN
Provide input at series of meetings planned along corridor through Fall 2018

RICHMOND, Va. – The Office of Intermodal Planning and Investment, the Virginia Department of Transportation and the Department of Rail and Public Transportation are developing a plan to study the entire length of the Interstate 81 corridor in the Commonwealth of Virginia.

As directed in Senate Bill 971 (now 2018 Acts of Assembly Chapter 743), the study team will identify targeted improvement along I-81 and potential revenue sources that could be dedicated to improvements. SB 971 was introduced by Senators Mark Obenshain and Bill Carrico, and supported by Delegate Steve Landes with budget language in the House of Delegates budget bill.

Feedback provided by members of communities, industries and other stakeholders will be considered as team members study the corridor throughout the summer and prepare a draft plan report in the fall. The team and the Commonwealth Transportation Board (CTB) plan to report findings to the General Assembly in December, prior to the opening of Session in January 2019.

The public is invited to attend the first of a series of meetings planned and provide input to the study team as work progresses. The purpose of this first series of meetings is to gather public input on safety and congestion concerns on I-81 in Virginia.
The first public meeting in the Winchester area will be held Tuesday, June 12, 2018 from 4-7 p.m. A presentation will be held at the beginning of the meeting, followed by an open house through 7 p.m.
Staunton District (north)
Strasburg High School
250 Ram Drive
Strasburg, VA 22657
Comments will be accepted at the meeting or by contacting Ben Mannell, study manager, at VA81CorridorPlan@OIPI.Virginia.gov or by mail to 1401 E. Broad St., Richmond, Virginia 23219, or by phone at 804-786-2971. The first comment period will end July 31, 2018. Additional comment opportunities will be available throughout the study.

For more information about the study, or to view meeting materials, visit http://www.VA81Corridor.org.
Nov. 6, 2017 Virginia recently submitted an INFRA grant application for I-81, requesting $52.9 million for a $185.1 million program of improvements. Below is a chart showing the various components.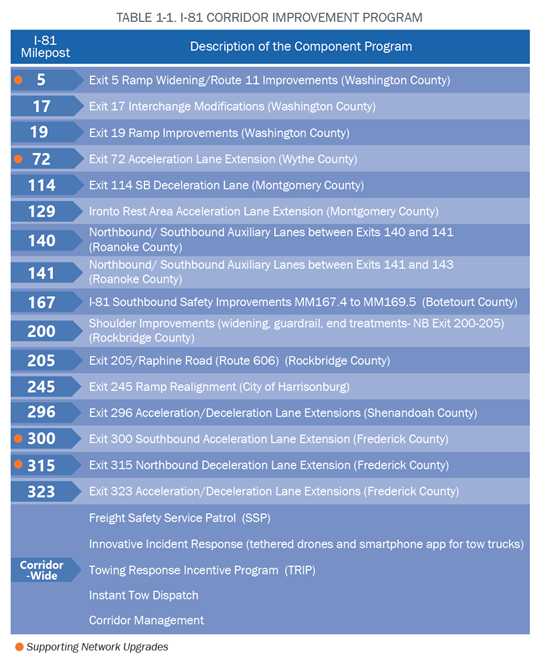 Interstate 81, at Middletown in Frederick County, for the month of August 2017 truck count total combined North- and South-bound was 676,804.
September 5, 2017 Virginia Interstate 81 Corridor Overview
January 16, 2017 – 5:00 – 7:00 p.m. I-81 Corridor Meeting – Patrick Henry Building – West Reading Room – 1111 East Broad Street
More information about current I-81 Projects applied for and funded through VDOT's SmartScale program is available here: http://smartscale.org/projects/default.asp
More I-81 corridor information is available at the following links:
http://www.virginiadot.org/projects/corridors/interstate_81_projects.asp
http://www.virginiainterstates.org/i81.asp
2003-2007 NEPA study: http://virginiainterstates.org/i81_corridor_study.asp