I-81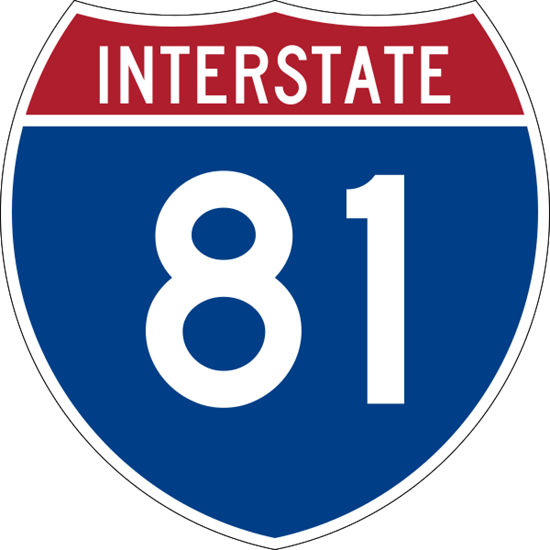 Please take my survey on I-81 funding options:
The Office of Intermodal Planning and Investment, the Virginia Department of Transportation and the Department of Rail and Public Transportation continue to study the entire length of the Interstate 81 corridor in the Commonwealth of Virginia, in accordance with Senate Bill 971 (now 2018 Acts of Assembly Chapter 743). The study team held the third and final series of meetings for October, which focused on recommended project packages and revenue sources.
Feedback provided by members of communities, industries and other stakeholders will be considered as team members finalize the corridor study and prepare a draft plan report in the fall. Following the third round of meetings and in consideration of public input, the team plans to make recommendations to the Commonwealth Transportation Board (CTB) for adoption prior to the opening of the 2019 General Assembly session.
You can submit public comments by email to VA81CorridorPlan@OIPI.Virginia.gov, by mail to 1401 E. Broad St., Richmond, Virginia 23219, or by phone at 804-786-2971. You can also submit public comments, view information about the study, and view meeting materials, by visiting http://www.VA81Corridor.org.
The first of a series of meetings to gather public input on safety and congestion concerns on I-81 was held in June. The second series of meetings held in August focused on potential improvements and revenue sources.
Other I-81 Information of Interest:
Nov. 6, 2017 - Virginia recently submitted an INFRA grant application for I-81, requesting $52.9 million for a $185.1 million program of improvements. Below is a chart showing the various components. Unfortunately, the federal government did not fund this request.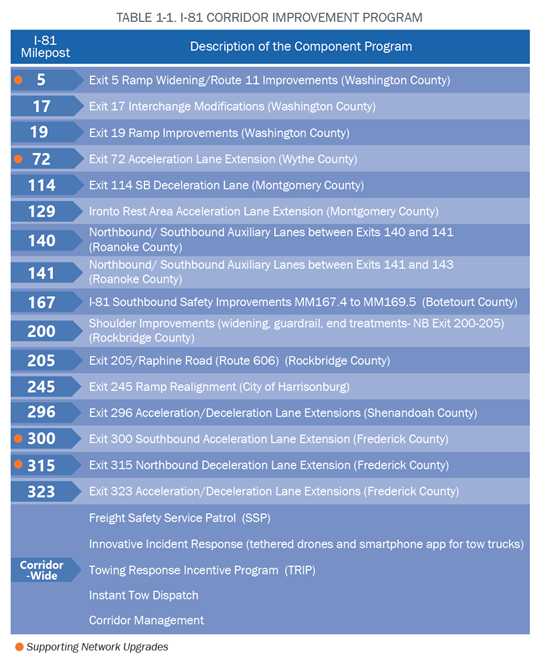 For the month of August 2017, I-81 at Middletown in Frederick County, truck count total combined North- and South-bound was 676,804.
More information about current I-81 Projects applied for and funded through VDOT's SmartScale program is available here: http://smartscale.org/projects/default.asp
More I-81 corridor information is available at the following links:
http://www.virginiadot.org/projects/corridors/interstate_81_projects.asp