I-81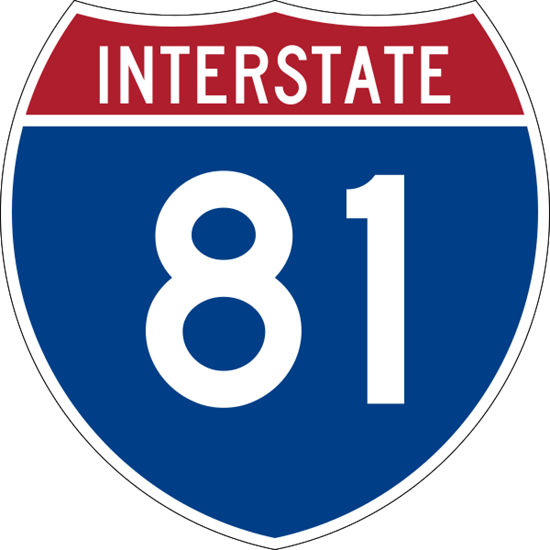 Please take my survey on I-81 funding options:
The I-81 Corridor has been over-capacity for decades, and carries over 42% of all the truck traffic on all the Interstates in the Commonwealth; over 11 million trucks per year. Last year, under the leadership of Senator Mark Obenshain and Del. Steve Landes, supported by myself and other Conservative Republicans all along the I-81 corridor, the General Assembly passed legislation requiring a study of the project needs in the I-81 corridor, and funding options to implement them. The 2019 session will see legislation come forward proposing to establish a revenue stream to fund the long-overdue improvements to Route 81.

There are dozens of incidents each year where at least one direction of the Interstate is shut down for 4 hours or more. Virginia requested federal grant money last year, but due to a lack of dedicated funding coming from Virginia, the grant request was denied. Where is all the Federal money going? Too much of the federal gas tax is diverted to transit etc. and unfortunately, I'm not optimistic that they will fix that and fully fund our interstate highways anytime soon. That means the large multi-billion-dollar interstate construction projects around the Commonwealth are funded primarily by tolls and/or regional taxes. The 2019 Study identified over $4
billion in projects and identified two options for funding them. Regional gas and sales taxes, similar to those in Northern Virginia and Hampton Roads, OR tolls.
I dislike tolls, especially when implemented in a way that doesn't really improve the road (as we've seen on the Dulles Greenway, Dulles Toll Road, and I-66 Inside the Beltway). However, tolls, managed properly, can pass along the costs to those who use the service.

The toll proposal we're looking at for I-81 is very different than others in Northern Virginia in many respects. It is referred to as an open toll system that captures tolls from mostly through traffic. These are factor which make this open system more fair and attractive. Moving forward, I and other legislators will be weighing these considerations:
VDOT, not a for-profit corporate entity, would own and operate the tolling equipment
There will be only 6 toll gantries located in between the cities along the 325-mile corridor, none on the entrance/exit ramps, so local traffic will not be tolled
With just 6 gantries utilizing electronic devices and no toll booths at on and off ramps, the open system would capture through traffic and not charging local commuters without interrupting flow
Charging big trucks a lower rate at night will spread out the traffic into evening hours
Projections show 60% of revenue coming from non-Virginia users.
A $30/year annual pass for passenger vehicles would allow unlimited use of I-81
I-81 toll revenues may only be used on projects which will improve travel on I-81
I have introduced legislation to create a commission which will oversee how the money is spent, so there will be local oversight and accountability
There needs to be a sunset built into law to revisit ending the tolls if there not a need for
additional improvements

Using toll-backed bonds, we will be able to rapidly construct $2 billion of capital improvements along the I-81, which are expected to deliver the following benefits:
Reduce annual vehicle hours of delay, on average, by more than 6 million
Trucks will capture more than 3.6 million vehicle hours of annual delay reductions
Reductions related to construction of capital improvements responsible for more than
90% of these benefits
Reduce annual statistical crashes, on average, by almost 450 across the entire corridor
Approximately 29% of the reduction in annual statistical crashes (representing almost
130 crashes) involve an injury
This legislation has not yet been filed, and even once it is, there will likely be amendments, but I and the other Republicans leading this initiative are committed to doing this right. The majority of the toll revenues will come from out-of-state and through traffic, instead of increasing the tax burden on the hard-working people of the I-81 corridor. $30 a year is a very reasonable amount for frequent or even occasional long-distance users of I-81 to pay to provide a safe and reliable road to travel.

I look forward to hearing how to improve on this effort to bring long-overdue changes to Route 81.
The Office of Intermodal Planning and Investment, the Virginia Department of Transportation and the Department of Rail and Public Transportation studied the entire length of the Interstate 81 corridor in the Commonwealth of Virginia, in accordance with Senate Bill 971 (now 2018 Acts of Assembly Chapter 743).
Feedback provided by members of communities, industries and other stakeholders was considered and the plan was presented to the Commonwealth Transportation Board (CTB) for adoption prior to the opening of the 2019 General Assembly session.
You can submit public comments by email to VA81CorridorPlan@OIPI.Virginia.gov, by mail to 1401 E. Broad St., Richmond, Virginia 23219, or by phone at 804-786-2971. You can also submit public comments, view information about the study, and view meeting materials, by visiting http://www.VA81Corridor.org.
The first of a series of meetings to gather public input on safety and congestion concerns on I-81 was held in June. The second series of meetings held in August focused on potential improvements and revenue sources. The third and final series of meetings in October focused on recommended project packages and revenue sources.
Latest News:
November 30, 2018 - I-81 Corridor Improvement Plan to Include Winchester-area Widening Today, the Virginia Department of Transportation notified Del. LaRock and other local leaders that widening of I-81 between Exit 313 (Rt. 17/50/522, Millwood Pike) and Exit 317 (Rt. 11, Martinsburg Pike) will be recommended for funding at the December 4-5 meeting of the Commonwealth Transportation Board (CTB)
October, 29, 2018 Presentation to Commonwealth Transportation Board
Interactive Map to Comment on Proposed Projects and Funding Priorities
Other I-81 Information of Interest:
Nov. 6, 2017 - Virginia recently submitted an INFRA grant application for I-81, requesting $52.9 million for a $185.1 million program of improvements. Below is a chart showing the various components. Unfortunately, the federal government did not fund this request.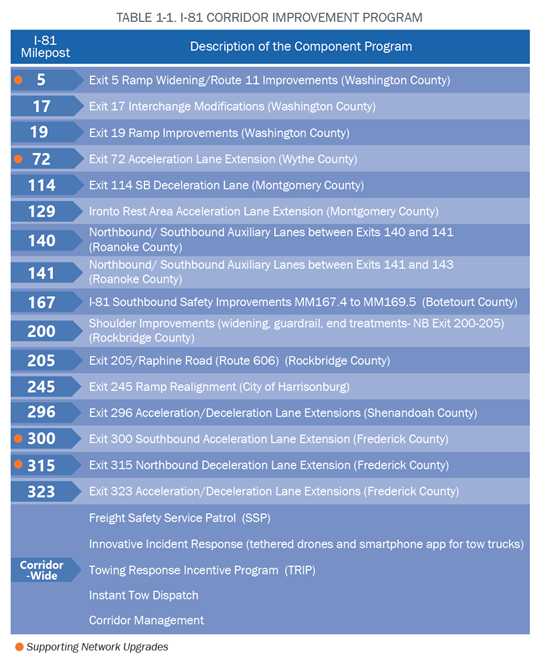 For the month of August 2017, I-81 at Middletown in Frederick County, truck count total combined North- and South-bound was 676,804.
More information about current I-81 Projects applied for and funded through VDOT's SmartScale program is available here: http://smartscale.org/projects/default.asp
More I-81 corridor information is available at the following links:
http://www.virginiadot.org/projects/corridors/interstate_81_projects.asp