Sage's Law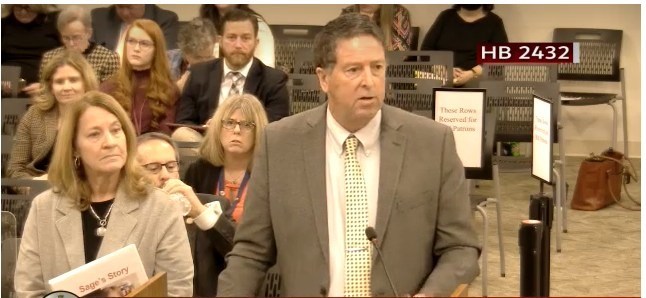 In the Summer of 2021, a freshman named Sage, with a difficult past including foster care and adoption by her grandparents, started at Appomattox High School. Trying to find acceptance from her peers, she decided to "transition" to be treated as a boy at school - a new name "Draco", new male pronouns and using the boy's bathroom. The school did not inform Sage's parents of their active participation in Sage's transition. Within a couple of weeks, she was assaulted by a group of boys in a boys' bathroom. The school eventually contacted Sage's parents, telling them to come pick up their distraught child. At home, Sage's mom assured her that she could stay home from school until they figured out what to do; her mom also found a hall pass for "Draco" in Sage's backpack. A few hours later, Sage ran away from home to meet up with a "friend" she met through an "affirming" website. Instead, Sage was victimized by brutally sex trafficking for nine days before being recovered by the FBI in Maryland. Then, things only got worse, as an ideological public defender and judge refused to return Sage to her parents, claiming her distraught parents' calling her Sage and using her female pronouns was abuse and neglect. Maryland instead placed Sage in facilities with delinquent boys, where she was further sexually abused and given street drugs. Eventually placed in a behavioral health facility in Loudoun County, VA, Sage asked her mother to provide female clothes, but to keep that secret from facility staff that was pushing her to get a double mastectomy. Sage fled that facility, and again fell into horrific sex trafficking, this time ending up in Texas. Once again rescued, Sage was finally returned to her parents, with help from the Founding Freedoms Law Center in Richmond, VA. Sage's family and advocates requested that Del. LaRock file legislation to protect other children from the horrors Sage and her family faced.
Read Sage's Story: "Virginia Teen Sex Trafficked Twice After School Hides Gender Identity From Her Parents"
Read text and history of Sage's Law: LIS > Bill Tracking > HB2432 > 2023 session (virginia.gov)
Media coverage (only a few selected ones, there have been dozens of stories):
Parents v. Montgomery Co. Maryland Schools Amicus Brief in the United States Court of Appeals for the 4th Circuit of Dr. Erica E. Anderson, PhD.
, a clinical psychologist practicing in Berkeley, California, with over 40 years of experience, and is transgender herself. Between 2019 and 2021, Dr. Anderson served as a board member for the World Professional Association for Transgender Health (WPATH) and as the President of USPATH (the United States arm of WPATH). Since 2016, Dr. Anderson's work has focused primarily on children and adolescents dealing with gender-identity-related issues, at the Child and Adolescent Gender Clinic at Benioff Children's Hospital at the University of California, San Francisco (2016 to 2021), and at her private consulting and clinical psychology practice (2016 to present). She has seen hundreds of children and adolescents for gender-identity-related issues in that time, many of whom transition, with her guidance and support.
More general information on what's been going on with this issue: