Rt. 15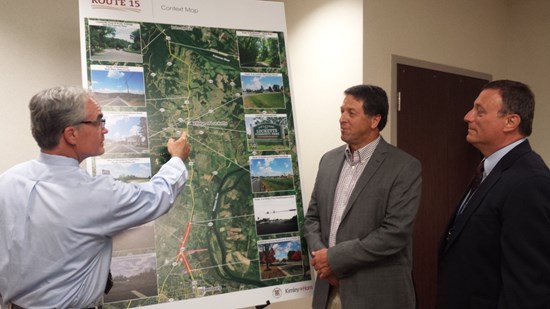 With Supervisor Geary Higgins and Joe Kroboth, Director of Loudoun County Transportation & Capital Infrastructure at the June 26, 2017 Rt. 15 Public Input Meeting at Ida Lee Park.
Along with my general transportation reform efforts, I am also active in addressing local transportation needs, whether that is getting a pothole filled, getting a gravel road graded, or building a necessary interchange.
One of the biggest needs in HD-33 is for capacity and safety improvements to US Highway 15 North of Leesburg. I'm glad that the Loudoun County Board of Supervisors is moving forward with improvements, and am advocating for as much as possible to be done as soon as possible.
Unfortunately, some wealthy individuals and their organizations have been blocking improvements to US 15 for decades, even as study after study showed the need for improvements.
Latest News
ROUTE 15 FLAGGING IN LOUDOUN NOVEMBER 13 - 16
Safety improvements from just north of Leesburg town limits to Maryland state line
LEESBURG – Route 15 (James Monroe Highway) between North King Street (Business Route 15) and the Maryland state line will have flagging, weather permitting, Monday, Nov. 13 through Thursday, Nov. 16 for crews to install "mumble strips," or special rumble strips along the center of the roadway, according to the Virginia Department of Transportation.
The flagging schedule is as follows:
· Monday, Nov. 13: 9 p.m. to 5 a.m.
· Tuesday, Nov. 14: 9 p.m. to 5 a.m.
· Wednesday, Nov. 15: 9 a.m. to 3:30 p.m.
· Thursday, Nov. 16: 9 a.m. to 3:30 p.m.
Motorists should expect delays and are advised to use alternate routes.
Like regular rumble strips, mumble strips warn drivers when they leave their lane; however, mumble strips are designed to be more subtle and aim to provide adequate warning to drivers with less unwanted noise in residential areas.
The strips also aim to help reduce roadway departure crashes along the Route 15 corridor, which has a recent history of such crashes. They will be the first of their kind in Virginia.

November 8, 2017- Tonight the Loudoun County Board of Supervisors adopted a staff recommendation that the US 15 widening to four lanes from Battlefield Pkwy to Montressor Rd. be made the #1 priority in Loudoun's NVTA funding request. As noted below, Senator Black and I joined numerous local residents in urging the Board to make this a top priority, so I am very grateful to the Board and DTCI staff for making this change. The Board's item on this is here.
October 19, 2017 was an opportunity to speak out on the importance of these issues. I urged the Loudoun County Board of Supervisors to prioritize the critical Rt. 15, and Rt. 9 safety and congestion projects- instead they prioritized other projects to build roads through empty fields- projects that should be funded by the developers, not taxpayers.
Here's what I conveyed to the Board:
Public Comment by Del. Dave LaRock
Loudoun Board of Supervisors meeting Oct. 19, 2017

I'm here to address the urgent need for improvements to Rt. 15 North of Leesburg.
Since 1998, 7 studies have all pointed to various needed projects for safety and congestion relief.
Some improvements have been implemented but many have not
Major crashes on Rt. 15 are a very serious problem- they are happening more frequently because a road designed for 12,000 vehicles per day is seeing close to 30,000 vehicles per day
Major crashes on Rt. 15:
Average per year, over last 20 years, 75 major accidents per year, 24 per year with injuries, and a fatality every other year
103 major accidents last year
Already this year…. 2 fatalities, 20+ more accidents with serious injuries These are more than statistics, these are people- children, parents, family members.
Let's look at this from the perspective of a resident who lives near and travels Rt. 15
Moving into a community, there are certain expectations of our transportation network, the same expectations any member of the board has:
First, basic mobility: you have to be able to get to and from work, shopping, family activities, etc.
You need a functioning road system; if your house catches on fire or you have a heart attack, first responders need to reach you
Your home is an investment: Property values are adversely impacted by the lack of viable transportation.
If you live close to Rt. 15 there are significant periods of time when basic mobility does not exist.
How did it get this bad, obviously the roads have not kept pace with population growth.
Some speculate that influential people who prioritize historic preservation over personal safety have stalled progress to improve this corridor.
I poked around and was pleased to find that the JTHG "Corridor Management Plan" says this:
Quoting the Plan, "The overall Byway management goal for roadway safety and wayfinding is to "Promote the creation and maintenance of transportation systems that…protect efficient, safe, and enjoyable travel through the corridor…" end quote- I'm not sure that point in the plan has gotten enough attention.
I expect this Board agrees it is important to preserve the rural character of western Loudoun:
We have a vibrant Agribusiness, Tourism, rural economy
We can't have visitors sitting in traffic instead of doing what they came here for
People leave the traffic behind in DC, Arlington, etc. and enjoy Loudoun's beauty for rest and ralaxation.
Rt 15 north of Leesburg is a primary corridor used to access these businesses when it becomes a parking lot as it often does people's experience is diminished or ruined
Speaking of Historic preservation and enjoyment- no one in their right mind thinks cars sitting in traffic are good for the environment or enhance the historic experience.
Regarding the NVTA Funding request:
Glad to see Rt. 15 and Hillsboro projects here
staff-recommended "top three" projects:

Why are we talking about building brand new roads, when our existing roads are more accurately described much of the time as a parking lot, or a demolition derby lot?
Please prioritize safety on existing Rt. 15 north of Leesburg, Rt. 9 at Hillsboro, and Evergreen Mills projects
I urge the Board to address safety on Rt. 15 by moving this project forward ASAP, and prioritizing it for NVTA funding.
Resources:
My response to the misleading Loudoun Now editorial
Loudoun County's Rt. 15 information page
LaRock statement supporting VDOT funding for US 15 interchange at Edwards Ferry Rd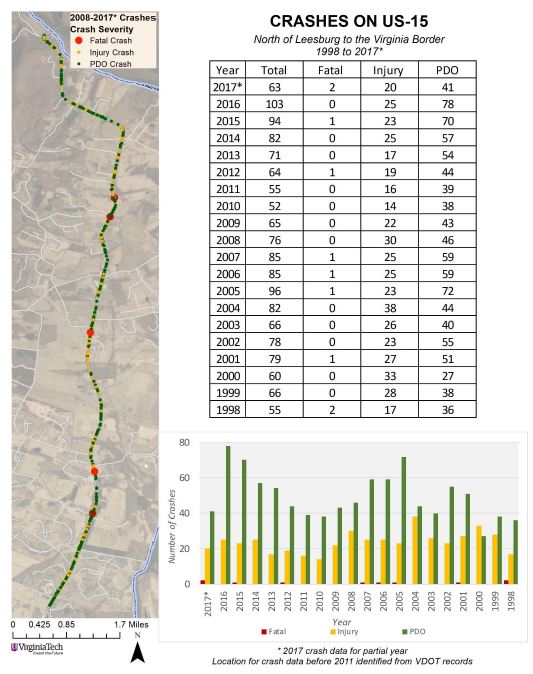 More photos from my involvement at recent US-15 meetings:
June 29th Loudoun Transportation Summit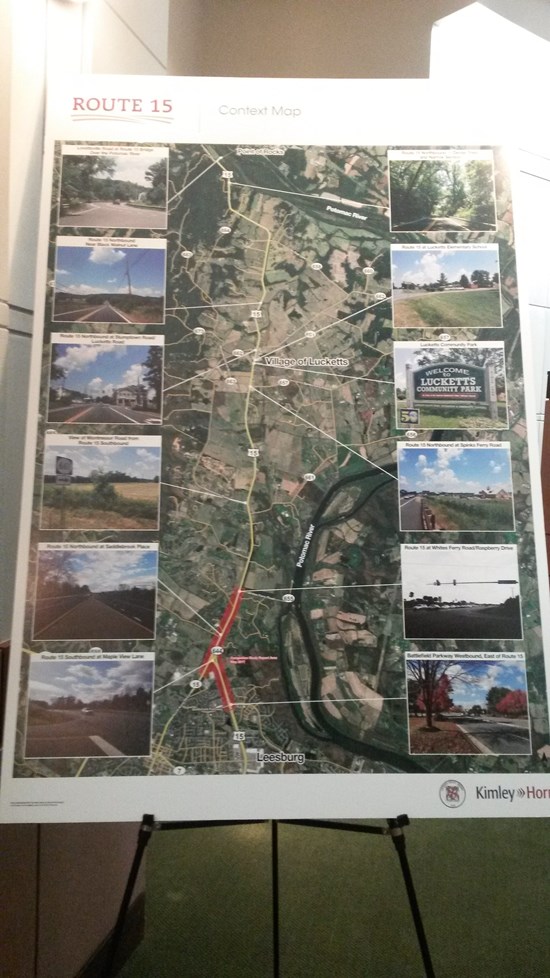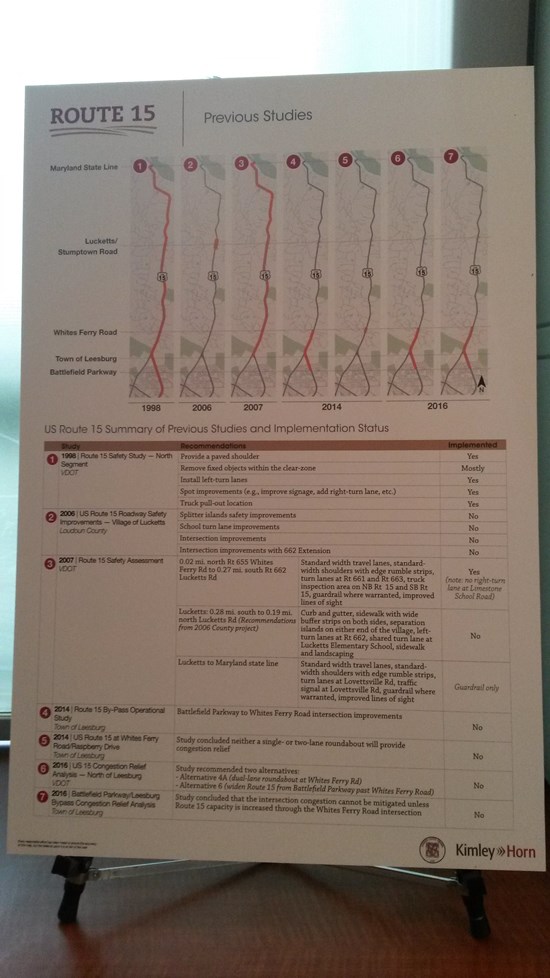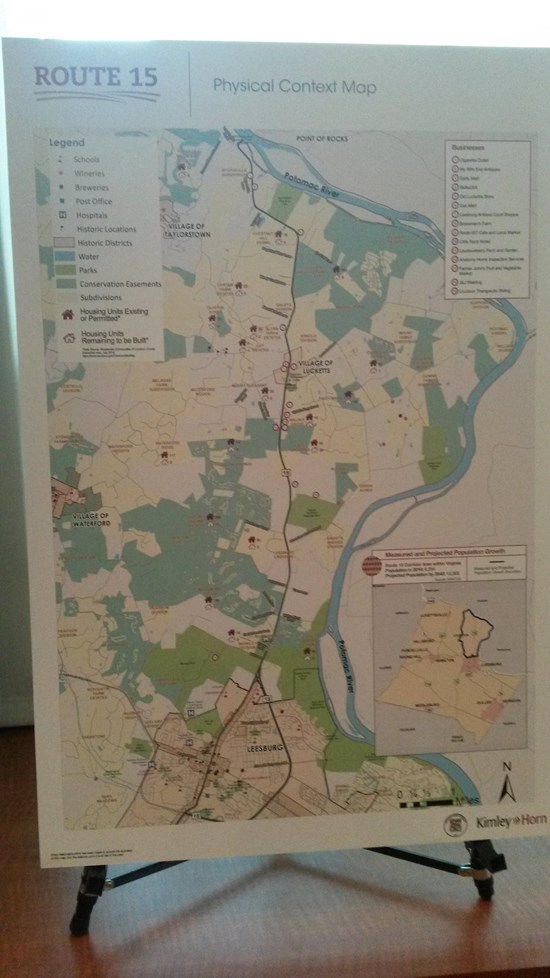 July 15 Public Input/ Information Meeting in Lucketts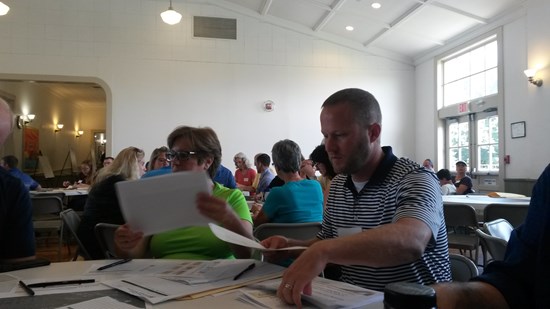 October 25 Rt. 15 CPAM (4-lane widening Battlefield Pkwy. to Montresor Rd.) Open House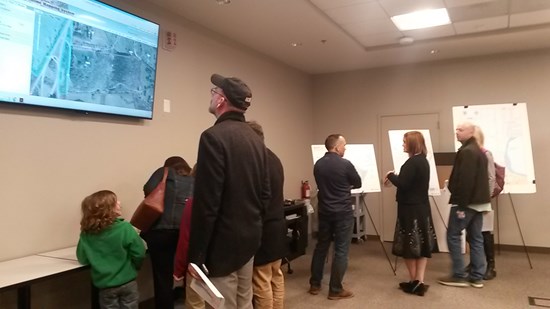 November 17 Stakeholders Meeting #3