Voter Registration and Election Information

Check your voter registration status and locate your polling place here
Virginia requires Photo ID to vote- full list of acceptable ID is here
Find contact information for your Virginia and Federal elected officials here
Apply online at www.vote.virginia.gov to have a ballot sent to you.
Upcoming Elections
May 8, 2021 Republican Convention to nominate candidates for Governor, Lieutenant Governor, and Attorney General. While Democrats currently hold all 3 statewide offices, Republicans are preparing to retake the Commonwealth:
Convention information: https://virginia.gop/2021-nomination/
To be a convention delegate, complete the form by the deadline: Loudoun (4/11), Clarke (4/15 noon), and Frederick (4/16), and other localities here].
November 2, 2021 General Election:
More detailed information is available at each County's website:
Office of Elections
750 Miller Dr. SE, Suite C
Leesburg, VA 20175
703-777-0380
vote@loudoun.gov
Registrar's Office
101 Chalmers Ct.
Berryville, VA 22611
(540) 955-5168
vote@clarkecounty.gov
Monday thru Friday, 8:30 a.m. - 4:30 p.m.

Voter Registration Office
107 N. Kent Street, Suite 102
Winchester, VA 22601
540-665-5660
fcvotes@fcva.us
Monday thru Friday, 8:30am to 5:00pm
2019 HD-33 Election Results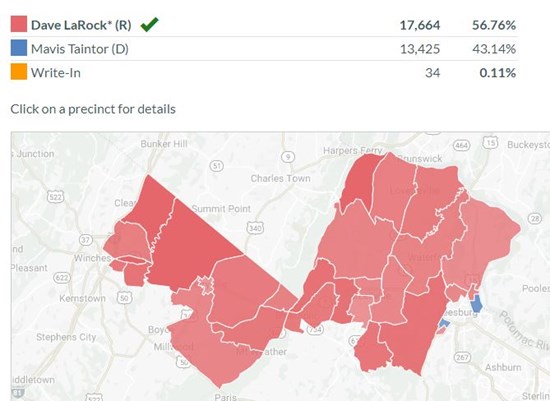 33rd District Election Day Polling Places
The 33rd District stretches from Leesburg to Winchester, and includes the following precincts: