Home
❭
News
❭ Virginia Legislature Advances LaRock Amendment Resolution to Guard Transportation Funding
Virginia Legislature Advances LaRock Amendment Resolution to Guard Transportation Funding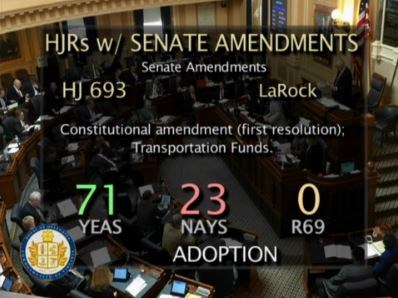 Seeking to address the need for stability in Virginia transportation funding, the House and Senate passed
House Joint Resolution 693
. The House finalized passage Saturday morning just one hour before the close of session with a vote of 71-23, accepting a minor amendment made by the Senate Privileges and Elections committee. Passing this resolution is the first step in a three step process before an amendment to the Virginia Constitution can become law. Resolutions are not subject to veto by the governor. An amendment must pass the legislature in identical form in two consecutive sessions and then be approved by a simple majority of voters in a statewide referendum.
This past Thursday the Senate beat back an attempt to modify the amendment into what is known as a "double lock box" which would block the flow of general funds to transportation; in the past this has caused similar effort to pass an amendment to fail.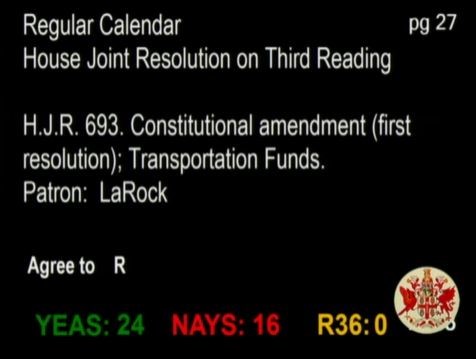 "I was told this had been tried in the past and that passage of a "single" lockbox was unlikely" said Del. LaRock, the chief patron of the bill. "Clearly this is a step toward more responsible handling of monies appropriated for transportation and it took a team effort. Del. Tag Greason and I worked closely on the House side knowing this will have a huge benefit on Loudoun County. Sen. Jill Vogel, Chair of the Privileges and Elections committee and her colleagues in the Senate, to the amazement of many, pulled together votes from both sides of the aisle passing the measure on a vote of 26- 14."
Passing HB2 in 2014 sent a strong message to the people & businesses in Virginia, a constitutional lockbox on transportation builds on and expands that same message and eventually will improve road conditions and safety and will attract bidders to large projects. This single lockbox only restricts raiding of dedicated transportation funds and can be overridden in an emergency with a two thirds plus one vote of the legislature.
Del. LaRock said, "Transportation is foundational to commerce, education, public safety, tourism, and much more; all depend on good roads and transit. People are seeing real progress as we address local transportation needs- they expect that to continue. There is a backlog of transportation needs; 5% of VDOT-maintained bridges (over 1000 bridges) are currently classified as deficient, 40% of secondary road pavement is rated as deficient, the recent SmartScale application process brought over $9 billion in requests, but only $1 billion of funding was available."
It is interesting to look at the history of raids on transportation funds; in 1991, Gov. Doug Wilder shifted $200 million from the transportation trust fund to balance the budget. In 2002, outgoing Gov. Jim Gilmore proposed using $317 million in transportation trust fund revenue. In 2003, Gov. Mark Warner actually took that $317 million and also diverted another $143 million in general funds dedicated to specific transportation projects in the Virginia Transportation Act of 2000. And in 2007, Gov. Kaine diverted $180 million from highway construction projects. While these monies are eventually restored it hurts progress overall.
Groups who engaged and helped pass this measure include: Northern Virginia Transportation Alliance, Northern Virginia Transportation Coalition, Northern Virginia Chamber of Commerce, Hampton Roads Chamber, Roanoke Regional Chamber, Northern Virginia Chamber Partnership – Dulles Regional, Greater Reston, Loudoun County, and Mount Vernon Lee Chambers of Commerce, Prince William Chamber of Commerce, AAA Mid-Atlantic and AAA Tidewater.
HJ 693 Constitutional amendment (first resolution); Transportation Funds.