Thank You to Del. May for His Service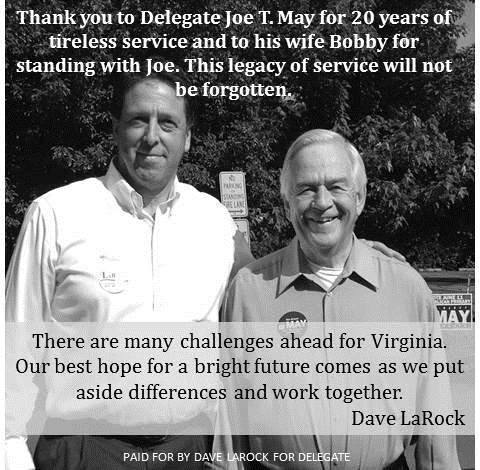 LaRock Thanks Del. May for His Service; Focuses on November Election and Legislative Agenda
-- Dave LaRock says "I am grateful for Del. May's two decades of service to the Commonwealth. As we move forward to the General Election, I will continue to present the case for cutting taxes, controlling spending, and protection of our fundamental rights to life, liberty, and property."

Hamilton: Following Tuesday's Primary Election, Dave LaRock, the Republican nominee to replace incumbent Del. Joe May, issued the following statement:


"Joe May has provided many years of service to this district and the Commonwealth of Virginia. For that, we thank Joe May and his family. He is a fine gentleman and I wish him all the best personally and in his business.

I will work hard to serve the constituents of the 33rd district in the years ahead."
LaRock also reiterated his legislative agenda:
I will work to repeal this year's tax hike and Obamacare Medicaid Expansion, and stand with Ken Cuccinelli to advance Ken's Economic Growth & Virginia Jobs Plan.
I will work to reform state spending with cost-benefit analysis so that our transportation, education, and other funds are spent on programs and projects that deliver results.
We can also improve our children's education and cut costs by scaling back excessive state-level red tape, regulations, and mandates, allowing local school boards the freedom to run their schools.
I will vigorously defend our rights and liberties, including our Second Amendment and the right to life.
The solidly-Republican 33rd district stretches from Leesburg to Winchester and includes portions of Loudoun, Clarke and Frederick Counties. The district voted for Mitt Romney by fourteen points