Senate Votes to Put Special Needs Kids First!
Richmond, VA – Today, the Senate voted 20-19 to pass House Bill 389, which will establish Parental Choice Education Savings Accounts for children with special needs. After hearing impassioned debate, legislators asking for help for children with special needs, who are sometimes ill-served in a public school setting, won the day. The Governor will now decide if this will become law in Virginia.

Dave LaRock, the patron of House Bill 389, commented, "Education Savings Accounts offer educational opportunity to children with special needs, regardless of their circumstances in life. These unique children often face challenges which most will never fully appreciate. We owe it to them to provide access to academic resources best suited for their particular needs. We are working to lower the barriers so these kids can reach their full potential."
LaRock added, "Parental Choice Education Savings Accounts are a proven example of problem solving through smart innovation, not endless appropriations. American voters overwhelmingly support school choice programs for good reason. It's time to give the people of Virginia what they are asking for, more education freedom through Education Savings Accounts." He added, "Most important of all, through these accounts, countless parents and children with disabilities in Virginia will be given the help they desperately need."
Education Savings Accounts are supported by former Virginia Secretary of Education, Gerard Robinson; former U.S. Deputy Assistant Secretary of Education, Dr. Barry Stern; former Virginia State Board of Education Vice President and former Virginia Delegate, Winsome Sears; current and former School Board members from around the Commonwealth; as well as several candidates for statewide office in Virginia.

About Dave LaRock
Delegate Dave LaRock represents the 33rd House District, including parts of Loudoun, Clarke and Frederick Counties, and the towns of Leesburg (partial), Purcellville, Berryville, Lovettsville, Round Hill, Hamilton and Hillsboro. LaRock serves on the Transportation Committee, the Science and Technology Committee and Education Committee. Dave and his wife, Joanne, have lived in Loudoun for 30 years, building a successful family-owned general contracting business. The LaRocks reside near Hamilton with Laura, Abby and John, the youngest of their seven children.
###
For more information about Dave LaRock, or to schedule an interview, please contact Julianne at (804) 698-1133 or larocklegislation@gmail.com
Authorized and paid for by Dave LaRock for Delegate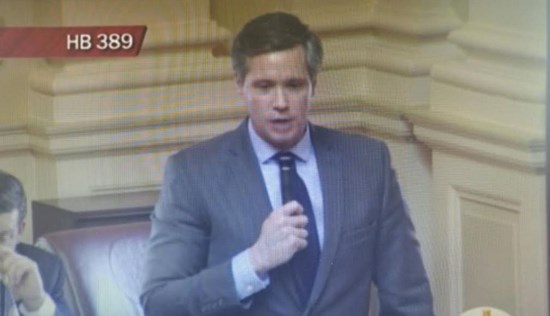 Senator Glen Sturtevant (R- Richmond City) presenting HB 389 on the Senate floor