Purcellville DMV Select Re-opening Ceremony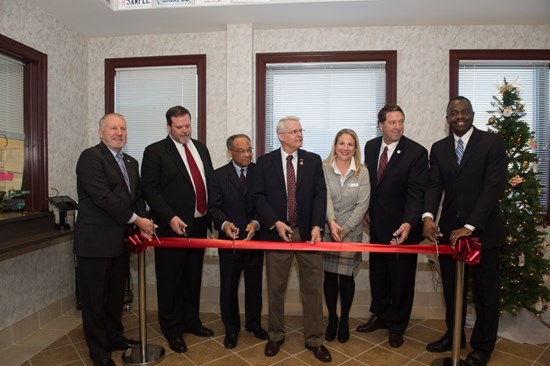 Delegate Dave LaRock (second from right) and Senator Richard Black (center) join DMV Commissioner Richard D. Holcomb (far left), VRT CEO Mark Simms (second from left), VRT Board of Directors Chair Brian Wells (third from left), Erin Rayner, representing U.S. Congresswoman Barbara Comstock's office (third from right), and Purcellville Mayor Kwasi Fraser (far right) to celebrate the re-opening of the Purcellville DMV Select.
(Photo by Gene LaFollette)
January 4, 2017

PURCELLVILLE – Virginia Delegate Dave LaRock joined Senator Richard Black, Virginia Department of Motor Vehicles (DMV) Commissioner Richard D. Holcomb and Virginia Regional Transit (VRT) CEO Bruce Simms for the official re-opening ceremony for the Purcellville DMV Select office Wednesday.
The office, which opened December 19, serves customers Monday to Friday from 8 a.m. to 4:30 p.m. at VRT's headquarters at 109 North Bailey Lane in Purcellville.

DMV Select offices, operated by contracted local governments and other organizations, conduct mostly vehicle-related transactions and supplement the agency's 75 customer service centers. DMV has 50 Select offices in the state.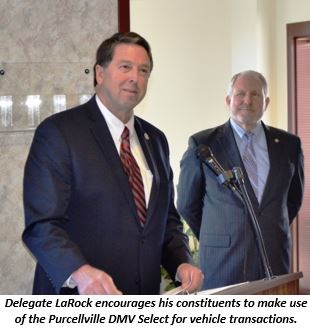 "I was happy to assist DMV and VRT as they forged this new partnership. Making government services accessible is important. My constituents will appreciate this convenient new location to conduct DMV business," Delegate LaRock said.

Mr. Simms serves as the Purcellville DMV Select agent. He was appointed VRT CEO in March, after having served as the organization's director of operations.

"We are pleased that Bruce Simms and VRT's leadership saw the value in re-establishing DMV Select service in Purcellville," Commissioner Holcomb said. "Our customers in Loudoun County appreciate and deserve this convenient service option, and we are grateful that our partnership with VRT allows us to provide it."

"One of our main goals at VRT is to keep public transportation accessible and affordable for those who need it most. Partnering with DMV also allows us to help local residents stay on the go in their personal vehicles by providing convenient access to vehicle titling, registration and other related services," Mr. Simms said.
Both Commissioner Holcomb and Mr. Simms thanked the Loudoun County delegation for its assistance in restoring DMV Select service in Purcellville.
Re-establishing DMV Select service in Loudoun County is a key piece of DMV's plan to increase efficiency for local residents. The agency recently added staff at its customer service centers in Sterling and Leesburg and increased visits from DMV 2 Go, a full-service mobile office.
Additionally, DMV operates "pop-up" offices at government and community centers throughout Northern Virginia. The service, called DMV Connect, has dedicated the fourth week of each month to Loudoun County. Customers can visit dmvNOW.com/dmv2go for dates and locations. Virginians can also conduct more than 40 transactions online at dmvNOW.com.
###