Home
❭
News
❭ NoVA Toll Relief Bill Killed, Continuing High Tolls and Leaving Open Door for Toll Freeloaders
NoVA Toll Relief Bill Killed, Continuing High Tolls and Leaving Open Door for Toll Freeloaders
Richmond, VA – Last night, a House subcommittee killed Del. LaRock's bill which sought to provide relief from the Northern Virginia toll nightmare put in motion by the McAuliffe administration.

Delegate Dave LaRock (R-Loudoun) pressed for passage of HB1489, asking for refunds to drivers (through E-Z Pass) who pay more than $200 in tolls in a month ($10/day). This would begin July 1, and sunset when the I-66 inside the beltway East-bound expansion opens in 2020.

LaRock said, "I have opposed these new tolls from the beginning, but, after seeing them rolled out, I'm convinced this was rushed and it should have been delayed at least until the new capacity was up and running in 2020. Holding the line with a $200/ cap was a very reasonable ask; unfortunately, VDOT fought it all the way. With tolls north of $40 one way on I-66 inside the beltway, taxpayers are being forced off a road they've paid for; we're seeing this road become Lexus lanes for the wealthy."

The bill also sought to require the Virginia Department of Transportation to start tolling reverse-commuters on I-66 inside the beltway by Oct. 1, with no sunset. The new tolls on I-66 inside the beltway only apply to eastbound a.m. and westbound p.m., but give reverse commuters driving on the same road a free pass.

"Former Governor McAuliffe created a favored class of commuters. This one-way tolling is completely unfair and it was obviously politically motivated. I'm frustrated that my fellow legislators would not undo this debacle during the 2018 session," LaRock said.

VDOT data shows that 59% of toll freeloaders who reverse-commute on I-66 inside the beltway come from Arlington, 8% are from Alexandria, and a whopping 21% are coming from Washington, DC. LaRock said, "The fact that people from inner suburbs and Washington, DC get a free ride while my constituents are paying tolls up to $50 one-way Leesburg- to-Washington makes me furious."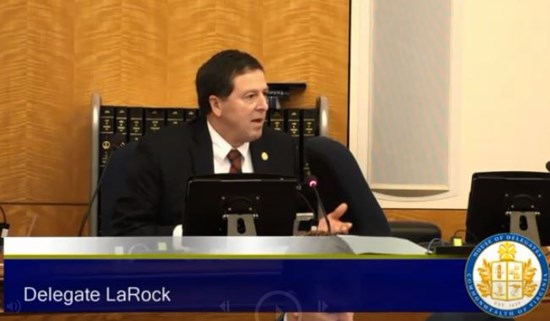 "In sharp contrast to Gov. McAuliffe's treatment of NoVA commuters, McAuliffe spent millions of dollars to provide toll welfare in Hampton Roads, yet he turned a blind eye to Northern Virginia families and businesses," LaRock said. "I hope Governor Northam will break from the McAuliffe legacy of new tolls and roll them back as was done in Hampton Roads recently." LaRock questioned the Secretary of Transportation on this double-standard yesterday morning; video is at 9:08:30 here.

LaRock, with many other Northern Virginia Republican legislators, has opposed the McAuliffe I-66 Inside the Beltway toll plan since the proposal was first announced in March of 2015. Nine of these legislators sent a letter to Gov. McAuliffe outlining their toll relief proposal Dec. 21, 2017, shortly after the tolls began on I-66 ITB. The full letter, and other information on Del. LaRock's toll relief efforts, is available at http://www.votelarock.us/issues/toll_relief


About Dave LaRock
Delegate Dave LaRock represents the 33rd House District, including parts of Loudoun, Clarke and Frederick Counties. LaRock serves on the Transportation Committee, the Science and Technology Committee and the Education Committee.
###