New Laws Go Into Effect Tonight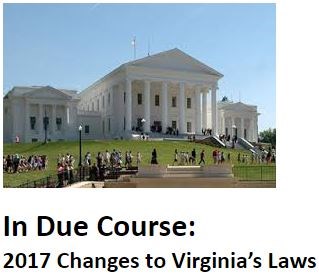 The 2017 General Assembly adjourned at the end of February. Throughout the 46-day session, we considered thousands of bills. Most of the bills that ultimately passed and were signed by the Governor will go into effect on July 1.

Every year, the General Assembly publishes a comprehensive list of bills that are likely to affect your everyday life. You can read the full list here. Below, I have highlighted a few of the major accomplishments, as well as more about some of my legislation that passed, and many bills that passed the General Assembly, but did NOT go into effect because Gov. McAuliffe vetoed them.
State Budget
The General Assembly produced a conservative, responsible and balanced amended state budget ahead of schedule for the third year in a row. The budget reduces debt by about $61 million and saves $10.8 million G.F. for use in the budget. The budget includes no tax increases, eliminates all of the Governor's proposed fee increases.

Left-lane drivers
The General Assembly passed legislation that fines drivers $100 who fail to drive on the right side of the highway.

Bullying
Under new legislation, public school principals will be required to notify the parents of any student involved in a bullying case within five days, including the status of the investigation.
Colleges
Legislation passed mandates that public colleges and universities must report to the State Council of Higher Education for Virginia the value of investments every year. Legislation also requires that schools must also give notice of any proposals to increase tuition and fees.

Blaze Pink
A new law allows hunters to wear blaze pink instead of blaze orange hunting apparel when required during firearms deer hunting season or the special season for hunting deer with a muzzle-loading rifle.

Opioids
The General Assembly passed a number of new laws to fight the opioid epidemic. These measures include my HB 1453 Naloxone Dispensing for Use in Opioid Overdose Reversal, which went into effect immediately upon the Governor's signature on Feb 23, but that and many other opioid-related bills and others relating to mental health or general health care availability were important achievements, and some do go into effect tonight:
HB 1467: Neonatal abstinence syndrome (Del. LaRock co-patron) - would address the growing occurrence of babies born addicted to opioids
HB 1845: Model addiction recovery program (Del. LaRock co-patron)
HB 2162: Substance-exposed infants; study of barriers to treatment (Del. LaRock co-patron)
HB 2165: Opiate prescriptions; electronic prescriptions (Del. LaRock co-patron)
HJ 597: Joint Commission on Health Care; study of heroin use in the Commonwealth (Del. LaRock co-patron)
HB 1549: Community Health Services – Mental Health Screening - provides that the core of services provided by community services boards and behavioral health authorities shall include same-day access to mental health screening services and requires the Department of Behavioral Health and Developmental Services report on progress of the implementation.
HB 1767: Prescription of Controlled Substance - provides that a health care practitioner who performs or has performed an appropriate examination of the patient may prescribe Schedule II through VI controlled substances to the patient, provided that the prescribing of such controlled substance is in compliance with federal requirements for the practice of telemedicine.
HB 1885: Limits on Prescription of Controlled Substances Containing Opioids - requires a prescriber registered with the Prescription Monitoring Program (the Program) to request information about a patient upon initiating a new course of treatment that includes the prescribing of opioids anticipated.
HB 2053: Direct Primary Care Agreement Coverage (Del. LaRock co-patron) Provides that direct agreement between a patient, the patient's legal representative, or the patient's employer and a health care provider for ongoing primary care services in exchange for the payment of a monthly periodic fee is not health insurance or a health maintenance organization if patients are not required to pay monthly periodic fees prior to initiation of the direct agreement coverage period.
Other of my bills which go into effect July 1 include:
PASSED HB1848/HB 2299 Comprehensive Community Colleges; Tuition Grants… I introduced HB 2299, which was identical to Delegate Dawn Hester's HB1848. It provides that certain Virginia students who were in foster care, or in the custody of the Department of Social Services, or considered a special needs adoption, and are enrolled in a noncredit workforce credential training program in a comprehensive community college, may qualify for a grant for the payment of tuition and fees.
PASSED HB 2352: Teacher licensure by reciprocity (Del. LaRock co-patron) - helps address teacher shortages by exempting from any professional teacher's assessment requirements any individual who has obtained a valid out-of-state license, with full credentials and without deficiencies, that is in force at the time the application for a Virginia license is received by the Department of Education
PASSED HB 1392: Authorizes a school security officer to carry a firearm in the performance of his duties (Del. LaRock co-patron) allows a retired law-enforcement officer who retired or resigned in good standing and has met the additional training and certification requirements of the Department of Criminal Justice Services.


Unfortunately, many of the good laws which I supported were included in the record-setting 49 vetoes by the Governor. That means the following bills, including two I introduced, will NOT become law tonight:
Passed House and Senate; VETOED by Governor: HB 1605 Help for Low-Income and Special-Needs Kids HB 1605, passed by the House and Senate, would establish Education Savings Accounts (ESAs) for special needs and low-income students. This bill, which passed in the House, extended eligibility to students who have been expelled and those failing SOLs. Many constituents have told me that their child's Individualized Education Plan (IEP) is not being satisfied. Many families exercise school choice by virtue of mobility. This bill proposed expanding that freedom and opportunity to thousands of vulnerable kids. This school year, over 11,000 students (of 1.1 million children eligible) are using Education Savings Accounts in five states. The academic outcomes are very encouraging and the savings to those states is significant.
PASSED House and Senate; VETOED by Governor: HB 2092 Public Assistance Eligibility… This common-sense anti-fraud initiative would have helped ensure that all individuals applying for welfare benefits qualify. The law would require the local director or commissioner to use existing databases to verify each applicant's eligibility for public assistance by checking their identity, income, assets, death records, lottery winnings, and correctional status. By enacting similar measures, other states have exposed a significant number of ineligible enrollees.
PASSED House and Senate; VETOED by the Governor: HB 1578: Tebow Bill. (Del. LaRock, Chief Co-Patron) - prohibits public schools from joining an organization governing interscholastic programs that does not deem home-schooled children eligible for participation.
PASSED House and Senate; VETOED by Governor: HB 2191: School boards; procedures for handling sexually explicit instructional materials. (Del. LaRock Chief co-patron) - would have required schools to notify parents of sexually explicit content in assignments and require alternatives instead of forcing children to read sexually explicit material which includes, for example, descriptions of felony sexual assault (rape), bestiality and incest.
PASSED House and Senate; VETOED by Governor: HB 2342: Authorizes the Board of Education to establish regional charter school divisions (Del. LaRock co-patron) - applies to regions consisting of at least two to three existing school divisions that have schools with accreditation denied status for two out of the past three years.
PASSED House and Senate; VETOED by Governor: HB 2000: Enforcement of federal immigration laws (Del. LaRock Co-Patron) - provides that no locality shall adopt any ordinance, procedure, or policy that restricts the enforcement of federal immigration laws.
PASSED House and Senate; VETOED by Governor HB 1394: A barrier to forced union membership (Del. LaRock co-patron) - provides that any voluntary agreement between the U.S. Department of Labor and the franchisee or franchisor, neither a franchisee nor a franchisee's employee shall be deemed to be an employee of the franchisor.
PASSED House and Senate; VETOED by Governor: HB 2025: Religious Liberty – Marriage (Del. LaRock co-patron) - provides that no person shall be required to participate in the solemnization of any marriage which violates sincerely held religious belief or moral conviction that marriage is or should be recognized as the union of one man and one woman. Further provides that religious organizations shall not be penalized by the Commonwealth because of their religious belief or moral conviction that marriage is, or should be recognized as the union of one man and one woman.
PASSED House and Senate; VETOED by the Governor: HB 2264: Prohibits the Department of Health from spending any funds on an abortion that is not qualified for matching funds under the Medicaid program, or providing any grants or other funds to any entity that performs such abortions. (Del. LaRock Chief Co-Patron) -The bill also prioritizes the types of entities that the Department of Health contracts with or provides grants to for family planning services, and blocks funding of Planned Parenthood if they continue to perform abortions.
Please contact me office if you have any questions about this or any other legislation!