Loudoun Pays While MWAA Cashes In
**Please leave comments regarding this Op-Ed at Loudoun Times Mirror, Leesburg Today, and Blue Ridge Leader
It's no secret that population growth and business development have left Loudoun County, especially busy areas to the east, with some pretty challenging traffic. The process of expanding the local network of roads and transit always seems to be playing catch-up, usually tied to availability of funding. Part of winning the battle to keep traffic moving is making sure our limited funds go to projects that are most needed by evaluating, rating, and spending in such a way to get the most bang for the buck. Likewise, as a matter of fairness, when planning and zoning changes are made to allow the new development which fuels growth and adds more cars to the roads, developers are usually required to ante up with payments or actual road improvements to ease the effects of growth (proffers). All in all, that is a broad-brush summary of what shapes the roads in our region and determines whether we're home in time for dinner with the family, or long after the kids went to bed.
The next time you're sitting in Loudoun traffic wondering why you pay so much in taxes and tolls but are still stuck in gridlock, you should know that Congress is working on laws that could have a huge impact on Loudoun County. While projects like building planned interchanges on Route 606 and Route 50 are underfunded, remember that Congress and the Metropolitan Washington Airports Authority (MWAA) have stuck it to the commuters and taxpayers of Loudoun County in a way that is not widely known. Congress, in 2012, gave MWAA the authority to compete with private developers by lifting a prohibition on non-aviation development on Dulles Airport property. This will allow MWAA to compete with private developers by developing airport property for non-aviation purposes without paying a fair share of county taxes, and paying nothing in the way of proffers.
To understand what Dulles' free ride looks like, let's use a Home Owners Association (HOA) as an analogy. Imagine that your family owns a home in Loudoun Valley Estates in Loudoun County and pays property taxes to Loudoun County and a monthly HOA fee to cover your share of community-owned facility expenses. How would you like it if you received a notice from your HOA one day saying 100 new homes were going to be added to your community, but, due to an act of Congress, those homeowners would have access to all your community's amenities; add traffic to your roads, swim in your pools, etc., (paid for by you and other residents) but the new homeowners would pay a fraction of the fair property tax rate and no HOA fee? That is pretty much what Congress has done to the people of Loudoun County. To make it even worse, all this took place with no community input or notice from elected leaders.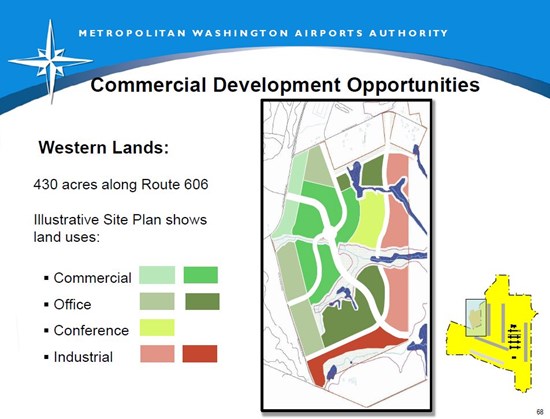 For example, MWAA is considering and can now build a convention center on airport property, which, of course, would add thousands of cars to already congested roads, but because Dulles Airport is on federal property, that convention center would be exempt from paying its full share of property taxes to Loudoun County, and would pay nothing toward upgrading the roads we all use to accommodate the increased traffic. For the record, MWAA does take some of the tolls commuters are obligated to pay and passes that money off as its contribution to improve local roads.
To begin to understand how the people of Loudoun County end up taking the hit for airport activity without much resistance, you need to understand what I'll refer to as the 'Too Big to Fail' point of view. Some elected leaders have bought into the thinking that when it comes to any decision that impacts Dulles Airport's bottom line, Loudoun should subordinate its interests to Dulles Airport. I'm glad to say at least a few folks don't buy into that nonsense. Loudoun's Commissioner of the Revenue, Bob Wertz, is all too familiar with the fact that commercial development on Dulles Airport property gets a huge tax break. Bob Wertz, along with Sen. Dick Black, and Supervisor Eugene Delgaudio signed onto a letter seeking to set things straight and block the renewal of Dulles' Congressionally-authorized ability to compete with private development in Loudoun County.
What happens when development moves from private property onto Dulles property? This commercial development on airport property will generate a fraction of the normal property tax revenue, pay no proffers and compete with regular taxable development. That is a losing proposition for Loudoun County.
What can be done to protect Loudoun taxpayers and drivers? Delegate Randy Minchew pointed out to me that the law Congress amended in 2012 which enabled MWAA to compete with private development on Dulles Airport property is up for renewal by Congress in September of 2015. Congress could condition renewal on MWAA voluntarily agreeing to pay a full share of real property tax, along with transportation proffers equivalent to what a private developer would pay if developing an agricultural-zoned property. If Congress refuses to protect Loudoun, I'll look for means by which the state legislature can.
Uniformity must be the basis for fair taxation. If MWAA wants to compete with private developers, MWAA should pay a fair share to Loudoun County. Anything less should be deemed unacceptable.
See more info on this issue here:
http://www.votelarock.us/protectloudoun