LaRock Responds to HB 2009 Veto
Hamilton, VA – Delegate Dave LaRock sounded off on Governor McAuliffe's decision to veto House Bill 2009, a bill to require law enforcement officers to respond to citizens who request help completing federal forms for legal firearms transfers.

"The governor's actions reveal a gun policy guided by emotion, not common sense," LaRock stated. "This bill would have granted uniform local government service statewide to citizens seeking to lawfully exercise their Second Amendment Rights. It was passed with bipartisan support, unopposed by our State Police, and posed no threat to anyone's safety."

Brought at the request of a local constituent, the bill sought to help Virginia Citizens who sought to legally transfer possession of a firearm, but found themselves unable to do so when local police officers could simply refuse to provide needed signatures, even when the transfer was otherwise legal.

"The governor's actions will allow local police to continue to make an end run around our laws. That's not how government should work, period," said LaRock.

LaRock's concerns were echoed by the Virginia Citizens Defense League.

"The Virginia Citizens Defense League is not only disappointed in Governor McAuliffe's veto of Delegate LaRock's HB 2009, but quite frankly, we are surprised. The purpose of the bill was to make the application of a gun law fair and equitable across the Commonwealth. A person trying to follow the law should not get treated differently based solely on where they choose to live in Virginia. Yet, the Governor's veto seems to show support for such inequity. The veto seems to be part of a pattern. Last year Governor McAuliffe vetoed a gun bill that simply clarified current law on transporting firearms in a vehicle. The idea was to prevent people being arrested because they misunderstand the law."


About Dave LaRock
Delegate Dave LaRock represents the 33rd House District, including parts of Loudoun, Clarke and Frederick Counties, and the towns of Leesburg (partial), Purcellville, Berryville, Lovettsville, Round Hill, Hamilton and Hillsboro. LaRock serves on the Transportation Committee, the Science and Technology Committee and the Courts of Justice Committee. Dave and his wife, Joanne, have lived in Loudoun for 28 years, building a successful family-owned general contracting business. The LaRocks reside near Hamilton with Laura, Abby and John, the youngest of their seven children.
More background: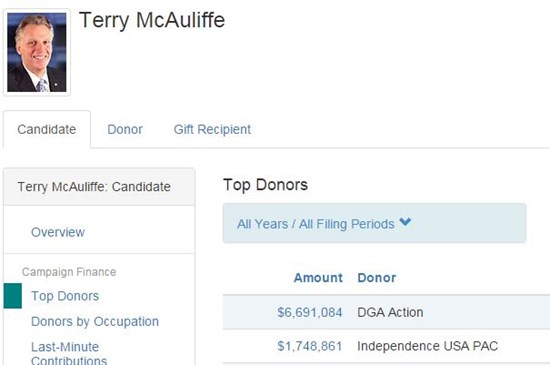 Besides the Democrat Governor's Association, his #1 donor was Mayor Bloomberg's Gun Control PAC: