LaRock Appointed to Northern Virginia Transportation Commission
Hamilton, VA – House of Delegates Speaker Bill Howell this week appointed Delegate Dave LaRock as a member of the Northern Virginia Transportation Commission (NVTC). LaRock will be one of 20 members guiding the NVTC, taking the seat vacated by Congresswoman Barbara Comstock.
"This is a significant opportunity for me," LaRock said of the appointment. "For several years, even before being elected to my first term in 2013, I rallied taxpayers against wasteful transportation spending. I worked hard to raise awareness about how our transportation dollars were often being misused. Now that I'm going to be serving on the NVTC, I want to use this position to make sure every cent of our transportation taxes is spent wisely."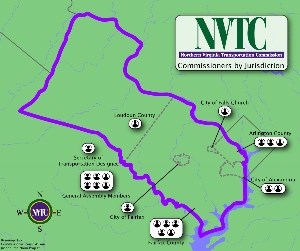 The NVTC controls the functions, affairs, and property of the Northern Virginia Transportation District, "planning and developing a transportation system for Northern Virginia and for the safety, comfort and convenience of its citizens and for the economical utilization of public funds." The Commission dispersed $207.8 million in FY14.

The Commission also has an oversight role, in which LaRock is also eager to participate. "I am very concerned about the management and maintenance struggles of the WMATA (Metro) system. WMATA's declining ridership, recent bond rating downgrade, restrictions on federal funding due to misuse of funds, and lack of a sound financial plan for necessary maintenance and improvements combine to make this a challenging time for the nation's second-largest heavy-rail transit system. I will work hard to protect Virginia taxpayers and the Commonwealth's budget from unsustainable financial obligations."

"Finding ways to make life easier for the people and businesses of Northern Virginia by cutting down on traffic congestion and wasteful spending has been a passion of mine for a long time. That will continue to be my priority as I serve on the NVTC, and I'm grateful that it's also a priority of our House leadership in Richmond."

About Dave LaRock

Delegate Dave LaRock represents the 33rd House District, including parts of Loudoun, Clarke and Frederick Counties, and the towns of Leesburg (partial), Purcellville, Berryville, Lovettsville,
Round Hill, Hamilton and Hillsboro. LaRock serves on the Transportation Committee, the Science and Technology Committee and the Courts of Justice Committee. Dave and his wife, Joanne, have lived in Loudoun for 28 years, building a successful family-owned general contracting business. The LaRocks reside near Hamilton with Laura, Abby and John, the youngest of their seven children.
###
More information about the Northern Virginia Transportation Commission (NVTC) is available on their website here: http://www.novatransit.org/