Home
❭
News
❭ LaRock and Hugo's Northern Virginia Toll Relief Legislation Passes House Transportation Committee
LaRock and Hugo's Northern Virginia Toll Relief Legislation Passes House Transportation Committee
LaRock and Hugo's Northern Virginia Toll Relief Legislation Passes House Transportation Committee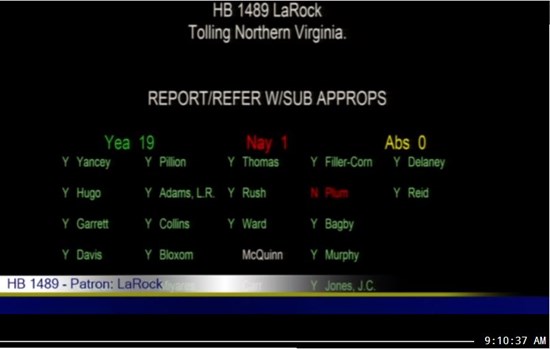 Richmond, VA – Legislation put forward by House Transportation Committee vice-chair Del. Tim Hugo (R- Fairfax) and Del. Dave LaRock (R-Loudoun) to provide desperately-needed toll relief for Northern Virginia commuters passed the House Transportation Committee this morning on a 21-1 vote, with only Del. Ken Plum, (D-Fairfax) opposed.

LaRock said, "Northern Virginia was already one of the highest-tolled regions in America – now, commuters driving the 36 miles from Leesburg to Washington, DC during peak times travel on three distinct toll roads, paying as much as $56 one-way. January 18, the one-way toll on I-66 ITB hit a new high of $47.25. My constituents call this 'Highway Robbery,' and I agree. Tolls this high hurt families, hinder economic growth, and are just unacceptable."

LaRock and Senator Dick Black (R-Loudoun) introduced HB 1489 and SB 898 to reduce tolls on Interstate 66 Inside the Beltway (ITB) and the Dulles Toll Road (DTR). The scaled-down version of the LaRock/ Hugo bill passed the House Transportation Committee this morning, and was sent to the Appropriations Committee with a strong show of support. The bill will adjust two key aspects of the McAuliffe administration's I-66 ITB tolling program:
Provide equity and improve traffic flow by activating tolling of reverse commuters on I-66 ITB by October 1, 2018. Those revenues will go into the I-66 Commuter Choice program (the NVTC program currently managing I-66 ITB revenue)
Refund I-66 ITB tolls exceeding $200/month until completion of widening the four-mile segment of eastbound Interstate 66 from the Dulles Connector Road to Fairfax Drive in fall 2020.
"Northern Virginians shouldn't be expected to pay a $40 toll," said Delegate Tim Hugo. "We need to find an immediate solution to lower these tolls, such as reverting the HOV hours back to where they were before the tolling went into effect."

Hugo, LaRock and Black, as well as many other Northern Virginia Republican legislators, have opposed the McAuliffe I-66 Inside the Beltway toll plan since the proposal was first announced in March of 2015. Nine of these legislators sent a letter to Gov. McAuliffe outlining their toll relief proposal Dec. 21, 2017, shortly after the tolls began on I-66 ITB. The full letter, and other information on Del. LaRock's toll relief efforts, is available at http://www.votelarock.us/issues/toll_relief


About Dave LaRock
Delegate Dave LaRock represents the 33rd House District, including parts of Loudoun, Clarke and Frederick Counties. LaRock serves on the Transportation Committee, the Science and Technology Committee and the Education Committee.

About Tim Hugo
Delegate Tim Hugo represents the 40th, including parts of Fairfax and Prince William Counties. He serves as Majority Caucus Chairman. He also serves on the Commerce and Labor, Transportation, Finance, and Privileges and Elections committees.
###