I-81 Corridor Improvement Plan to Include Winchester-area Widening
Today, the Virginia Department of Transportation notified Del. LaRock and other local leaders that widening of I-81 between Exit 313 (Rt. 17/50/522, Millwood Pike) and Exit 317 (Rt. 11, Martinsburg Pike) will be recommended for funding at the December 4-5 meeting of the Commonwealth Transportation Board (CTB). LaRock and Frederick county officials had immediately requested further analysis when this segment was not recommended for funding in October when the first round of improvements were announced, so Secretary of Transportation Shannon Valentine and regional and local VDOT officials promised to take another look at the Winchester widening project.
Delegate Dave LaRock (R-33) stated, "A safe and reliable I-81 is critical to the quality of life and economic growth of Winchester, Frederick County, and the entire Shenandoah Valley. I am grateful for the hard work of VDOT and Frederick County staff over the last month to take a closer look at this project and determine, as our local elected officials, law enforcement, and local residents already know, that this is a critically-needed improvement. I look forward to working in the legislature next year to ensure that these and other critical improvements are funded and built as expeditiously as possible."
"It is encouraging to have one of the most heavily-traveled sections of Route 81 as it passes through Winchester added to the first-round priority list. This is a big incentive to get funding resolved in the 2019 General Assembly Session," added Delegate Chris Collins (R-29).
Former Delegate Randy Minchew (R-10) also added "After working on securing funding for improvements on I-81 for years as a member of the House of Delegates Transportation Committee, I am very pleased to hear that VDOT has decided to give priority treatment to the congested corridor of I-81 between exits 313 (Millwood Pike/Rt. 50) and 317 (Martinsville Pike/Rt. 11) in Frederick County. These improvements are critically needed. In particular, I would commend my fellow Shenandoah University trustee and CTB member F. Dixon Wentworth, Jr. and Delegates David LaRock and Chris Collins for their hard work in bringing these I-81 improvements forward."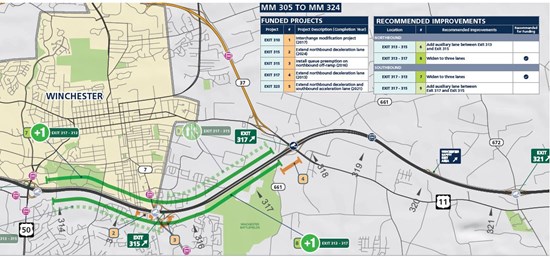 The CTB meeting next week will conclude the "Interstate 81 Corridor Improvement Plan" study, initiated by the General Assembly in the 2018 session through Sen. Obenshain's SB971, which directed state agencies to develop an I-81 corridor improvement plan and report the results to the CTB in time for legislative action in 2019. The plan:
• Identified segments of I-81 for improvement
• Identified potential financing options
• Identified targeted set of improvements for each segment that can be financed by evaluated financing options
• Included corridor-wide incident management strategies
• Evaluated concepts to minimize impacts on local truck traffic and diversion of truck traffic
• Identified truck parking needs
• Assessed economic impacts on corridor from tolling heavy commercial trucks
More information on the plan is available at http://www.va81corridor.org/
More information on Del. LaRock's activities regarding I-81 is available here: https://www.votelarock.us/issues/i-81