Grants and Private Investment to Bring Broadband to Entire 33rd House District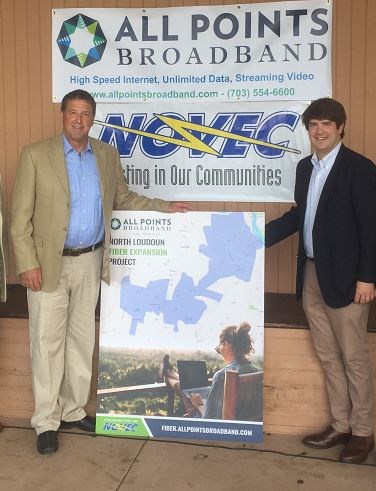 Today, the Commonwealth announced the latest awards of the Virginia Telecommunication Initiative (VATI) grants to bring universal broadband service to all currently unserved residents and businesses in Loudoun, Clarke, and Frederick Counties.
Del. LaRock said, "I know it's been a very long and painful process to bring broadband service to all my constituents in Loudoun, Clarke and Frederick Counties. Over the last 8+ years, I've heard from so many constituents about the way lack of reliable internet service has hindered their ability to work, learn and enjoy life in the rural parts of the district I serve. I've worked with all the local governments, internet providers, and constituents to try everything possible to bring them affordable access to reliable broadband internet. More information on these efforts is on my website at votelarock.us/issues/broadband
The last 18 months have taken this need to a whole new level, as so many people have transitioned to working and schooling at home. Fortunately, this increased need, as well as legislative efforts I and others worked on, has brought us to the point where Virginia was ready to bring public and private investment to solve this complicated problem for the foreseeable future.
Details of local VATI grants:
Loudoun County and All Points Broadband $17,524,000 award, leveraging $42,376,126 to build fiber broadband to 8,629 unserved locations and achieve universal coverage in Loudoun County.
Northern Shenandoah Valley Regional Commission and All Points Broadband $95,303,000 award, leveraging $190,759,621 to build fiber broadband to 37,357 unserved locations and achieve universal coverage in Clarke, Frederick, and several other Counties.
LaRock says, "My thanks go to the Loudoun, Clarke and Frederick County Boards of Supervisors, All Points Broadband, Dominion Energy, and the Northern Virginia, Shenandoah Valley, and Rappahannock Electric Cooperatives for working together with VATI staff to bring this necessary service to our communities."
"I look forward to working with all my constituents and the stakeholders in this project to finally bring this long-standing effort to a successful resolution in the coming months," LaRock added.
About Dave LaRock
Delegate Dave LaRock represents the 33rd House District, including parts of Loudoun, Clarke and Frederick Counties. LaRock serves on the Communications, Technology and Innovation Committee and the Counties, Cities and Towns Committee.