Congressman Frank Wolf Endorses Dave LaRock
FOR IMMEDIATE RELEASE: September 6, 2013
Contact: Daniel Davies 540-751-8364 - Daniel@VoteLaRock.us
Hamilton, VA - The Dave LaRock for Delegate campaign today announced the endorsement of Congressman Frank Wolf.
"Dave LaRock is a successful small businessman who cares about our economy and knows how to create jobs by encouraging business growth. I wholeheartedly endorse Dave for the 33rd District, and ask all my supporters to vote for him on November 5."
Rep. Wolf was the Special Guest at a fundraiser event for Dave LaRock last night, where the congressman spoke highly of LaRock. The fundraiser was a great success, well-attended by guests, including numerous elected officials expressing their support for Dave LaRock.
"I am honored and humbled to have the support of one of our state's most respected public servants, Congressman Wolf," said Dave LaRock. "Congressman Wolf's commitment to serving his constituents and his leadership on job creation and many other issues is inspiring. Like Congressman Wolf,Delegate Joe May served this district for many years, and I will work to live up to their example of diligence and commitment to public service."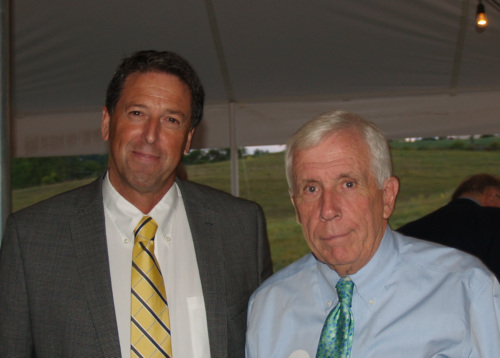 ABOUT CONGRESSMAN WOLF
Congressman Wolf, the most senior of the 11 members of the House of Representatives from Virginia, is serving in his 17th term in Congress. He represents the 10th District, which stretches from McLean to Winchester. Congressman Wolf sits on the powerful House Appropriations Committee, where he is the chairman of the Commerce-Justice-Science subcommittee.
ABOUT DAVE LaROCK
Dave LaRock is a 27-year resident of Loudoun County, where he and his wife built a successful small business. This June, in his first campaign for political office, LaRock won the Republican Primary, and now faces Democrat and Libertarian challengers in the November General Election.
###
275 words
For more information about Dave LaRock, photos, or to schedule an interview, please contact Daniel Davies at 540-751-8364 or daniel@votelarock.us