2020 Session Begins- Please Stand with Me on the Front Line
I headed down to Richmond this morning for what will almost certainly be a very difficult session of the legislature. Once the General Assembly convenes at noon tomorrow, I am prohibited from accepting donations, so I appreciate your contribution today. As the last Republican Delegate in Northern Virginia, I will continue to stand strong for our Conservative principles. Your support will help me keep communicating with you about issues of vital concern to our region.

We are already seeing the Democrat's agenda rolling out: Efforts to expand government, harm women and the unborn, violate Constitutional Rights, and increase our taxes and energy costs. A full list of legislation introduced so far is available here. I'm working relentlessly to defend against this harmful legislation.

My own bills and other good bills I support aim to improve quality of life, lower tolls, help first responders, improve education opportunity and protect those among us most in need of protection. The bills I have filed so far, including good ideas from constituents, are listed online here.

Throughout the next 60 days, I will do my best to communicate with you through these emails and social media; please follow me on all of these platforms for the latest updates.

Thank you for the honor and privilege you have entrusted me with. Please keep me and all our elected officials in your prayers, especially these next several weeks.
P.S. I've been actively trying to get Gov. Northam and others to deescalate the irresponsible Anti-2nd-Amendment rhetoric to avoid confrontations and other serious effects on innocent citizens, Law Enforcement, and National Guard members and their families. More information is on my website here.
Here's a picture of me in my Richmond office doing a Fox5-DC Skype interview this afternoon about the 2nd Amendment and this effort.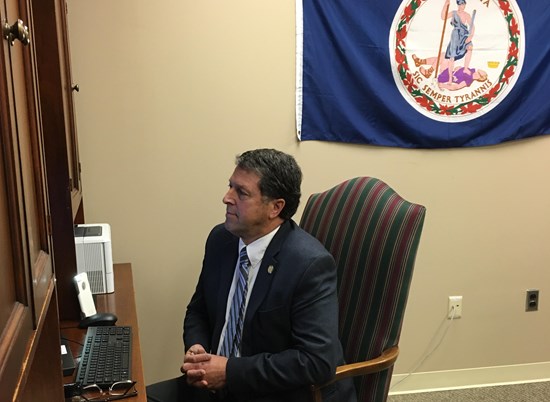 Get in touch and stay connected:

District Office: P.O. Box 6, Hamilton, Virginia 20159 (540) 751-8364

Paid for and authorized by Dave LaRock for Delegate