WMATA / Metrorail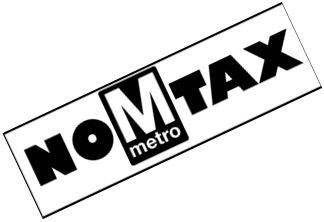 "Dedicated Funding" for WMATA was one of the hot topics of the 2018 General Assembly session. I voted against HB 1539 and SB 856 because they would divert too much of Northern Virginia's regional and local transportation money to a very broken and declining WMATA system. I would prefer for Metrorail riders and station-area businesses to pay more for the benefits they receive from the system. We also need to see Virginia's labor-related revisions to the WMATA Compact be adopted by Maryland, DC, and the Federal Government so operational costs can be brought under control.
The DC Region's Metro rail and bus system has been mismanaged for decades
Safety and reliability have plummeted, and so have ridership and revenues. Some say Metro needs $7.5 billion more over ten years to be fixed and maintained properly. Most ($6.15 billion) of the $7.5 billion total "funding gap" is Capital projects: WMATA needs new cars, major track refurbishment, etc. - vs ~$1.3 billion in Operations/Maintenance "funding gap".
Those who benefit from Metro – riders and station-area developers – should pay instead.
In 2012, Loudoun County supervisors voted 5-4 to extend Metro to Loudoun; while doing so, the payment proposition was to cover construction and operations costs by taxing the property around the new rail stations. Similar tax districts around all of Virginia's could put more of the costs of Metro on developers who benefit from their location near Metro stations. I introduced a budget amendment to do this in 2017.
Currently, the WMATA CIP funding formula has Virginia paying about 28% of the Capital Improvement Plan (CIP) vs. DC 37% and MD 35%.
THE DISTRICT OF COLUMBIA proposed a sales tax of 1% across the region served by Metro, INCLUDING ALL OF LOUDOUN COUNTY.
Virginia would collect well over 50% of the regional taxes collected at this flat rate (vs. DC 22.8%, MD 26.5%).This proposed 1% sales tax would have Virginia paying for over half of the $7.5 billion funding gap. They want ALL Loudoun residents to fix the rest of the region's decades-long neglect. Rail will only come 1.7 miles to one station past MWAA/Dulles Airport land into Loudoun; MWAA will have ~4.9 miles of track and 2 stations on Dulles land. The total system at that point will be 129 miles with 97 stations. Also realize that Loudoun will not be using Metro's bus service, and that Loudoun/Fairfax folks are contributing $billions in tolls and taxes to fund the Silver line.
It is outrageous to ask ALL Loudoun County residents to pay money into a Metro system every time they purchase a taxable item; most residents use the Metro rarely if ever.
The new 1% sales tax would have cost Loudoun $74,949,695 in 2016, and that number will increase rapidly. In the last 2 years, Loudoun's sales tax revenue increased 23%; that's more than the other affected Northern Virginia jurisdictions increased in the last 10 years! Loudoun County would pay at least $80 million/yr., and our sales tax revenue is growing far faster than the other NoVA localities. The WMCOG report put Loudoun at $66 million and 10.2% of the regional taxes, but they must have been using old numbers.
Some WMATA Funding Studies:
1986 Federal City Council study
2004 Brookings Institution "Deficits by Design"
2005 Metropolitan Washington Council of Governments, Federal City Council, and Greater Washington Board of Trade findings of the Metro Funding Panel
2006 General Accountability Office dedicated funding sources study.
2016 Metropolitan Washington Council of Governments (MWCOG) Technical Panel Report
Current Local Subsidies: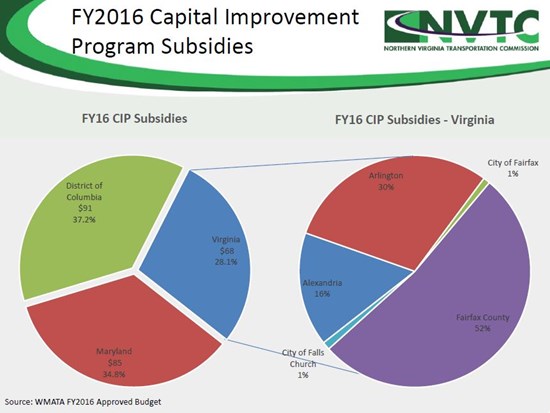 Local Shares of 1% Regional Sales Tax: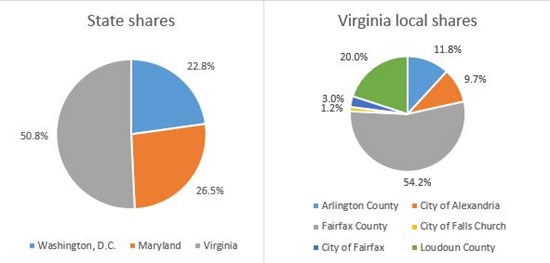 Jurisdictional Share Generated by Various Alternative Regional Taxes: