Toll Relief
2020 Session Toll Relief legislation
Northern Virginia Toll Relief Act of 2018
In the 2018 session, Senator Dick Black and I have introduced legislation to mitigate the outrageous tolls on I-66 Inside the Beltway (ITB), which have reached as high as $44 one-way. This legislation will also reduce, and eventually eliminate, tolls on the Dulles Toll Road (DTR). Part of this effort was included in the House budget, but was removed from the Budget Conference Report at the insistence of Democrat Senator from Fairfax. More information on this effort is at the links below:
12-21-2017 Letter to Gov. McAuliffe
1-05-2018 Press Conference video
2018 session LaRock Northern Virginia Toll Relief Legislation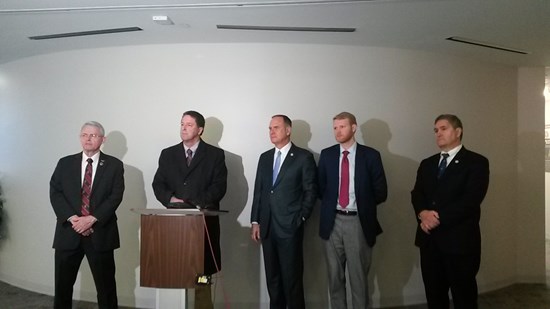 January 5, 2018 Press Conference- including (L-R) Sen. Dick Black, Del. Dave LaRock, Del. Rich Anderson, Loudoun Supervisor Ron Meyer, Del. Randy Minchew
I-66 Inside the Beltway
Mid-2015, Governor McAuliffe announced his plan to enact tolls on Interstate 66 inside the Beltway. The toll rates will be outrageous – as high as $17.00 per round trip during peak times. For a normal 5-day work week, that would total up to around $350 per month, or $4,250 a year to use a short section of I-66. That's the price of a car payment! Ideas like this McAuliffe Mega-Toll show the Democrat team is completely out of touch with working Virginians.
This isn't just important for people who use I-66 and their families. Toll rates this high can have a crippling effect on local businesses and could stifle the economy of Northern Virginia. Families who have less disposable income will have to cut back, or maybe even change jobs.
It gets worse. The revenue from this tolling plan isn't slated to improve I-66 or relieve the massive traffic congestion that Northern Virginia struggles with. Governor McAuliffe's proposed tolls are going to "multimodal transportation" subsidies –that means new bus service, but also "bike sharing" and "Transit information Screens". This is outrageous, and I did everything I could to stop it.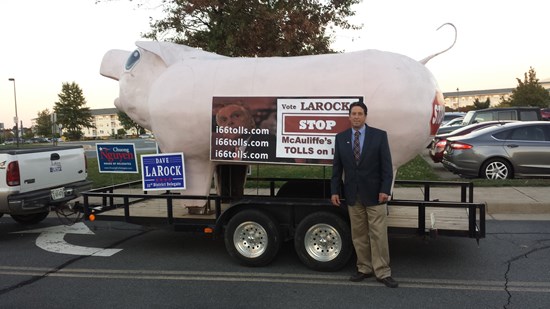 Unfortunately, the Democrats, and some Republicans from other areas of the state worked with the governor to defeat legislation Northern Virginia Republicans introduced to prevent the tolls. We did obtain funding for badly-needed Eastbound widening from the Dulles Connector Road to Ballston. As part of my service on the Northern Virginia Transportation Commission, I am doing my best to ensure that the tolls are spent responsibly in a way that benefits toll-payers.
Read more of my messages opposing I-66 inside-the-beltway tolling:
Guess Which Candidate Favors $17 Tolls on I-66 Inside the Beltway
For Whom the Dems Toll and List of Endorsed Candidates
McAuliffe Strong-arms NVTC Into Greenlighting Massive Toll Plan
Say No To Outrageous Tolls on I-66!
Emergency Preparedness- Including Transportation
Pro-Business Champions or Serial Pocket-Pickers?
Dulles Toll Road (Rt. 28 to I-495)
The Dulles Toll Road (DTR) was constructed by the Commonwealth and opened in 1984, with the promise that tolls would cease once the road was paid for. In 2006, Gov. Tim Kaine signed agreements turning the road over to MWAA, and since then, tolls have been rapidly increasing, with a large portion of the funds being directed to the construction of the Dulles Rail (aka "Silver Line") project.
I believe this is fundamentally unjust, and have been working against these toll increases for several years now. Several pieces of legislation I introduced in my first session were designed to help lower tolls on the Dulles Toll Road. (HB 647, HJ 84, and HJ 85) Read an OpEd I wrote about these efforts here.
The Metropolitan Washington Airports Authority (MWAA) is managing the DTR and the rail project, and was invited to apply for a federal government Transportation Infrastructure Finance and Innovation Act (TIFIA) loan. I joined General Assembly members from Northern Virginia in signing a letter to the US Department of Transportation Secretary Anthony Foxx supporting the Dulles Rail TIFIA application. The letter stated that a "low-interest TIFIA loan for the Silver Line will work toward our goal of mitigating toll rate increases for drivers on the Dulles Toll Road to the greatest extent possible.
As a follow-up to the letter to Sec. Foxx, I wrote a letter addressed to MWAA President and CEO Jack Potter, asking him to provide documentation of the projected reduction in toll rates provided by the TIFIA loan and recent Commonwealth of Virginia appropriations.

This information will help us determine how we can best proceed to ensure that everything possible is done to reduce tolls for commuters on the Dulles Toll Road. It will also provide assurance that the continued appropriations of Commonwealth funds are being spent wisely and effectively to reduce the burden on Dulles Toll Road users.
Many members of the Northern Virginia delegation joined me in signing this letter. We will continue fighting for lower tolls.
Dulles Airport Access Road (Dulles Airport to I-495)
This road was built by the Federal government in 1962 along with Dulles Airport, and is restricted to those with airport business. MWAA customers ride free on this road, while MWAA charges tolls to everyone else on the adjacent Dulles Toll Road. Opening this road to the public as HOT lanes could relieve congestion on the Dulles Toll Road, allow lower tolls on the DTR, and provide more reliable transportation options to those who need it and can afford to pay. I introduced legislation to do this in 2014 (HB 647, HJ 84, and HJ 85). This idea was also included in my Northern Virginia Toll Relief Act in 2018.
Dulles Greenway – (Leesburg to Rt. 28)
This road was privately built with investor money, opened in 1995, and is operated at no expense to the Commonwealth; in fact they are one of the largest property-tax-paying entities in Loudoun County. The law under which this road is operated was modified by now-Attorney General of Virginia, Mark Herring, in 2008, so tolls are higher than we'd like them to be. I supported legislation in 2015, in 2016, and a bill and a study resolution in 2019 to reduce the tolls, but Herring's sell-out has proven difficult to undo.
During the 2020 session, I introduced a few bills to restore accountability and reasonable tolling to the Greenway; all were killed by the new Democrat majority.
In May of 2020, I sent a letter to the SCC opposing the Greenway's outrageous request for a 30% increase over five years.