Dave's Education Plan
Dave has introduced several Education bills in the 2015 session. Here is more information:
Homeschooling testing requirements clarification
Virginia Board of Education shall not adopt revisions of the Standards of Learning that implement the Common Core State Standards unless it has the prior statutory approval of the General Assembly
How did Dave do in working to implement his Education Plan? Here's his education "report card" from the 2014 session: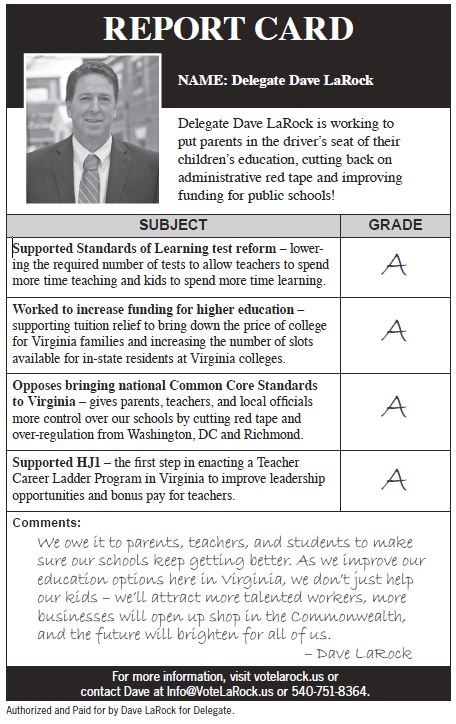 "Dave LaRock will be a strong Conservative voice in Richmond for the 33rd District. As a current representative on the Loudoun County School Board, I share Dave's commitment to bring more local control to our schools so that we can offer parents true educational choice, reduce over-bearing and under-funded regulations, and bringing the BEST educators to Loudoun County. I look forward to working with him on these endeavors. His passion, drive, and focus are among the reasons why I am supporting Dave LaRock for 33rd District Delegate on November 5th." - Jill Turgeon, Vice Chair, Loudoun County School Board (Blue Ridge District)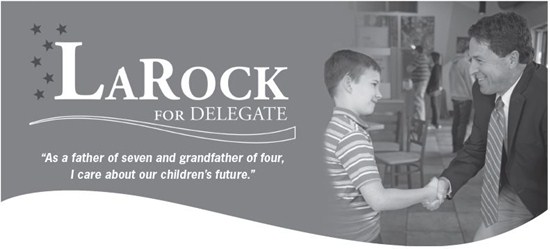 Our community has some of the best schools in the nation, but we can make them even better.
Dave's Education Plan
• Give parents, teachers, and local officials more control over our schools by cutting red tape and over-regulation from Washington, DC and Richmond.
• Promote flexibility and innovation in the classroom and stop forcing teachers to "teach to the test."
• Invest in education by rewarding good teachers.
• Encourage and support the rights of parents to direct their
children's education.
• Cut administrative bureaucracy and shift money to reduce class size and increase teacher compensation.