Keeping Virginia the Best State for Business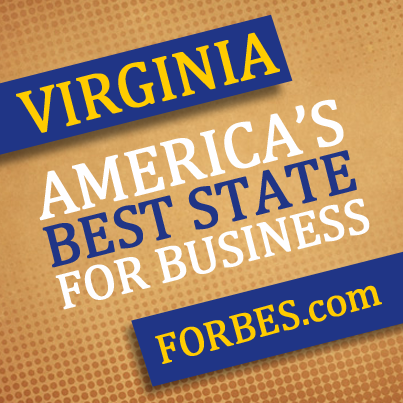 Virginia is America's Best State for Business, according to a recent announcement from Forbes. Forbes says Virginia's "diverse economy, strong workforce and pro-business regulatory climate" propels the Old Dominion state to the No. 1 ranking. Some details of the ranking:
Virginia ranks first in the "regulatory environment" category. Our business-friendly government practices and flexible incentive packages contribute to this strong position.
Virginia is the only state that ranks in the top five in four of the six categories.
Forbes specifically points to our tort system as a key factor in this ranking. This year, Republicans passed a package of six important tort-reform bills.
Forbes specifically points to Virginia's strong right-to-work law as a key factor in Virginia's success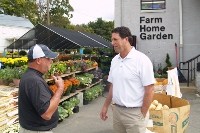 Dave LaRock runs a small family business, so he knows first-hand the challenges Virginia's job-creating small business owners face. He understands how to create jobs and grow our economy. Dave will always do right by the families of Northern Virginia. Dave will work hard to keep Virginia business-friendly.
Specifically, Dave will:
Fight to cut wasteful government spending, lower taxes, and balance our state budget.
Help our small businesses create jobs through lower taxes and less regulation.
Improve our roads and ease traffic congestion by getting our fair share of transportation funding.
Stand up to the overreach of President Obama and the federal government, especially on issues like Obamacare that particularly hurt small businesses and kill jobs.

Dave's support for small businesses earned him the endorsement of the National Federation of Independent Business.
In their endorsement statement, the NFIB wrote:
"Dave LaRock clearly understands the challenges facing Virginia's job creators," said Nicole Riley, state director of NFIB/Virginia. "Our members believe Dave LaRock will take a fiscally responsible approach to managing state government and support legislation that helps small businesses grow and create jobs."
Dave's opponent has a voting record of supporting higher taxes, fees, and burdensome regulations on small businesses. Her campaign is heavily supported by unions opposed to Virginia's right-to-work law. This makes the choice voters face on November 5th very clear: for economic growth, better jobs, and improved quality of life, vote for Dave!
Dave LaRock: Helping small businesses. Creating jobs.
The Rock-Solid leadership we need!