2nd Amendment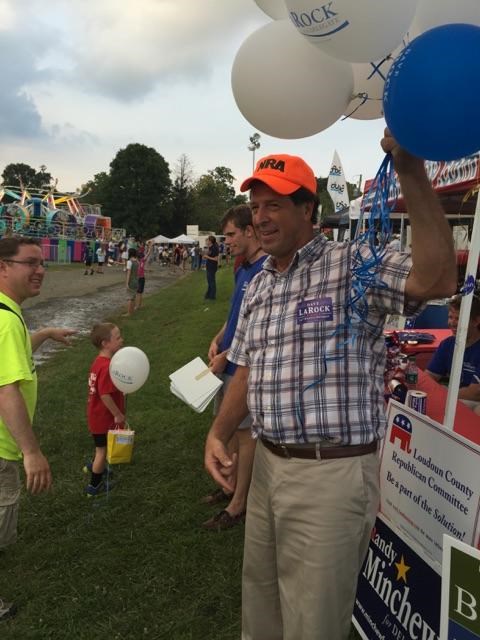 I am completely open about where I stand on gun rights: I support them 100%. I'm proud of my "A" rating from the NRA every year and high scores from the VCDL. Every session I've introduced and supported legislation to protect the rights of gun owners. And I've fought back against Gov. McAuliffe, Gov. Northam, AG Herring and other Democrats' plans to strip Virginian gun owners of their rights.
While a few Democrats say the right things about the 2nd Amendment, almost all of them line up to help Gov. McAuliffe, Gov. Northam and others push for new gun control.
If you support gun freedom, I am on your side.
2023 Senate District 1 Republican Primary Candidate Positions on 2nd Amendment
Virginia Citizens Defense League (VCDL):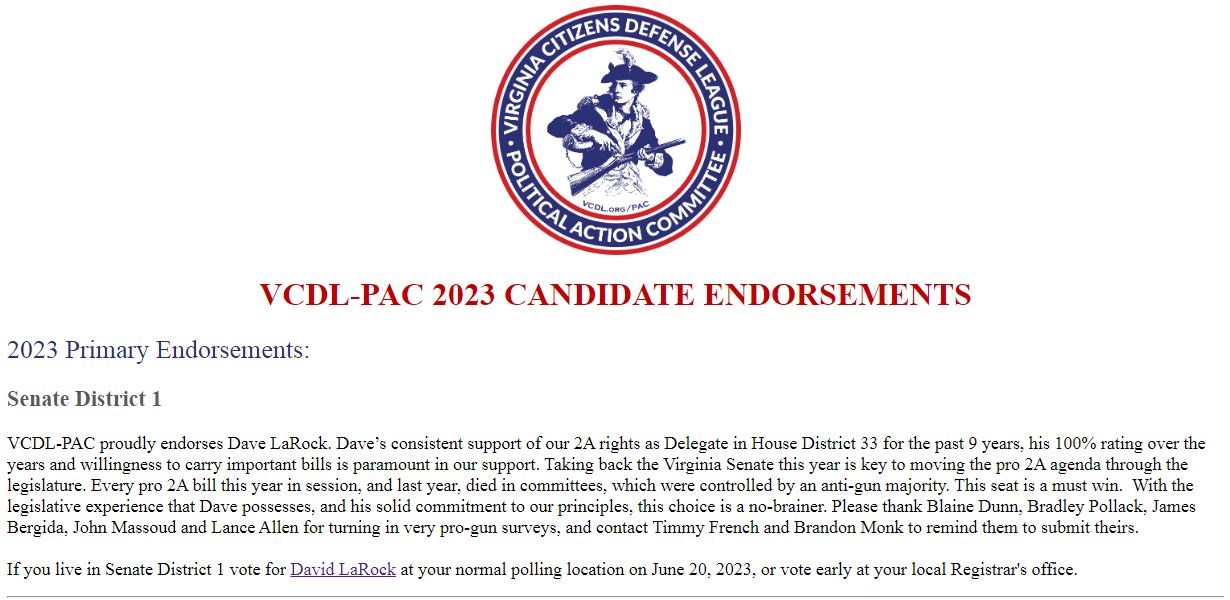 National Rifle Association - Political Victory Fund (NRA-PVF) 2023 Primary Ratings.
Delegate Dave LaRock Files Legislation to Protect Virginians' Right to Self Defense
Dec. 15, 2022, Del. Dave LaRock filed two bills for the upcoming 2023 session of the Virginia General Assembly, which would repeal arbitrary gun restrictions enacted recently in Virginia.
House Bill 1427 would strike the provisions of law which currently allow local government to restrict, "...the purchase, possession, transfer, ownership, carrying, storage, or transporting of firearms, ammunition, or components or combination thereof other ... in any public park owned or operated by the locality, or by any authority or local governmental entity created or controlled by the locality; in any recreation or community center facility operated by the locality, or by any authority or local governmental entity created or controlled by the locality; or in any public street, road, alley, or sidewalk or public right-of-way or any other place of whatever nature that is open to the public and is being used by or is adjacent to a permitted event or an event that would otherwise require a permit. "
House Bill 1428 proposes to repeal the entire code § 18.2-287.4 which currently makes it "...unlawful for any person to carry certain loaded shotguns and semi-automatic center-fire rifles and pistols on any public street, road, alley, sidewalk, public right-of-way, or in any public park or any other place of whatever nature that is open to the public in the Cities of Alexandria, Chesapeake, Fairfax, Falls Church, Newport News, Norfolk, Richmond, or Virginia Beach or in the Counties of Arlington, Fairfax, Henrico, Loudoun, or Prince William."
Delegate Dave LaRock said, "Both of these current Virginia laws have the effect of making people less safe by depriving them of the right and ability to defend themselves without unnecessary government interference. Recently, in landmark ruling by the United States Supreme Court in New York State Rifle & Pistol Association, Inc. v. Bruen, the majority ruled in a 6–3 decision that New York's law was unconstitutional, and ruled that the ability to carry a pistol in public was a constitutional right under the Second Amendment. Passage of these repeals in Virginia would be especially appropriate considering the Bruen decision."
Del. LaRock added, "I am particularly encouraged by comments from Justice Alito's concurring opinion in the Bruen case, addressing the common misconception that more gun restrictions result in less gun violence. Justice Alito pointed out that if gun restrictions were effective in preventing gun violence, New York's law would have stopped recent mass shootings, the use of guns to commit suicide, and children being killed by guns, but the New York laws did not have that effect."
My 2nd Amendment Legislation:
2023:
2022 Co-Patron legislation:
2021:
2020:
2018:
2016:
2015:
2014: