Local Transportation Projects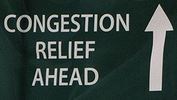 Current 33rd District transportation projects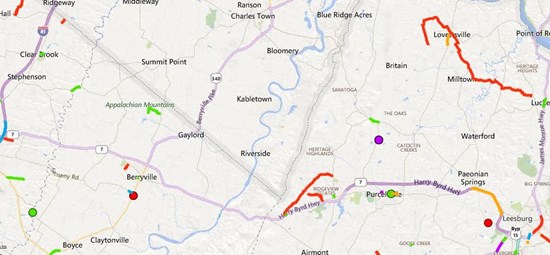 Project map from VDOT's VirginiaRoads website
SmartScale project applications interactive map
Clarke County
Swan Avenue - Town of Berryville - Safe Routes to School Safe routes to school project benefits students walking and bicycling to Johnson-Williams Middle School. Project improvements include a sidewalk replacement and extension from the school drop off area to South Buckmarsh Street. Project includes pavement markings and ADA ramps along the route. Estimated Completion Fall 2016
Allen Rd. improvements: Winchester Star 08/19/2015, Page B04, "Paving plans set to be revealed for Allen Rd." By VAL VAN METER
BERRYVILLE — Residents on Allen Road in Clarke County will be getting a letter shortly from the Virginia Department of Transportation about paving their gravel road.
During discussions of the county's Secondary Road Plan two years ago, residents on the east end of Allen — closest to Summit Point Road (Route 611) — told the supervisors they did not want their end of the road paved.
Residents on the west end were enthusiastic about getting blacktop to remove dust problems.
VDOT Program Director Edwin "Ed" Carter had originally suggested that he start paving the road at the west end. In July, however, when he informed the supervisors he had enough money to start working on the road, he said he wanted to start at the east end.
VDOT would get the most bang for its buck by solving maintenance problems at that end of Allen, Carter said. The west end would be paved later.
Russell District Supervisor Barbara Byrd asked Carter to draft a letter to go to all Allen Road residents explaining the reasoning behind starting the paving on the east end.
She said residents on that end of Allen had been concerned that VDOT would widen and straighten the road, which might lure more motorists to use it as a shortcut to Crums Church Road and Harry Byrd Highway ( Va. 7), west of Berr yville.
However, Byrd said, VDOT has pledged to use the Rural Rustic Road standards for paving, which would keep Allen narrower and remove only those sharp curves necessary to get the road bed in.
She urged residents to check on Ebenezer Church Road on Blue Ridge Mountain, which has just such a section of surfaced gravel roadbed.
Carter said in July he would like to proceed with drainage improvements this fall, so the road could be hard-surfaced next spring.
Interstate 81 corridor:
Interstate 81 - Exit 323 Acceleration and Deceleration Lanes
This project consists of the lengthening of the Interstate 81, exit 323 southbound on-ramp
acceleration lane and taper and the northbound on-ramp deceleration lane and taper to improve
weave movements and safety. Estimated Cost: $3,450,904 Estimated Ad Date: Fall 2018
Route 11 (Martinsburg Pike) and Route 661 (Welltown Road)
: Adds capacity on Route 11 with a third southbound lane between I-81 and Route 37, and adds a turn-lane on Route 661 at the Route 11 intersection. The projects are being done concurrently for economies of scale and coordination efficiency. This SMART SCALE proposal increases capacity on US 11 with the addition of a third southbound through lane between Highway 37 and Interstate 81, Exit 317. The additional lane will also improve the operation and safety of the existing intersection with Welltown Road. Estimated Cost: $2,500,755, Estimated Ad Date: Fall 2016
Route 7 Corridor:
Route 659 (Valley Mill Road) Realignment: This project improves the alignment of Route 659 (Valley Mill Road) with Route 7 in Frederick County. The project extends from Route 7 to 0.5-mile east of Channing Drive. This is a potential revenue-sharing project.Estimated Cost: $7,200,000 Estimated Ad Date: Spring 2017
Other Projects:
Route 655 (Sulphur Spring Road) Reconstruction: The road serves as access to Route 50 for several neighborhoods and serves as the only access to the Frederick County landfill. The project is 1.186-miles long and extends from Route 50 to .288-mile east of Route 656. The improvements to the road include two 12-foot travel lanes and 6-foot paved shoulders. The road alignment will be slightly adjusted to straighten out a gradual curve. Right and left turn lanes will be constructed on Route 655 at Route 50 and Route 656. Also the box culvert on Route 655 at Sulphur Spring Run will be extended north to accommodate the new turn lane. Right of way: Underway; Construction advertisement: Spring 2018; Construction: Winter 2018
Route 37 Bypass Study: This study is to define the Route 37 Eastern Bypass alignment. The project is 15.5-miles long and extends from the Route 37 southern end at I-81 south to Route 37 east of I-81 north.
The purpose of this study is to provide Frederick County with the preliminary alignment necessary to allow the County to plan industrial, commercial and residential developments in the area of the proposed Route 37 Eastern Bypass corridor.
The alignment will include future interchanges at Warrior Drive (Future), Route 522 (Front Royal Pike), Route 50 (Millwood Pike), Route 657 (Senseny Road), Route 7 (Berryville Pike), Snowden Boulevard (Future), Interstate 81 and Route 37 (west of US 11).
The County has prioritized three segments for further engineering development:
Segment 1: Route 37 – Interstate 81 to Route 522
Segment 2: Route 37 – Route 37 (Northern Termini) to Rte 7
Segment 3: Route 37 – Route 522 to Route 7
Currently VDOT is performing a traffic analysis on Segment 1: Route 37 – Interstate 81 to Route 522; including evaluating interchange alternatives at Warrior Drive (Future), and Route 522 (Front Royal Pike). The traffic analysis study is scheduled to be complete in late 2015.
*This project will be scored under the new prioritization process as outlined in House Bill Two.
Loudoun County
Updated September 2016
Rt. 7 corridor:
Route 7 Climbing Lane: Construction began on June 26, 2014. There is activity between Route 9 and West Market Street – the full length of the project limits. The remaining work is on the roundabout and completing the left turn movements. County staff discussed with VDOT the back-ups that are occurring on the approach to the roundabout from Business Route 7 and Dry Mill Road. VDOT assures that this will clear as soon as the roundabout is functioning as a two-lane roundabout. Project completion is scheduled for December, 2015.

Route 7/Route 690 Interchange (Preparation of IJR and preliminary design plans): Resubmittal of IJR went to VDOT and comments were received. The IJR was submitted to VDOT Central Office for review and comment on 4/15/2015. Notice was received by VDOT in early June that the IJR was approved by Central Office. It now has to go to the CTB for approval. The consultant submitted of 30% design plans in mid-September to VDOT. County staff and Dewberry will meet with VDOT to discuss the issue of clearance with the height of the existing bridge over Route 7. As it stands now, if the bridge is widened it may have to be replaced. Staff received comments from VDOT and the Town of Purcellville on the 30% design plans. This project will stop until additional funds are identified. The Adopted FY2017 CIP has $4M for design of this interchange; funding will become available in July 2016 for design to commence. County reviewing scoping document from Dewberry. Design should begin by the end of July 2016. County reviewed cost proposal for design and has requested additional information.

Route 7/Williams Gap Road Turnlane: Preliminary engineering was authorized on January 9, 2015. The project scoping meeting was held on February 12, 2015. Survey work and geotech investigations complete. The design will be done by VDOT in-house design team and is underway. The Preliminary Field Inspection (PFI) was held on December 9, 2015. The design public hearing is anticipated in the May-June timeframe. VDOT will be assuming the house on the adjacent property is historic and will consider impacts diminimus. That finding will be sent to the Department of Historic Resources for comment. A design public hearing will be held in late April or May, 2016. The project is scheduled for construction advertisement in September 2017. Design public hearing scheduled for April 19, 2016 at 6:30 to 8:30pm at Round Hill Elementary School. Citizen comments accepted until May 5, 2016. The Board of Supervisors endorsed the design of this project at their July 5, 2016 business meeting. VDOT issued public hearing design approval on August 1, 2016. Right-of-way plan resubmission being prepared.


Route 9 Corridor:
Route 9/Route 287 Roundabout: The preliminary project design is funded using VDOT pre-scoping funds. Survey work is completed. A VDOT scoping meeting was held on 10/8/14. The geometrics of the area are requiring further analysis of the roundabout option. The build alternatives are being re-examined and value engineered in search of cost savings. The final traffic report comparing the performance of a roundabout to an expanded signalized intersection has been provided to the County for review. County staff is in discussion on the design alternatives with VDOT. The project was a submitted as a candidate for HB-2 funding. It has not been recommended by VDOT staff for funding. A meeting has been scheduled for mid-March, 2016 to discuss County comments. VDOT and County staff met on March 17, 2016 to discuss design alternatives; additional analysis was requested in order to finalize the report, which is expected to be released at the end of April 2016. Supplemental analysis will be distributed in mid-May; final report will follow staff review of the additional information.
Charles Town Pike Traffic Calming
This project features roundabouts where Route 9 (Charles Town Pike) intersects with Hillsboro Road and Stony Point Road, as well as sidewalks, crosswalks, on-street parking, landscaping, decorative pavers, and raised intersections and other traffic-calming elements.
The project is based on Hillsboro's master plan, which envisions an inviting, pedestrian-friendly environment through the historic center of town.
This section of Route 9 is one lane in each direction with intermittent shoulders, curbs and narrow sidewalks. Vehicles must parallel park on shoulders, partially on sidewalks, or along the road.
Hillsboro also has many buildings listed on the National Register of Historic Places (the entire town is eligible) with many buildings only a few feet from the existing pavement. Most right of way through the town is 40 feet wide, with stone retaining walls in some locations.
The project is designed to avoid or limit impacts to these types of physical and right of way constraints. Curb and sidewalks have been incorporated, with crosswalks and traffic-calming measures placed at specific locations. On-street parking is proposed at the western and eastern ends of town (back-in angle parking) with parallel parking at select locations.
Single-lane roundabouts at Hillsboro Road and Stony Point Road serve as gateway treatments, signaling to motorists that they are entering historic Hillsboro. The eastern roundabout also serves as the new entrance to the Hillsboro Elementary School.
The project only has funding for preliminary engineering and is awaiting additional funding to proceed to the right of way and construction phases. The Town of Hillboro and Loudoun County are submitting this project for SmartScale funding in Sept. 2016.

Route 15 Corridor:
Route 15 Interchange at Edwards Ferry/Fort Evans Road: VDOT has initiated a project administration agreement with the Town of Leesburg. The design contract was issued to HTNB. A scoping meeting was held on May 1, 2015. Traffic data collection is complete. The Town of Leesburg submitted the executed SPAA to VDOT on August 3, 2015. Preliminary engineering was authorized on November 2, 2015. Notice to proceed was issued to the consultant on November 10, 2015. A study group meeting was held on December 16, 2015. The IJR framework document is underway. A stakeholder meeting is planned for the summer of 2016 with a public information meeting to follow. The next study group meeting is January 20, 2016. This project was submitted as a candidate for HB-2 funding. It has not been recommended by VDOT staff for funding. A public information meeting was held March 10, 2016. Proceeding with IJR development.

Route 15 Congestion Mitigation Improvements (Town/County/VDOT): VDOT has identified pre-scoping funds to perform a more rigorous traffic study using the Town study from Wells and Associates as a base. VDOT staff issued a notice to proceed to VHB on May 26, 2015. The study is underway by VHB. The draft report is under review by VDOT staff. When they have completed their review, the report will be presented for discussion to County and Town of Leesburg staff. A meeting to discuss the consultant's report is scheduled for mid-March, 2016 with VDOT, Town and County staffs. When a path forward is agreed to, the Chairman and District supervisors will be briefed to determine next steps. Staff from VDOT, Loudoun County and the Town of Leesburg met on March 17, 2016 to discuss the draft report; one of the proposed alternatives requires additional analysis and cost estimates need to be obtained in order to identify the recommended alternative. Data collection is in progress; the study will capture traffic counts from two additional intersections on Business Route 15 (King Street) and include AM peak (southbound) traffic in the analysis.

Village of Lucketts Safety Project: The NEPA document is complete. VDOT has obtained estimates for certain elements of the project. A determination on what can be done with the remaining funding will be discussed. VDOT reported that the federal government is looking to determine if there are adequate funds to get the project to the next phase or there could be ramifications to the State on use of the funds. Awaiting results of the Route 15 Congestion Relief study to determine how to proceed with this project.
Route 15 Widening Phase II (from south of Masons Lane at the southern corporate limits to Greenway Drive) – This 0.9 mile section will complete the 4-lane divided roadway south of the Leesburg Bypass. The completion of this portion of the multiuse trail on the west side of the road will connect between the trail constructed in Phase I and a trail that was recently constructed by VDOT south of the Leesburg corporate limits. This project will incorporate the recently completed improvements at Virts Corner that signalized that intersection and realigned the streets. The improvements will also tie into the proposed Battlefield Parkway intersection at Meade Drive. Construction is underway and ahead of schedule. An early completion of spring 2017 is anticipated.
Battlefield Parkway Trail Across the Route 15 Bypass - Construct a pedestrian crossing of the Route 15 Bypass at Battlefield Parkway. The project will include sidewalk extension to the Bypass on the west, a trail extension from the Bypass to the east, and pedestrian signals and crosswalks at the Bypass. VDOT awarded the town a $726,000 Highway Safety Improvement Program grant for the project last summer.Construction is now anticipated to start in the winter and wrap up by summer 2017.
Other Loudoun Projects:

John G. Lewis Memorial (Featherbed Lane) Bridge over Catoctin Creek: A community meeting was held on March 26, 2015 at the Waterford Community Center to discuss the project. A number of interested residents attended to review the options presented. A follow-up stakeholders meeting was held on July 23, 2015 at the Waterford Community Center. A bridge naming ceremony was held on July 29, 2015. The next third stakeholders' meeting was held on September 16, 2015 from 11 a.m. to 1 p.m. in the Old Waterford School. VDOT presented three alternatives to the State Department of Historic Resources for review. DHR chose option 2A which is building a new structure from the deck down. The trusses remain but become ornamental. VDOT will proceed with this option. Funding for this project comes on in later years of the State budget. A fourth stakeholders meeting was held on February 23, 2016. The concurrence was to move forward with Alternative 2A. The number of bridge spans is contingent upon hydraulic analysis. Effects Determination Report on the historic resource submitted to the Virginia Department of Historic Resources on March 25, 2016; VDOT receive comments May 2016. Preliminary engineering of preferred alternative will begin when funding becomes available in FY2019.

Forest Mills Road Bridge over Crooked Run: An initial meeting to discuss options for the replacement of the bridge was held February 17, 2015. VDOT held the Design public hearing on the project on March 26, 2015 from 6-8 pm at Lincoln Elementary School. Fifteen residents attended. The Board approved endorsement of the project's design at the June 3, 2015 business meeting. VDOT staff is preparing plans for right of way. Right of Way acquisition is on-going. The Construction Advertisement date for the project is September, 2015. Funding for the project is primarily in FY 2017 and 2018. Right-of-way acquisition is complete; utility relocation is the next phase of this project. Utility relocation underway. Verizon relocation delayed due to strike; scheduled to be completed by mid-August 2016. Dominion Virginia Power relocation to be completed by early July 2016. On schedule for September 13, 2016 construction ad date. Utility relocation was completed at the end of August 2016. On schedule for Sept 13, 2016 construction advertisement.

Allder School Road Paving (Woodgrove Road to Hillsboro Road): This project involves right of way acquisition from numerous property owners. Appraisals and offers went out to property owners in March, 2014. Staff continues to work with area residents whose properties are impacted. The goal is to bid for construction contract in Spring 2016 with construction starting in the September, 2016. Staff is working to obtain contractor to clear trees for utility construction. Staff is working with property owner representatives to obtain partial mortgage releases on two remaining parcels. Preliminary work to clear and install erosion and sediment controls is scheduled to begin in early March 2016 and will continue into May 2016. There is one outstanding easement. Tree clearing began on March 9, 2016 and is scheduled to be completed on May 4, 2016. Clearing was completed during the week of April 18, 2016; utility relocation to commence once all the easements have been obtained (there is still one outstanding easement). Final easement recorded. Verizon has requested stake out in advance of their relocation. Negotiations ongoing with Dominion Virginia Power (DVP) to determine the extent of relocation to be performed by them versus the road contractor. Verizon has begun its relocation. Verizon has completed its relocation; negotiations with DVP continue. The IFB is being finalized with a target issue date of November 2016. Information about the Loudoun County project may be found at www.loudoun.gov/underconstruction. Questions about the project may be directed to Loudoun County Construction Project Manager Kent Marrs at Kent.Marrs@loudoun.gov or 703-777-0817

Lovettsville Bicycle Trail: This project was issued a notice to proceed in July, 2015. Work is underway by A&M Concrete Corporation. The contractor is working on storm drainage. April, 2016 is the contractual completion date with an incentive to complete by December 2015. VDOT indicated the project is scheduled for completion prior to December 1, 2015.
Franklin Park to Purcellville Trail: Shared Use Path along eastbound Business Route 7 to Franklin Park. Right-of-way acquisition in progress.
Scotland Heights Road: Rural Rustic Paving Reconstruct and pave from Int. rte 1158 Simpsons Creek Road to Int. Flint Farm Drive
Construction contract advertised June 22. Bid was opened on July 22. Contract was awarded to Jeffrey Stack Inc. on 8/28/15 and executed on 9/1/15. Construction to start in early 2017. Contractor will start work around middle of August. Proposal to close the portion of the road under construction to through traffic during construction. Construction has started; the road is closed to through traffic beginning August 24, 2016 to mid-November 2016.
Loudoun County Gravel Roads Priority Enhanced Maintenance
2015 Projects Status: