Local Transportation Projects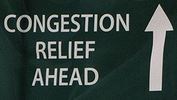 Current 33rd District transportation projects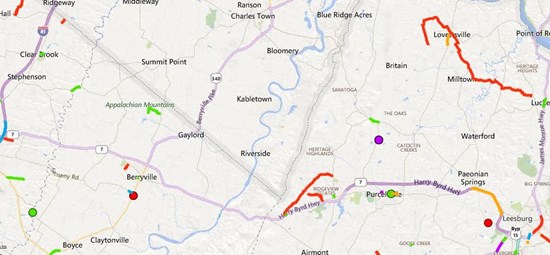 Project map from VDOT's VirginiaRoads website
SmartScale project applications interactive map
Updated July 2017
Route 340 (Lord Fairfax Highway)
This project improves the connection of Route 340 in Clarke County Virginia with Route 340 at the West Virginia state line. The project includes widen the portion of Route 340 that is a two-lane facility to a four-lane divided highway in conjunction with the widening of Route 340 in West Virginia.
Estimated Cost: $3,249,000, Estimated Ad Date: Summer 2021, Project Manager: Matthew Dana, P.E., 540-332-9118

Town of Berryville - Swan Avenue - Safe Routes to School
This Safe Routes to School project benefits students walking and bicycling to Johnson-Williams Middle School. Project improvements include a sidewalk replacement and extension from the school drop off area to South Buckmarsh Street. Project includes pavement markings and ADA ramps along the route. Town of Berryville will cover project amounts above allocations of $61,357.
Contract Value: $68,800 Project Awarded: Spring 2017 Project Manager: Steve Damron, 540-332-7389
Updated July 2017
Interstate 81 - Exit 315 at Route 7 Northbound Deceleration Lane Extension
This project extends the Interstate 81, exit 315, northbound deceleration lane. This project will improve safety, weave movements, and alleviate back-ups onto the mainline of I-81. SMART SCALE Applicant: WinFred MPO Estimated Cost: $643,134 Amount Requested: $643,134 Estimated Ad Date: Fall 2019 Project Manager: Anthony Pelina, 540-332-9575

Interstate 81 - Exit 323 Near West Virginia State Line Acceleration and Deceleration Lanes
This project consists of the lengthening of the Interstate 81, exit 323 southbound on-ramp acceleration lane and taper and the northbound on-ramp deceleration lane and taper to improve weave movements and safety SMART SCALE Applicant: Winchester-Frederick County MPO SMART SCALE Funding: $3,450,904 Estimated Cost: $3,450,904 Estimated Ad Date: Fall 2019 Project Manager: Al Scott, 540-332-2264
Route 11 (Martinsburg Pike) and Route 661 (Welltown Road)
:
Adds capacity on Route 11 with a third southbound lane between Interstate 81 and Route 37. UPC 100547 adds a turn-lane on Route 661 at the Route 11 intersection. The projects are being done concurrently for economies of scale and coordination efficiency. This SMART SCALE proposal increases capacity on Route 11 with the addition of a third southbound through lane between Highway 37 and Interstate 81, exit 317. The additional lane will also improve the operation and safety of the existing intersection with Route 661 (Welltown Road). A contract valued at $2,314,175 was awarded in January 2017 to General Excavation Inc. of Warrenton, Virginia. SMART SCALE Applicant: Frederick County SMART SCALE Funding: $1,078,947 Estimated Cost: $3,660,338
Contract Value: $2,314,176 Estimated Completion Date: Late 2017 Project Manager: Robert Good, P.E., 540-743-1420
Route 655 (Sulphur Spring Road): This project reconstructs Route 655 (Sulphur Springs Road) from Route 50/17 (Millwood Pike) to Route 656. (UPC 59259 ) The project reconstructs a portion of Route 655 (Sulphur Springs Road) located in Frederick County, east of the City of Winchester, between Route 50 (Millwood Pike) and Clarke County. This area serves several residential communities and provides access to the Frederick County landfill. The improvements will provide better road alignment and turning movements. The improvements to the road include two 12-foot travel lanes and 6-foot paved shoulders. The road alignment will be slightly adjusted to straighten out a gradual curve. Right and left-turn lanes will be constructed on Route 655 at Routes 50 and Route 656. Also the box culvert on Route 655 at Sulphur Spring Run will be extended to accommodate the new turn lane onto Route 50. This project is funded for preliminary engineering and right of way. During construction the road will remain open, serving the county landfill. SMART SCALE Applicant: Frederick County Estimated Cost: $2,812,610 (UPC 111060) $8,502,836 (UPC 59259 ) SMART SCALE Amount Requested: $2,812,610 Estimated Ad Date: Fall 2018 Project Manager: Scott Alexander, P.E., 540-332-7758
Route 37 Bypass Study: This study is to define the Route 37 Eastern Bypass alignment. The project is 15.5-miles long and extends from the Route 37 southern end at Interstate 81 south to Route 37 east of I-81 north. The purpose of this study is to provide Frederick County with the preliminary alignment necessary to allow the County to plan industrial, commercial and residential developments in the area of the proposed Route 37 Eastern Bypass corridor. The alignment will include future interchanges at Warrior Drive (Future), Route 522 (Front Royal Pike), Route 50 (Millwood Pike), Route 657 (Senseny Road), Route 7 (Berryville Pike), Snowden Boulevard (Future), Interstate 81 and Route 37 (west of Route 11). The County has prioritized three segments for further engineering development: Segment 1: Route 37 - Interstate 81 to Route 522 Segment 2: Route 37 - Route 37 (Northern Termini) to Route 7 Segment 3: Route 37 - Route 522 to Route 7 Currently VDOT is performing a traffic analysis on Segment 1: Route 37 - Interstate 81 to Route 522; including evaluating interchange alternatives at Warrior Drive (Future), and Route 522 (Front Royal Pike). The traffic analysis should be complete in 2017. This project consists of the extension of Route 37 as a four-lane, divided facility for approximately 1.8 miles from the future intersection of Tasker Road to Route 522 (Front Royal Pike). The project includes a full diamond interchange at the future alignment of Warrior Drive and a half diamond interchange at Route 522. Estimated Cost for Preliminary Engineering Study Only: $2,463,376 Study Completion Date: 2017 Estimated Cost for Preliminary Engineering Phase 2: Will be part of SMART SCALE prioritization process. (Frederick County applied for SMART SCALE funding for Segnment 1 but was not selected.) $4,236,624 Project Manager: Thomas Marando, P.E., 540-332-7746
Loudoun County
Updated July 2017
Rt. 7 corridor:
Route 7/Route 690 Interchange (Preparation of IJR and preliminary design plans): Resubmittal of IJR went to VDOT and comments were received. The IJR was submitted to VDOT Central Office for review and comment on 4/15/2015. Notice was received by VDOT in early June that the IJR was approved by Central Office. It now has to go to the CTB for approval. The consultant submitted of 30% design plans in mid-September to VDOT. County staff and Dewberry will meet with VDOT to discuss the issue of clearance with the height of the existing bridge over Route 7. As it stands now, if the bridge is widened it may have to be replaced. Staff received comments from VDOT and the Town of Purcellville on the 30% design plans. This project will stop until additional funds are identified. The Adopted FY2017 CIP has $4M for design of this interchange; funding will become available in July 2016 for design to commence. County reviewing scoping document from Dewberry. Design should begin by the end of July 2016. County reviewed cost proposal for design and has requested additional information. Finance Government Services Operation and Economic Development Committee approved contract amendment for design services on November 15, 2016. Meeting was held with VDOT on December 16, 2016 to analyze the existing bridge over Route 7. Currently staff is working with VDOT to assess clearance and vertical alignment issues. No change. Dewberry has completed the alignment investigation; a follow up meeting with VDOT will be scheduled to discuss the bridge issues.

Route 7/Williams Gap Road Turnlane: Preliminary engineering was authorized on January 9, 2015. The project scoping meeting was held on February 12, 2015. Survey work and geotech investigations complete. The design will be done by VDOT in-house design team and is underway. The Preliminary Field Inspection (PFI) was held on December 9, 2015. The design public hearing is anticipated in the May-June timeframe. VDOT will be assuming the house on the adjacent property is historic and will consider impacts diminimus. That finding will be sent to the Department of Historic Resources for comment. A design public hearing will be held in late April or May, 2016. The project is scheduled for construction advertisement in September 2017. Design public hearing scheduled for April 19, 2016 at 6:30 to 8:30pm at Round Hill Elementary School. Citizen comments accepted until May 5, 2016. The Board of Supervisors endorsed the design of this project at their July 5, 2016 business meeting. VDOT issued public hearing design approval on August 1, 2016. Right-of-way plan resubmission being prepared. Right-of-way plan resubmission being prepared. VDOT received Federal authorization for right-of-way received on November 10, 2016. Right-of-way acquisition in progress. Utility relocation work is ongoing.
Route 7 Corridor Eastbound Improvement Study (between Purcellville and the Dulles Greenway) VDOT is conducting a study of the corridor of Route 7 from Route 9 to the Dulles Greenway through the STARS (Strategically Targeted Affordable Roadway Solutions) program. VDOT's consultant is in the final stages of preparing a draft report which will be available following a technical review of the report. VDOT's study is intended to identify operational and safety improvements that can be programmed into VDOT's Six-Year Improvement Plan for funding. In fall 2016, Loudoun County initiated a capacity analysis of Route 7 between Round Hill and East Market Street in Leesburg. The consultant recently completed an assessment of existing conditions, which the Department of Transportation and Capital Infrastructure (DTCI) is currently reviewing. We expect to receive the draft report in June or July 2017; the report will likely be presented to the Board of Supervisors in September or October 2017.
Route 9 Corridor:
Route 9/Route 287 Roundabout: The preliminary project design is funded using VDOT pre-scoping funds. Survey work is completed. A VDOT scoping meeting was held on 10/8/14. The geometrics of the area are requiring further analysis of the roundabout option. The build alternatives are being re-examined and value engineered in search of cost savings. The final traffic report comparing the performance of a roundabout to an expanded signalized intersection has been provided to the County for review. County staff is in discussion on the design alternatives with VDOT. The project was a submitted as a candidate for HB-2 funding. It has not been recommended by VDOT staff for funding. A meeting has been scheduled for mid-March, 2016 to discuss County comments. VDOT and County staff met on March 17, 2016 to discuss design alternatives; additional analysis was requested in order to finalize the report, which is expected to be released at the end of April 2016. Supplemental analysis will be distributed in mid-May; final report will follow staff review of the additional information. County to provide direction to VDOT on preferred alternative. No change. An item will be presented to the Board of Supervisors at a future Business Meeting to select a design alternative. The County has requested a proposal from Wallace Montgomery to design the roundabout.
Charles Town Pike Traffic Calming
This project features roundabouts where Route 9 (Charles Town Pike) intersects with Hillsboro Road and Stony Point Road, as well as sidewalks, crosswalks, on-street parking, landscaping, decorative pavers, and raised intersections and other traffic-calming elements.
The project is based on Hillsboro's master plan, which envisions an inviting, pedestrian-friendly environment through the historic center of town.
This section of Route 9 is one lane in each direction with intermittent shoulders, curbs and narrow sidewalks. Vehicles must parallel park on shoulders, partially on sidewalks, or along the road.
Hillsboro also has many buildings listed on the National Register of Historic Places (the entire town is eligible) with many buildings only a few feet from the existing pavement. Most right of way through the town is 40 feet wide, with stone retaining walls in some locations.
The project is designed to avoid or limit impacts to these types of physical and right of way constraints. Curb and sidewalks have been incorporated, with crosswalks and traffic-calming measures placed at specific locations. On-street parking is proposed at the western and eastern ends of town (back-in angle parking) with parallel parking at select locations.
Single-lane roundabouts at Hillsboro Road and Stony Point Road serve as gateway treatments, signaling to motorists that they are entering historic Hillsboro. The eastern roundabout also serves as the new entrance to the Hillsboro Elementary School.
The project only has funding for preliminary engineering and is awaiting additional funding to proceed to the right of way and construction phases. The Town of Hillboro and Loudoun County are submitted this project for SmartScale funding in Sept. 2016.

Route 15 Corridor:
Route 15 Interchange at Edwards Ferry/Fort Evans Road: VDOT has initiated a project administration agreement with the Town of Leesburg. The design contract was issued to HTNB. A scoping meeting was held on May 1, 2015. Traffic data collection is complete. The Town of Leesburg submitted the executed SPAA to VDOT on August 3, 2015. Preliminary engineering was authorized on November 2, 2015. Notice to proceed was issued to the consultant on November 10, 2015. A study group meeting was held on December 16, 2015. The Interchange Justification Report (IJR) framework document is underway. A stakeholder meeting is planned for the summer of 2016 with a public information meeting to follow. The next study group meeting is January 20, 2016. This project was submitted as a candidate for HB-2 funding. It has not been recommended by VDOT staff for funding. A public information meeting for this project is scheduled for March 10, 2016 at Leesburg Elementary School from 6:30 to 8:30pm. Public information was held; additional comments were received via internet. Proceeding with IJR development. Draft IJR expected in December 2016. Next public information meeting to be held in February 2017. Draft IJR was received January 2017. The next public information meeting is anticipated for March 2017. VDOT presented the design options to the Leesburg Town Council on February 28, 2017. The 2nd Public Information meeting was held on March 2, 2017. VDOT is reviewing comments submitted during the Public Information meeting. The draft IJR is anticipated to be complete late May/early June after the preferred alternative has been selected. A meeting with the Leesburg Town Council has been scheduled for May 8, 2017 to discuss the design alternatives; the intent of this meeting is for the Town Council to select a preferred alternative. The draft IJR is anticipated to be complete late May/early June upon selection of the preferred alternative.

Route 15 Congestion Mitigation Improvements (Town/County/VDOT): VDOT has identified pre-scoping funds to perform a more rigorous traffic study using the Town study from Wells and Associates as a base. VDOT staff issued a notice to proceed to VHB on May 26, 2015. The study is underway by VHB. The draft report is under review by VDOT staff. When they have completed their review, the report will be presented for discussion to County and Town of Leesburg staff. A meeting to discuss the consultant's report is scheduled for mid-March, 2016 with VDOT, Town and County staffs. When a path forward is agreed to, the Chairman and District supervisors will be briefed to determine next steps. Staff from VDOT, Loudoun County and the Town of Leesburg met on March 17, 2016 to discuss the draft report; one of the proposed alternatives requires additional analysis and cost estimates need to be obtained in order to identify the recommended alternative. The County issued a task order contract to obtain cost estimates and additional analysis for each alternative; report to be issued in December 2016, project team to brief the Board of Supervisors in early 2017. Data collection is in progress; the study will capture traffic counts from two additional intersections on Business Route 15 (King Street) and include AM peak (southbound) traffic in the analysis. Traffic counts have been captured at additional intersections; field observations have been made. Traffic modeling in progress; study to be completed in early 2017. The study will be presented to the Board on May 18, 2017.

Village of Lucketts Safety Project: The NEPA document is complete. VDOT has obtained estimates for certain elements of the project. A determination on what can be done with the remaining funding will be discussed. VDOT reported that the federal government is looking to determine if there are adequate funds to get the project to the next phase or there could be ramifications to the State on use of the funds. Awaiting results of the Route 15 Congestion Relief study to determine how to proceed with this project. PH on hold pending further coordination with county.
Route 15 Widening Phase II (from south of Masons Lane at the southern corporate limits to Greenway Drive) – This 0.9 mile section will complete the 4-lane divided roadway south of the Leesburg Bypass. The completion of this portion of the multiuse trail on the west side of the road will connect between the trail constructed in Phase I and a trail that was recently constructed by VDOT south of the Leesburg corporate limits. This project will incorporate the recently completed improvements at Virts Corner that signalized that intersection and realigned the streets. The improvements will also tie into the proposed Battlefield Parkway intersection at Meade Drive. Construction is underway and ahead of schedule. An early completion of spring 2017 was achieved.
Battlefield Parkway Trail Across the Route 15 Bypass - Construct a pedestrian crossing of the Route 15 Bypass at Battlefield Parkway. The project will include sidewalk extension to the Bypass on the west, a trail extension from the Bypass to the east, and pedestrian signals and crosswalks at the Bypass. VDOT awarded the town a $726,000 Highway Safety Improvement Program grant for the project. Construction Start Date: Fall 2017 Estimated Completion Date: Spring 2018
Other Loudoun Projects:

John G. Lewis Memorial (Featherbed Lane) Bridge over Catoctin Creek: The Notice to Proceed with design was issued on February 14, 2017. The fifth stake holder meeting was held on April 19, 2017 at Old Waterford School at 6:30 p.m. A site visit with the stakeholders is planned for May 8, 2017 at 6:00 p.m.

Forest Mills Road Bridge over Crooked Run: The contract was awarded on February 28, 2017 and executed by VDOT on March 27, 2017. A pre-construction meeting was held on March 28, 2017. VDOT issued a road closure notice on May 2, 2017 stating that the bridge will be closed and a detour will be in place from May 3, 2017 through Fall 2017, which is the anticipated project completion date.

Allder School Road Paving (Woodgrove Road to Hillsboro Road): The construction contract was approved by the Board on May 2, 2017; kick off and pre-construction meetings will follow with General Excavation, Inc. and Notice to Proceed is planned for mid/late June 2017. Information about the Loudoun County project may be found at www.loudoun.gov/underconstruction. Questions about the project may be directed to Loudoun County Construction Project Manager Kent Marrs at Kent.Marrs@loudoun.gov or 703-777-0817
Round Hill to Franklin Park sidewalk and trail
Sidewalks and Shared Use Path along eastbound Business Route 7 to Franklin Park A meeting was held on March 21, 2017 with the Round Hill Town Council to provide the status of right of way acquisition; right of way acquisition continues. Progress has been made on right of way acquisition; 17 out of 26 property owners have agreed to grant right of way and/or easements required for the project.
Franklin Park to Purcellville Trail: Shared Use Path along eastbound Business Route 7 to Franklin Park. Right-of-way acquisition in progress.
Greggsville Road Rural Rustic Road paving project
Construction to start in Spring 2017. Construction is expected to commence in June 2017. The bids were opened on March 22, 2017; contract award to Kanawha Stone Company is proceeding. Construction is anticipated to begin in June 2017.
Loudoun County Gravel Roads Priority Enhanced Maintenance
2015 Projects Status: